Worldwide Premiere Virtual Benefit Reading
ON DEMAND: A Totally Disrespectful Evening of Short Plays by Joy Behar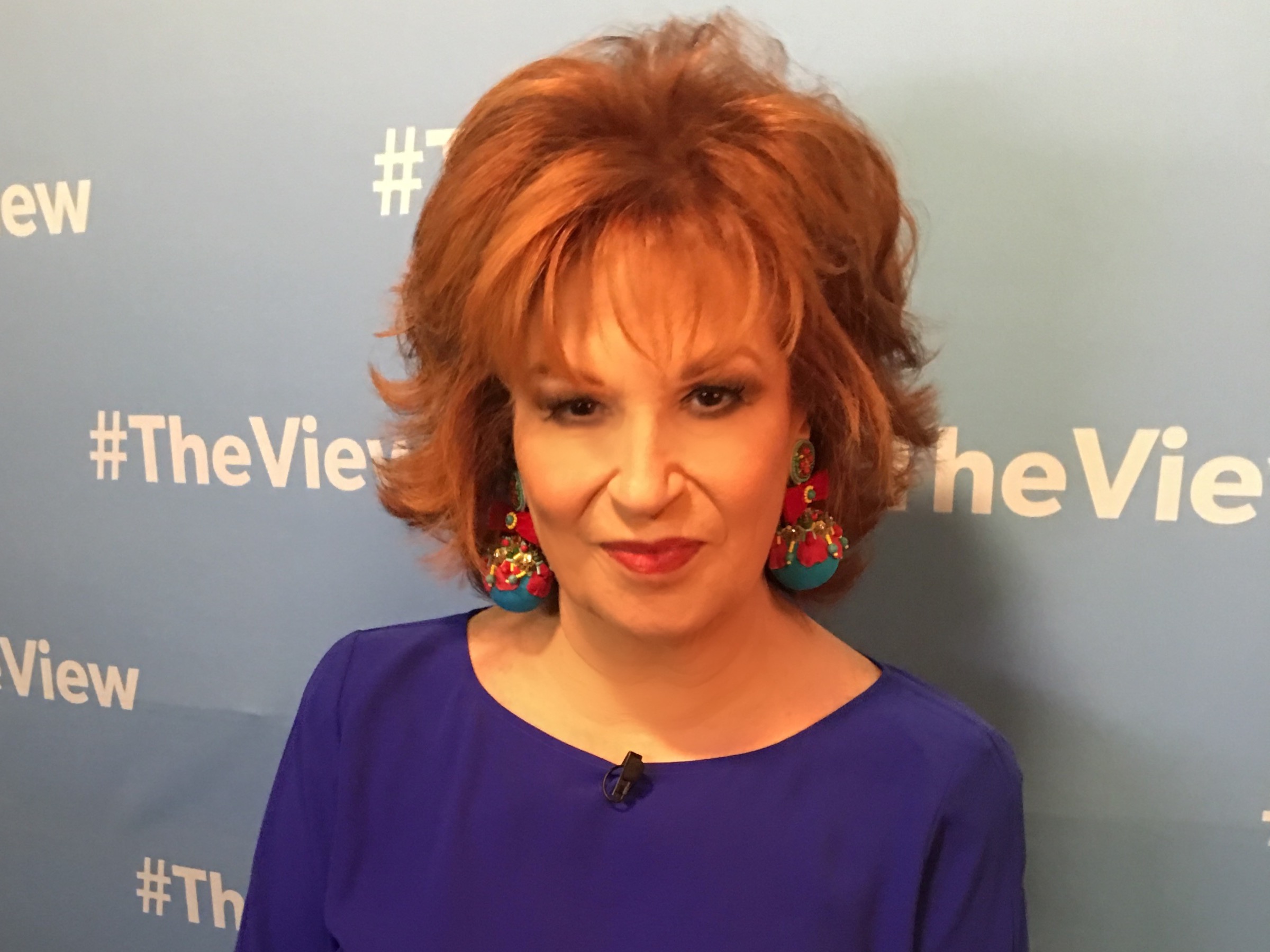 Overview
A Totally Disrespectful Evening of Short Plays by Joy Behar
A Virtual Benefit Reading
Directed by John Gould Rubin 
Starring Bob Balaban, Brynne Amelia Ballan, Chris Bauer, Joy Behar, Lorraine Bracco, Rachel Dratch, Susie Essman, Paul Hecht, Danny Hoch, Robert Klein, Irene Sofia Lucio, Dylan McDermott, Albert Jack Peterson, Linda Smith, Brenda Vaccaro, and Steven Weber.
Five short, comic pieces performed by a dazzling array of funny performers (and maybe even the playwright!) 
The evening will benefit Guild Hall and two other non-profit organizations, Bridgehampton Child Care & Recreational Center, and JBJ Soul Kitchen.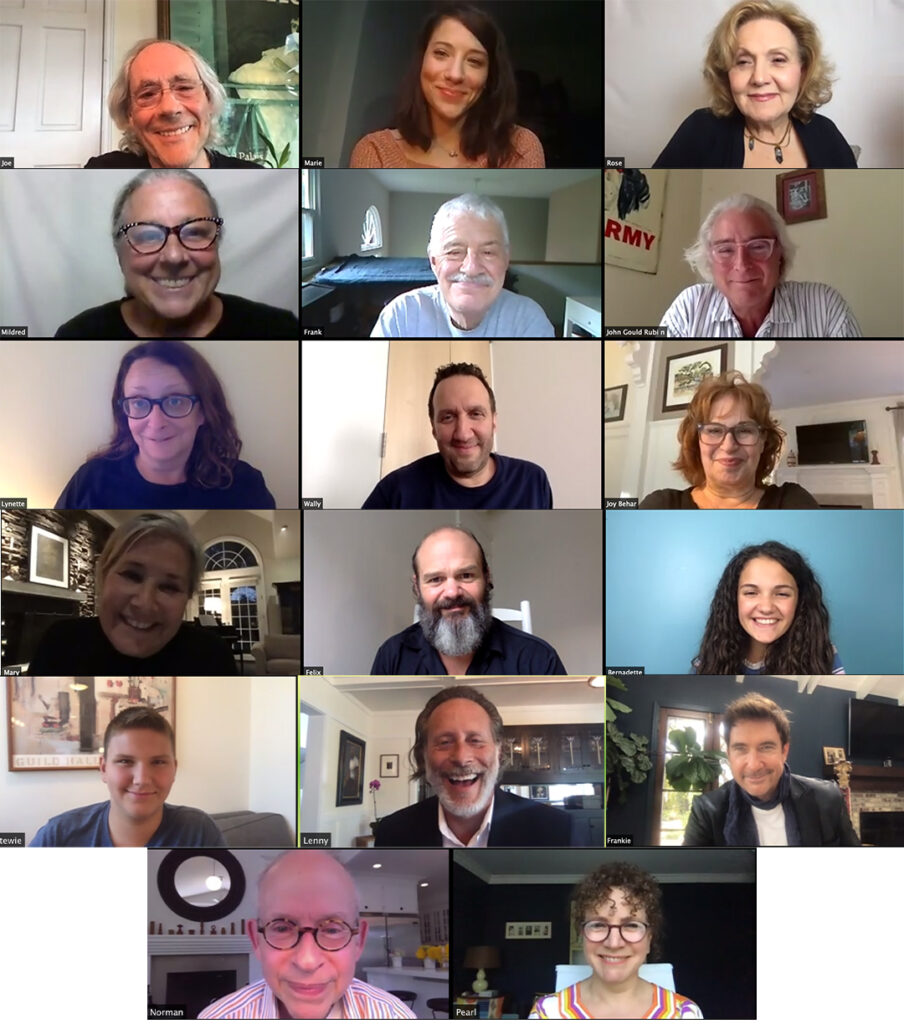 Bob Balaban

Bob Balaban's directing credits include the long running off-Broadway play The Exonerated (Drama Desk award, Outer Critic's Circle award), The Blue Deep at Williamstown, and the world premiere of Lawrence Wright's play Cleo at Houston's Alley Theater.

He directed Susan Sarandon and Ralph Fiennes in HBO's Bernard and Doris (Emmy, Golden Globe and SAG nominations,) Lifetime's Georgia O'Keefe with Joan Allen and Jermey Irons (Emmy, Golden Globe and SAG nominations,) and created, produced, and co-starred in Robert Altman's Gosford Park (Academy Award, Bafta Award, SAG Award, Golden Globe Award).

Bob has appeared  in over a hundred movies including Midnight Cowboy, Close Encounters of the Third Kind, Absence of Malice, Waiting for Guffman, Moonrise Kingdom, Monuments Men, and Wes Anderson's soon to be released French Dispatch.

Brynne Ballan

Brynne Ballan has been acting, singing, and dancing for as long as she can remember. Regional credits include: Sound of Music (Marta), Annie (Kate), Elf, Cinderella, Beauty and the Beast. Brynne would like to thank Bethany Dellapolla, Joy Behar and John Gould  Rubin  for this special opportunity as well as Gateway Acting School, Barbara Mordente (dance), and Vivienne Grizzle-Jaber (voice) for their constant guidance and support.

Chris Bauer

Chris Bauer recently played Bobby Dwyer on three seasons of HBO's The Deuce, where he also co-starred in The Wire, and the long running True Blood. On stage, he has originated roles in plays by John Patrick Stanley, Jez Butterworth, and David Mamet, appeared on Broadway in Streetcar Named Desire, and is an ensemble member of Atlantic Theater Company. He co-stars in the upcoming Warner Brothers film The Little Things with Denzel Washington and Rami Malek, and recently starred as Deke Slayton in the Apple TV series For All Mankind. Originally from Los Angeles, Chris has been a part time resident of Sag Harbor since 2006.

Joy Behar

Joy Behar is an Emmy award winning co-host of The View. Acting TV credits include Baby Boom, and Woody Allen's Crisis in Six Scenes. She has performed stand-up comedy for over thirty years and appeared in several films, including Nora Ephron's This is Your Life, and Woody Allen's Manhattan Murder Mystery.  In theatre, she starred in Nicky Silver's The Food Chain, and The Vagina Monologues. She wrote and starred in her own one woman show, Me, My Mouth,  and I, which ran at The Cherry Lane Theatre. Most recently, she wrote a book, The Great Gasbag: An A to Z Guide to Surviving Trump World. She is currently writing plays during the pandemic to keep her sane. 

Lorraine Bracco

Lorraine Bracco is an Academy Award and Emmy-nominated Actress, best known for her role as psychiatrist Dr. Jennifer Melfi, who treated New Jersey mafia heavyweight Tony Soprano on HBO's series The Sopranos and as Karen Hill in the Martin Scorsese film, Goodfellas.  She appeared for 6 seasons on TNT's blockbuster hit series, Rizzoli & Isles, playing the Rizzoli family matriarch; she co-stars in the much-lauded BBC comedy, Jerk; and recently shot indie feature, The Birthday Cake, opposite Shiloh Fernandez, Ewan McGregor, and Val Kilmer. She also hosts the HLN true crime show, The Dead Wives Club and her new HGTV show My Big Italian Adventure premieres this Fall. Her nationally best-selling memoir, On the Couch, was published by Penguin Random House in 2006 and her diet & nutrition book, To the Fullest, was published by Rodale Books in Winter 2015. Lorraine has two daughters, Margaux and Stella, and has recently become a grandmother.  She splits her time between New York and Los Angeles. 

Rachel Dratch

Rachel Dratch started out at Chicago's Second City theater and went on to be a cast member on Saturday Night Live for seven years. She has appeared in numerous tv shows, plays and films and she lives in NYC.

Susie Essman

Susie Essman has played the sassy Susie Greene for all ten seasons of the critically-acclaimed HBO comedy series, Curb Your Enthusiasm, and is in production for season eleven. Her hilarious bouts of withering sarcasm and uninhibited insults have become her character's trademark. 

The Los Angeles Times calls Susie, "The most lyrical purveyor of profanity on television.  She makes the entire cast of  "The Sopranos" look like rank amateurs.  It really is a gift."  

The New York Times called Susie "one of the most vivid characters in the show, whose off-color tantrums have become an audience favorite the way Kramer's clumsy entrances once were".

Susie's streetwise vernacular is perfectly suited for her life in Manhattan where she has been a veteran of the world of stand up comedy for thirty-seven years.  She has appeared in her own half-hour HBO comedy special, made numerous appearances on Broad City, The View, and The Tonight Show, to name just a few of her many television credits.  She has also acted in numerous films.     

Susie resides in New York with her husband and one-eyed Shih Tzu.

Paul Hecht

Paul Hecht has been an actor for quite a long time. He made his debut as the Player in Rosencrantz & Guildenstern are Dead (Tony nomination 1968).Other Broadway appearances include :  Night & Day  with Maggie Smith and Invention of Love. (Tom Stoppard), 1776 (original company), the Rothschilds, Shaw's Caesar & Cleopatra and Pirandello's Henry IV ( both with Rex Harrison). Off Broadway: Harold Pinter's Moonlight,(American Premiere) the title role in Pirandello's Henry IV (Obie award 1990). Humble Boy at the Manhattan Theater Club, and also in the National Theatre of Great Britain tour. Around the country: Cyrano at the Guthrie (world premiere Antony Burgess translation). Marc Antony, (Julius Caesar & Antony and Cleopatra) American Shakespeare Festival, and in plays by Shaw, Shakespeare, Chekhov, Turgenev, Harwood, Kaufman-Ferber,, at the McCarter (Princeton), Canada's Shaw festival, N.Y Shakespeare Festival, John Drew East Hampton, Bay Street Sag Harbor, and the Berkshire Theater Festival.

He has been  in several episodes of Law and Order, the first episode of the original Miami Vice, and in films with Bette Davis, Chris Rock,  and Howard Stern.

He has appeared in many literary/musical programs: Every Good Boy Deserves Favour (Stoppard-Previn) and Façade (Walton-Sitwell) with the Philadelphia Orchestra, Histoire du Soldat conducted by Bob Kraft, the Vertical Repertory  in Brooklyn, the Newberry  Consort (Chicago), the Allentown Symphony, Dryden players (Princeton). With the early music group Parthenia , he performs a program of Shakespeare and Donne sonnets. He has recorded dozens of books (www.recordedbooks.com).

He served as the  NY Branch President of the Screen Actors Guild from 1991- 1995 and is a graduate of the first class of the National Theatre School of Canada. He is a regular volunteer at ARF and lives in the Springs with the lighting Designer Peggy Eisenhauer.

Danny Hoch

Danny Hoch is a writer and actor whose plays have toured the U.S. and the world garnering many awards including a Guggenheim Fellowship for Drama, 2 OBIE Awards, Sundance Playwriting and Screenwriting Fellowships, the CalArts/Alpert Award In Theatre and he was named a USA Ford Fellow for his contributions to the American Theatre. His writing has appeared in The Village Voice, New York Times, Harper's, The Nation, American Theatre, and various books: Out Of Character, Extreme Exposure, Total Chaos and his own Jails, Hospitals & Hip-Hop by Villard/Random House. His writing and acting credits for TV and film include The Knick, Maniac, Nurse Jackie, Blue Bloods, Law & Order, The Good Wife, Blackhawk Down, War Of The Worlds, Lucky You, We Own The Night, Bamboozled, BlackKklansman, She's Gotta Have It, Prison Song, Some People, Subway Stories, Thin Red Line, Ted, Home, Whiteboys, and Henry's Crime. Mr. Hoch founded the Hip-Hop Theater Festival which has presented scores of Hip-Hop Generation plays from around the globe for two decades.

Robert Klein

For more than forty years, Robert Klein has entertained audiences, and has an acclaimed career in comedy, on Broadway, on television, and in film.

In the spring of 2017, his documentary "Robert Klein Still Can't Stop His Leg" aired on STARZ.  The special is a hilarious look at his life and career, featuring Jerry Seinfeld, Bill Maher, Ray Romano, David Steinberg, Fred Willard, John Stewart, Jay Leno and others discussing Klein's influence on their careers, comedy as a whole, and their reverence of his comedic genius.

Born in the Bronx, he was a member of the famed "Second City" theatrical troupe in Chicago.

He was nominated twice for Grammy Awards for "Best Comedy Album of the Year" for his albums "Child of the Fifties" and "Mind Over Matter."

He received a Tony Award nomination for Best Actor, and won a Los Angeles Drama Critics Circle Award for his performance in the hit Neil Simon musical, "They're Playing Our Song." In 1993, Klein won an Obie and the Outer Critics Circle Award for Outstanding Performance by an Actor in Wendy Wasserstein's, "The Sisters Rosensweig."

In 1975, Klein was the first comedian to appear in a live concert on Home Box Office. He has gone on to do nine one-man shows for HBO and received his first Emmy nomination for Outstanding Music and Lyrics in 2001 for Robert Klein: "Child in His 50's."  Klein released "Robert Klein: The HBO Specials 1975-2005," a collector's DVD box set to critical acclaim.

His special for HBO, "Robert Klein: Unfair and Unbalanced earned him a second Emmy nomination in 2011 for Outstanding Original Music and Lyrics. The special is available on DVD.

Among dozens of starring and guest-starring roles on television, he co-starred in the hit NBC series, "Sisters," has a recurring guest-starring role on "Law and Order" and has guest starred on "The Good Wife" and "Royal Pains."  He regularly appeared on talk shows, making more than 100 appearances on "The Tonight Show" and "Late Show with David Letterman." 

Currently, he can be seen on "The Tonight Show Starring Jimmy Fallon," where he is a show favorite, and on "The Late Show with Stephen Colbert."

He's appeared on "Madame Secretary" starring Tea Leoni on CBS, "Sharknado 2: The Second One" and "Sharknado 3: Oh Hell No!" starring Ian Ziering, on Syfy. He guest starred as Laura Diamond's grouchy but loveable father, Leo, on NBC's "The Mysteries of Laura."  Most recently, he appears as Grace's father, Martin Adler on "Will and Grace," starring Debra Messing, Eric McCormack, Sean Hayes and Megan Mullally. 

Klein has also appeared in many notable films including, "Hooper," "The Owl and the Pussycat," "Primary Colors," "People I Know," "Two Weeks Notice," "How to Lose a Guy in 10 Days," and "The Back-Up Plan" with Jennifer Lopez.

"The Amorous Busboy of Decatur Avenue," his first book for Simon & Schuster, is an affectionate coming-of-age memoir about growing up in the '50s and '60s before embarking on a show business career. In it he recounts his journey from an apartment in the Bronx, developing his talent in Chicago and the beginning of his show business stardom. The book is pure Robert Klein: witty, honest, self-questioning and always contagiously funny. Publishers Weekly wrote: "...he unfurls an array of captivating anecdotes, writing with wry wit and honesty." 

Robert, a lifelong New Yorker, makes his homes in Westchester and in New York City.

Irene Sofia Lucio

Irene Sofia Lucio is an actress, writer and producer. She originated and developed her role in Slave Play which closed its Broadway run in January. Her NY credits include: Wit (Broadway), Slave Play (NYTW), Lunch Bunch (Clubbed Thumb), Orange Julius (Rattlestick), Love and Information (NYTW), King Liz (Second Stage). Regional credits include El Huracan, Romeo and Juliet (Yale Rep), Bad Jews (Studio Theater DC), Pygmalion (CalShakes). Film and TV: The Americans, The Bartlett, Elementary, Gossip Girl, Casi Casi. She is known for co-creating the viral webseries: Bilingual Underrepresented Titless Sallies (BUTS)- which was nominated twice for an Imagen award and won the Best Comedic short award at the NBCUniversal Short Film Festival. She is in pre-production of an animated series and developing several TV shows. A member of the Actor's Center, she graduated from Princeton University and the Yale School of Drama. She is originally from San Juan, PR. 

Dylan McDermott

Dylan McDermott is an American actor, director, and screenwriter, best known for his role of the law firm head Bobby Donnell in The Practice TV series from 1997 to 2004, for which he received a Golden Globe Award for "Best Performance by an Actor in a Television Series – Drama". He also had the role of FBI Agent Max Canary in The Grid (2004) TV series and Duncan Collinsworth in the series Big Shots from 2007 to 2008. One of the Dylan's most notable roles were in the first 2 seasons of the TV series American Horror Story, titled American Horror Story: Murder House (2011) where he played the role of Dr. Ben Harmon, and American Horror Story: Asylum (2012-2013) where he starred as a character named Johnny Morgan. Dylan came back for 1 more episode of the show in 2018, titled Return to Murder House, as Ben Harmon.

Apart from starring in other TV series such as Dark Blue (2009-2010), Hostages (2013-2014), Stalker (2014-2015), LA to Vegas (2018), and The Politician (2019), he has had many recognized roles as a film actor. In 1990, he starred in the sci-fi Hardware, then had a lead role in Where Sleeping Dogs Lie (1991) with Sharon Stone, In the Line of Fire (1993) with Clint Eastwood and Rene Russo, and Three to Tango (1999) alongside Matthew Perry. Dylan also starred in Texas Rangers (2001) with Ashton Kutcher, Rachael Leigh Cook, and James Van Der Beek, and Wonderland (2003) with Kate Bosworth and Lisa Kudrow. In 2013, Dylan McDermott had a lead role of Forbes in Olympus Has Fallen alongside Gerard Butler, Aaron Eckhart, and Morgan Freeman, and another prominent role of Don in The Clovehitch Killer (2018).

Albert Jack Peterson

Albert Jack Peterson is 13 years old and began acting 5 years ago at The Gateway Playhouse. His first role was Michael in Peter Pan. Regional Theater: The Sound of Music (Friedrich vonTrapp), Beauty and the Beast (ensemble), A Christmas Story The Musical (Flick u/s performed, ensemble), Gypsy (newsboy). Film: Clifford The Big Red Dog (2020), Running Scared (2019).  

Linda Smith

Linda Smith was born and raised in Cresskill, New Jersey, about 9 miles from the George Washington Bridge.  After graduating from High School she moved to Boston Massachusetts to begin a career in stand-up comedy while always working towards returning to the New York area.  Four years later she was back and working all the major clubs in New York City. Linda went on to become a headliner at clubs and colleges across the country.  She also appeared as a featured comedienne on numerous television programs including "The Conan O'Brien Show", "HBO's Women of the Night", and countless programs on Comedy Central.  Her more recent television appearances were "Good Morning America Now", "The Today Show" and "CW11 Morning News". Eventually she made the transition into comedy writing for television.  For 3 ½ years she was a staff writer on the Emmy Award winning "Rosie O'Donnell Show".  After that she became a staff writer for the "Caroline Rhea Show" and then a freelance writer for HBO.  All the while she was maintaining and honing her live stand-up act. Currently in addition to working the clubs, Linda is teaching comedy writing and performance at the Manhattan Comedy School and she has a private coaching business.

Brenda Vaccaro

An icon of stage and screen, Brenda Vaccaro has been nominated for an Academy Award, won Emmy and Golden Globe Awards, a Theater World Award, People's Choice Award and been nominated three times for a Tony Award. 

This year, Brenda Vaccaro Joins HBO MAX's Original Show … "And Just Like That…" The new chapter of the groundbreaking HBO series "Sex and the City". Brenda Vaccaro plays Gloria Marquette, Mr. Big's loyal, long-time secretary. 

Born in Brooklyn, Brenda was raised in Dallas, Texas, she returned to New York City to enroll in the prestigious Neighborhood Playhouse and later debuted on Broadway in John Patrick's play Everybody Loves Opal, with Eileen Heckart, for which she received a Theatre World Award. She later starred on Broadway in shows including "The Affair," "The Natural Look," "Children from Their Games," "Father's Day," and Neil Simon's "Jake's Women," and "The Odd Couple." In California, she starred in the one-woman show "Full Gallop," as fashion mogul Diana Vreeland. She was nominated for Tony Awards for her performances in the Abe Burrows comedy "Cactus Flower," Herb Gardner's "The Goodbye People," and George Abbott's musical "How Now, Dow Jones." Vaccaro next starred in the Academy Award-winning film "Midnight Cowboy," which earned her a Golden Globe Award nomination. 

Vaccaro went on to star in numerous films, including "Going Home," "Capricorn One," "Airport '77," "I Love My Wife," "Summertree," "Supergirl" "Love Affair," "The Mirror Has Two Faces," "Cookie," "Boynton Beach Club," earned a Golden Globe nomination for "Where It's At," and won a Golden Globe and was nominated for an Academy Award for "Once Is Not Enough."

Aside from making guest appearances on such shows as Friends, Superior Donuts and King and Queens, Vaccaro was Emmy- nominated for guesting on "The Golden Girls" and for Barry Levinson's HBO film "You Don't Know Jack." She can also be seen on Netflix's "Gypsy," and most recently in Quentin Tarantino's "Once Upon a Time in Hollywood." 

Ms. Vaccaro has starred on television in three series of her own: "Sara," for which she was an Emmy Award nominee, "Dear Detective," and "Paper Dolls." She won an Emmy Award for her performance on the comedy special "The Shape of Things." 

Among her other many notable telefilms and miniseries are Stanley Kramer's "The Trial of Ethel and Julius Rosenberg," "Guyana Tragedy: The Story of Jim Jones," "Sunshine," "Honor Thy Father," "A Long Way Home," and "The Pride of Jesse Hallam." 

Vaccaro was the voice of 'Mama Bravo' on "Johnny Bravo," and 'Scruple' on "The Smurfs." Her other voice work includes roles on such series as "American Dad," "Spawn," and "Darkwing Duck." She can be heard in the Oscar-nominated "Kubo and the Two Strings." 

Steven Weber

Steven Weber made his NY stage debut opposite Geraldine Page in Odets' Paradise Lost and soon made it to Broadway in Tom Stoppard's The Real Thing. After a stint on As the World Turns he went on to appear in The Flamingo Kid, Hamburger Hill, Single White Female, The Temp, Jeffrey and Dracula: Dead and Loving It!"On TV Weber played the young JFK in the miniseries The Kennedy's of Massachusetts and Jack Torrence in ABC's remake of The Shining.

But it was the NBC sitcom Wings, where Weber gained national attention, and again 10 years later in Aaron Sorkin's Studio 60 On the Sunset Strip where he received wide critical praise. Returning to the stage, Weber played "Leo Bloom" in the hit Broadway production The Producers, starred in National Anthems at London's Old Vic and again on Broadway opposite Matthew Broderick in The Philanthropist as well as appearing at The Hollywood Bowl in acclaimed productions of Mamma Mia and Annie. Other tv projects include Murder In the First, Chasing Life, IZombie and Curb Your Enthusiasm. Most recently he was seen on HBO's Ballers, 13 Reasons Why, Get Shorty, and opposite Fran Drescher in NBC's Indebted. He is also a notable audiobook narrator, winning awards for his
reading of Stephen King's It, among many others.

He can currently be seen on NBC's hit drama Chicago Med.

John Gould Rubin

John Gould Rubin, Artistic Director of The Private Theater, for which he directed a site-specific Hedda Gabler, a radical deconstruction of Strindberg's Playing With Fire at The Box and Rocco, Chelsea, Adriana, Sean, Claudia, Gianna, Alex at HERE; and former co-Artistic and Executive Director of LAByrinth, for which he directed 7 plays including premieres by John Patrick Shanley and Erin Cressida Wilson. He's directed throughout NYC at Rattlestick, Ma-Yi, and The Public among others, notably: Turn Me Loose (w/Joe Morton) at The Westside (nominated Best Director Jos. Callaway Award/SDC), The Wallis-Annenberg in LA and Arena Stage in DC; Peer Gynt at The International Ibsen Festival in Oslo, Norway, Queen For A Day (w/David Proval & Vinnie Pastore off-Broadway,) The Cherry Orchard (w/Ellen Burstyn at The Actor's Studio,) American Buffalo (w/Treat Williams and Stephen Adly Guirgis.) Current projects: A Doll House radically re-imagined w/The Private Theatre, Godless by Michael Ricigliano, Jr. off-Broadway, a radically re-imagined, King Lear w/Joe Morton at The Wallis Annenberg in LA and the premier of Emmett: Down in my Heart at the H.A.U. Theater to be co-produced with Label-Noir, an Afro-German theater company, in Berlin, Germany.

Bridgehampton Child Care & Recreational Center

The mission of the Bridgehampton Child Care & Recreational Center is to offer quality educational and enrichment programs for our children and youth. The Center has an after-school program and a Summer program, rich in the humanities and individual learning support. We have teen programs, college prep, SAT classes, and we are developing a vocational training program for young adults. We want to level the playing field for our underserved, community of color. We are a lifeline for working families. We are a family, teaching the youth that we serve to become good citizens. Our food pantry that served 70 individuals month Pre-COVID, is now serving over 700 per week. Our THINKING FORWARD LECTURE SERIES, "Equality Matters in the Hamptons" is for the entire community. It educates and opens hearts and minds to important conversations. Get to Know Us. www.bhccrc.org 

JBJ Soul Kitchen

Hope is delicious at the JBJ Soul Kitchen, a non-profit community restaurant with a social mission to enrich and empower lives through food, advocacy, and community. Unlike pay what you want community restaurant models, the JBJ Soul Kitchen is a Pay It Forward community restaurant where dignity and respect are always on the menu. Paying guests donate a minimum of $20 for a three-course meal, which goes toward meals for guests in need. Guests unable to pay are invited to enjoy a meal and learn how volunteering at the restaurant can help support their individual and family needs—from access to available resources in the community through our partner network to tasty meals in a warm and friendly atmosphere. JBJ Soul Kitchen is a program of the JBJ Soul Foundation. For locations and hours, please visit www.jbjsoulkitchen.org
Event Sponsors
Theater Programming supported in part by the Helen Frankenthaler Foundation, Barbara Slifka, The Schaffner Family Foundation, Brown Harris Stevens, Michael Balmuth, Lang Insurance, Marders, and funding from The Ellen and James S. Marcus Endowment for Musical Programming and The Melville Straus Family Endowment. Additional support provided by Ben Krupinski Builder, Dayton Ritz and Osborne, The Richard Steinberg Team at Douglas Elliman Real Estate, and Witty & Gazda Construction.
Become a Sponsor