In Association with Hamptons International Film Festival
A Thousand Thoughts: A Live Documentary with the Kronos Quartet and Sam Green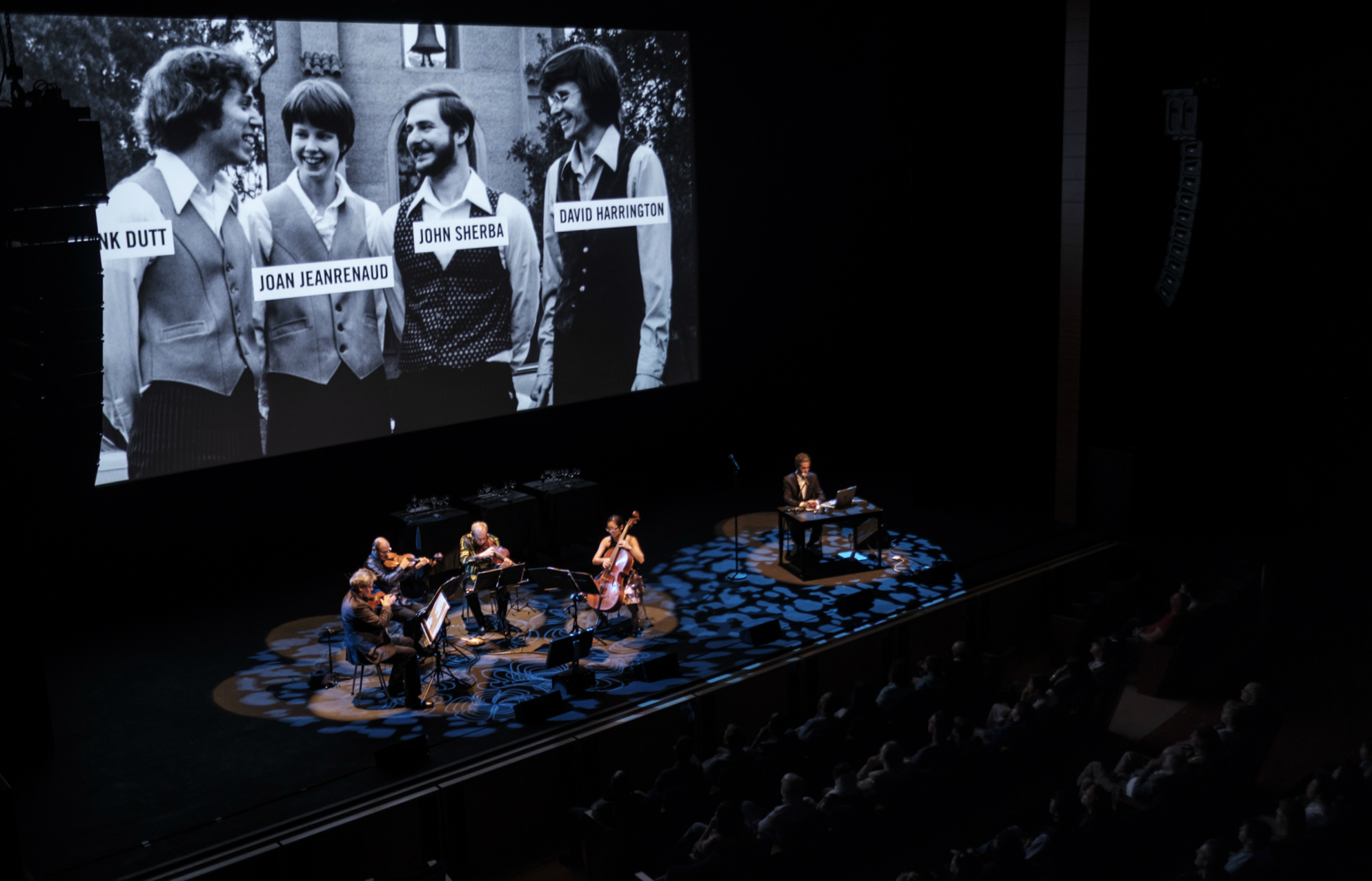 Overview
–Newsweek
–Slate
–BBC
A multimedia experience for the eyes, ears, and soul. Kronos Quartet performs and Sam Green narrates LIVE in perfect harmony with a documentary about Kronos Quartet projected behind them.
Written and Directed by Sam Green and Joe Bini 

Oscar-nominated filmmakers Sam Green and Joe Bini team up with Grammy-winning Kronos Quartet for a wildly creative multimedia performance piece that blends live music and narration with archival footage and filmed interviews with such prominent artists as Philip Glass, Tanya Tagaq, Steve Reich, Wu Man and Terry Riley. 

As Green tells the multi-decade and continent-spanning story of the groundbreaking string quartet, Kronos revisits its extensive body of work, performing music by George Crumb, Aleksandra Vrebalov and many others. Together on stage, Green and Kronos interact with the stirring cinematic imagery on screen to craft an important record and exploration of late 20th– and early 21st–century music. Transcending the typical live music and film event, this collaboration quickly becomes a meditation on music itself – the act of listening to it closely, the experience of feeling it deeply, and the power that it has to change the world. 


Kronos Quartet

For 45 years, San Francisco's Kronos Quartet – David Harrington (violin), John Sherba (violin), Hank Dutt (viola), and Sunny Yang (cello) – has combined a spirit of fearless exploration with a commitment to continually reimagine the string quartet experience. In the process, Kronos has become one of the world's most celebrated and influential ensembles, performing thousands of concerts, releasing more than 60 recordings, collaborating with an eclectic mix of composers and performers, and commissioning over 1000 works and arrangements for string quartet. They have won over 40 awards, including the prestigious Polar Music and Avery Fisher Prizes and, most recently, the WOMEX Artist Award (the first US-based musicians to ever do so). The nonprofit Kronos Performing Arts Association manages all aspects of Kronos' work, including the commissioning of new works, concert tours and home season performances, education programs, and a self-produced Kronos Festival. In 2015, Kronos launched Fifty for the Future: The Kronos Learning Repertoire, an education and legacy project that is commissioning—and distributing for free—the first learning library of contemporary repertoire for string quartet.

Sam Green

Sam Green is a New York-based documentary filmmaker. He received his Master's Degree in Journalism from University of California, Berkeley, where he studied documentary filmmaking with the acclaimed filmmaker Marlon Riggs. Green's most recent projects are the "live documentaries" The Measure of All Things (2014), The Love Song of R. Buckminster Fuller with Yo La Tengo (2012), and Utopia in Four Movements (2010). His performance work has screened at venues such as the Barbican, The Kitchen, TBA Festival, Fusebox Festival, Brighton Festival, and many others. Green's 2004 feature-length film, the Academy Award–nominated documentary The Weather Underground, premiered at the Sundance Film Festival, was broadcast on PBS, was included in the 2004 Whitney Biennial, and has screened widely around the world.
Event Sponsors
All Theater Programming is supported in part by Ellen Myers, Marders, the Daryl & Steven Roth Foundation, and funding from The Ellen and James S. Marcus Endowment for Musical Programming, The Harold and Mimi Steinberg Charitable Trust, Hess Philanthropic Fund, The Melville Straus Family Endowment, The Schaffner Family Foundation, and Vital Projects Fund, with additional support from Brown Harris Stevens, Saunders & Associates, and public funds provided by Suffolk County. All Musical Programming supported in part by The Ellen and James S. Marcus Endowment for Musical Programming.
Become a Sponsor