Annual Clothesline Art Sale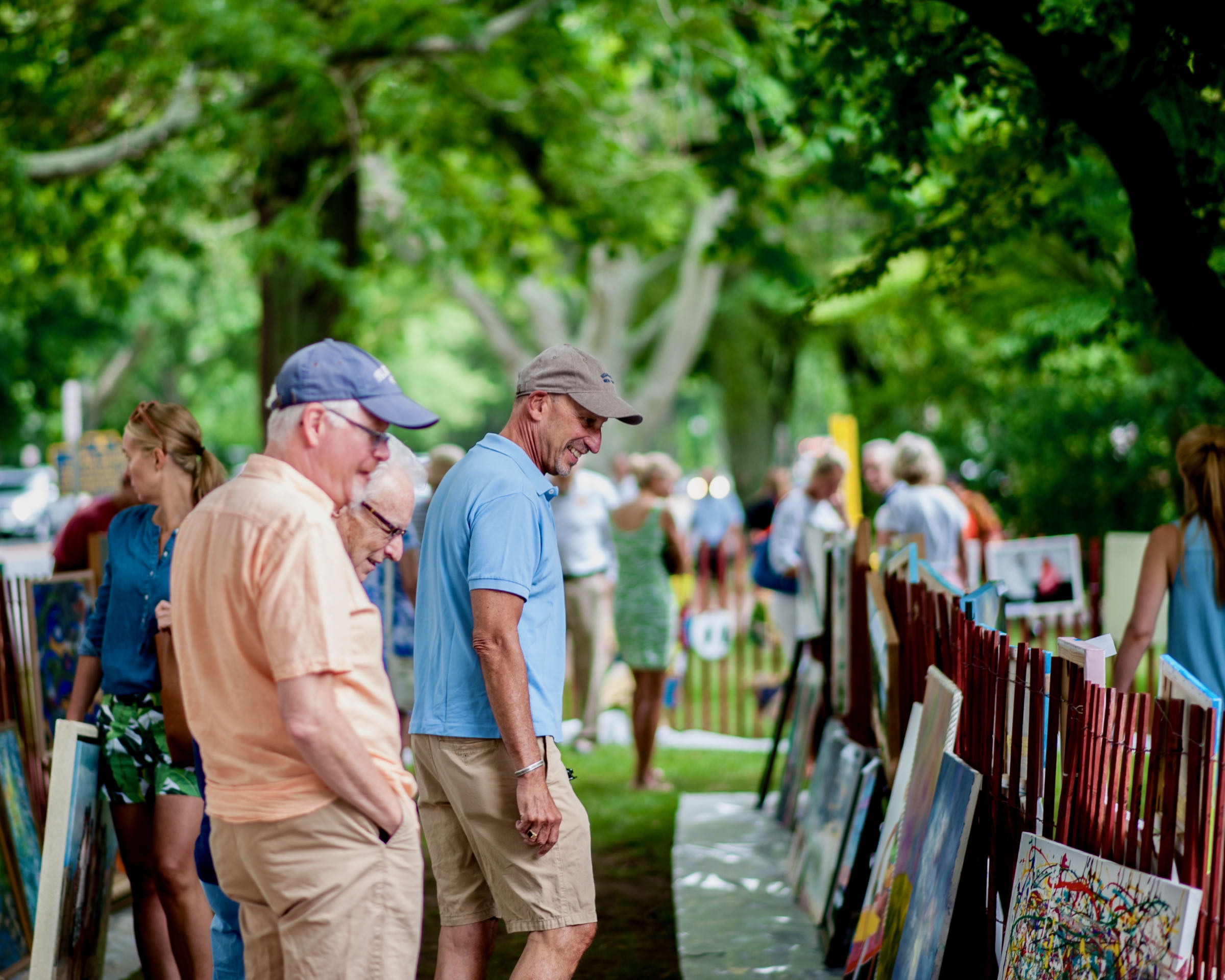 Overview
The 2021 Clothesline Art Sale has ended. Thank you to all of the artists and art purchasers!
IMPORTANT INSTRUCTIONS FOR ARTISTS and ONLINE PURCHASERS:
Clothesline Artwork Pick-Up is this week Monday, July 26 – Friday, July 30, 10am-4pm. Please make an appointment HERE to pick up.
Pick-Up is a drive-thru in our parking lot off of Pondview Lane.
---
Clothesline is one of the most beloved and affordable art traditions in the Hamptons since its inception in 1946. For 75 years, it has provided accessible artwork to the community, while supporting the local artists who thrive here. Throughout our history, great artists such as Alfonso Ossorio, James Brooks, John Little, Jackson Pollock, Lee Krasner, and Elaine and Willem de Kooning have shared their talents to support Guild Hall in this unique annual fundraising effort.
Over 300 artists enter the sale each year and art lovers everywhere flock to Guild Hall looking for their next masterpiece. Works range in price from $75 to $5,000 with all proceeds split 50/50 between the artist and Guild Hall.
While we celebrate our 90th Anniversary this year, we continue to reimagine our programs and how we can bring them to the public safely. We are so excited to continue the tradition of Clothesline in its 75th year by holding the sale outdoors on the grounds of Guild Hall following all social-distancing protocols and government safety guidelines.
We are also utilizing a touchless online-only purchasing system that will allow for safe and easy check-out, while also allowing you to shop from the comfort of your home.
For questions regarding the Clothesline Art Sale please contact Casey Dalene at cdalene@guildhall.org or 631-324-0806 extension 19.
HOW TO BUY
Online:
If you are unable to join us in person or would like to simply shop online, you can shop the entire sale on our website from 9am to 11:59pm on the day of the sale.
In order to pick-up artwork purchased online, you will need to set up an appointment from July 26 – 30, 11:30am to 5pm by clicking HERE or email jennifer@guildhall.org.
In Person: 
 – Purchase via QR Codes:
– Or simply directly visit shopart.guildhall.org on your phone! QR code scanners can be downloaded from the App store or done through your phone's camera – just focus the camera on the code and a link will appear!
Whether you use QR codes or go directly to the site, you can choose the artwork you wish to purchase, enter your credit card information, and it's yours! Please be prepared to show your receipt upon exiting the sale.
Please note that no cash or checks will be accepted as payment for the artwork, all credit card purchases must be made through shopart.guildhall.org.
HOW TO VISIT:

– In the event of rain, the sale will be held on July 25 from 9am-4pm. 
– Please make sure to bring a phone that has internet access or cellular data in order to purchase art. 
– Please be prepared to show your receipt upon exiting the sale. 
– This event will be held entirely outside. There will be no access to the building and there will be no access to bathrooms. 
– Please DO NOT attend if you or any member of your party have:
     – knowingly been in close or proximate contact in the past 14 days with anyone who has tested positive for COVID-19 or who has or has symptoms of COVID-19
     – have tested positive for COVID-19 in the past 10 days
     – or have experienced any symptoms of COVID-19 in the past 10 days
We are so grateful for your continued support and are excited to bring this newly envisioned event to life with your help. Thank you!