35th Academy of the Arts Achievement Awards Dinner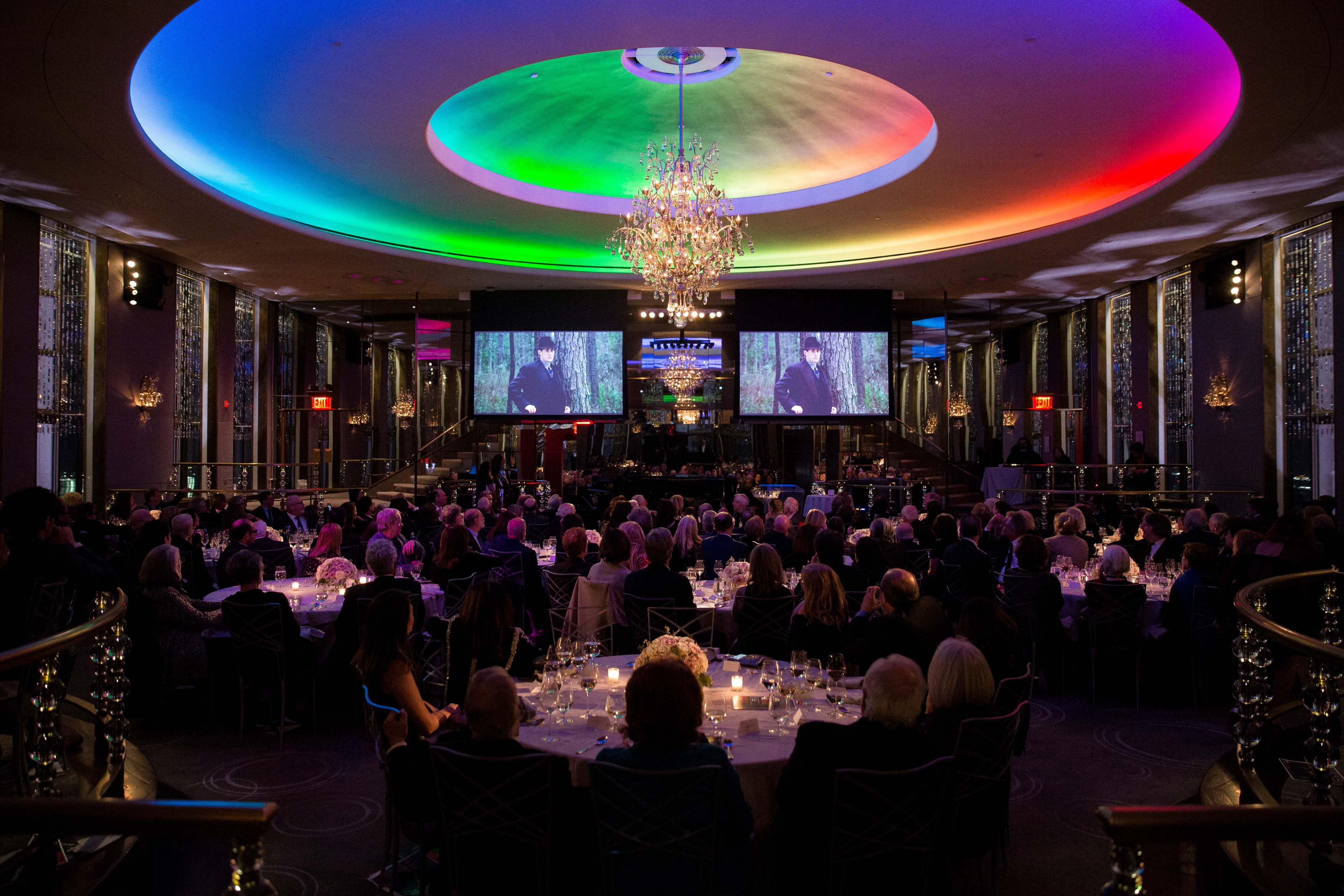 Overview
Guild Hall has named the recipients of the 35th Academy of the Arts Achievement Awards. This year's honorees are Dorothea Rockburne for Visual Arts presented by Richard Armstrong, Salman Rushdie for Literary Arts presented by Taryn Simon, Barry Sonnenfeld for Performing Arts presented by Kelly Ripa, and Ted Hartley will receive the Special Award for Leadership and Philanthropy, presented by Alec Baldwin. The evening will be hosted by Academy of the Arts President Eric Fischl, and emceed by Vogue theater critic Adam Green.
For ticket and journal ad questions, information, or phone purchases, please contact the Special Events Department at 631-324-0806, ext 20.
The awards ceremony will be held during a benefit dinner on Tuesday, March 3 at The Rainbow Room in New York City.
A clip from Live with Kelly and Ryan. Kelly Ripa and Ryan Seacrest discuss Kelly's night presenting at our 35th Annual Academy of the Arts Awards Dinner.
VIEW THIS YEAR'S INVITATION: 2020 Academy of the Arts Achievement Awards Dinner
Salman Rushdie

Salman Rushdie's most recent novel, Quichotte, was shortlisted for this year's Booker Prize. He is the author of thirteen previous novels—Grimus, Midnight's Children (for which he won the Booker Prize and the Best of the Booker), Shame, The Satanic Verses, Haroun and the Sea of Stories, The Moor's Last Sigh, The Ground Beneath Her Feet, Fury, Shalimar the Clown, The Enchantress of Florence, Luka and the Fire of Life, Two Years Eight Months and Twenty-Eight Nights, and The Golden House—and one collection of short stories: East, West. He has also published four works of nonfiction—Joseph Anton, The Jaguar Smile, Imaginary Homelands, and Step Across This Line—and co-edited two anthologies, Mirrorwork and Best American Short Stories 2008. He is a member of the American Academy of Arts and Letters and a Distinguished Writer in Residence at New York University. A former president of PEN American Center, Rushdie was knighted in 2007 for services to literature.

Barry Sonnenfeld

Barry Sonnenfeld is a filmmaker and writer who began his career as a cinematographer, collaborating with the Coen Brothers on their first feature film, Blood Simple, followed by Raising Arizona and Miller's Crossing. Sonnenfeld also served as director of photography on Penny Marshall's Big, Danny DeVito's Throw Momma From the Train, and two Rob Reiner films, When Harry Met Sally and Misery. He made his directorial debut in 1991 with The Addams Family, followed by Addams Family Values, Get Shorty, Men In Black, Men In Black II, Men In Black III, and RV, among others.

Recently, Sonnenfeld was executive producer and show runner on Netflix's award winning series A Series of Unfortunate Events, which ran for three seasons. Previously, Sonnenfeld received a Primetime Emmy Award for Outstanding Directing for a Comedy Series and the DGA Award for Outstanding Directorial Achievement in Comedy Series for Pushing Daisies – 'Pie-lette.'

For eight years, Sonnenfeld was a contributing editor for Esquire magazine where he wrote a monthly column, "The Digital Man." He has recently completed his memoir, "Barry Sonnenfeld, Call Your Mother," Memoirs of a Neurotic Filmmaker, which will be published by Hachette on March 10.

Sonnenfeld is a graduate of NYU and NYU Graduate Film School. He currently resides in Telluride, CO.

Ted Hartley

Ted Hartley was born in Omaha, Nebraska, to the president of Northwestern Bell Telephone Company (AT&T). Ted Hartley received his education at Annapolis, Georgetown University, where he became a U.S. Olympic wrestling finalist, as well as Harvard Business School. As a Navy-carrier-based jet fighter pilot, he served in widely ranging areas of the world, including two years as a White House aide in the Kennedy-Eisenhower era. At 30, he suffered injuries from an aircraft accident and was forced into disability retirement as a Lieutenant Commander.

As a civilian, he became Executive Vice President of First Western Financial Corporation. He moved out of banking and while in Los Angeles on a job interview, by a fluke he was invited to play a continuing role in a dramatic television series, Peyton Place, as the Reverend Jerry Bradford. This role led to co-starring roles in movies with Clint Eastwood, Cary Grant, Dean Martin, and Robert Redford, among others. He later took over as CEO of RKO Pictures. As CEO, he has produced a dozen films and a number of television movies. He expanded RKO into Broadway with productions including Gypsy (2008), 13 (2008), Big Fish (2013), Curtains (2007) as lead producer, and Never Gonna Dance (2003) and Dr. Zhivago (2015). He is a member of the Academy of Motion Picture Arts and Sciences (Oscars) and a Tony voter.

He was married to the late Dina Merrill, the actress. He has one son and two grandsons. More than a decade ago, Dina was entering into what would be a long period of declining health. Ted, looking for ways to keep her active emotionally and mentally, initiated twice a week art classes in their home, inviting Dina's friends to join. "It gave her pals an easy way to see her and to do something together." He found personal satisfaction in his own artwork as well. After Dina's death, her friends wanted to continue the classes and Hartley started it up again. Now fully exploring his own found passion in painting, he progressed from representational art into more daring subjective expressionism. In the fall of 2019, his first one-artist opening at Keyes Art in Sag Harbor sold out most of the offerings.

Dorothea Rockburne

Dorothea Rockburne was born in Montreal, Quebec, Canada and attended the Montreal Museum School and École des Beaux Arts de Montreal, where she learned the classical basics of art making. In 1950, she attended Black Mountain College in North Carolina. While there, she studied painting with Esteban Vincente, Jack Tworkov, Philip Guston, and Franz Kline; she studied dance with Merce Cunningham; music with John Cage; and photography with Hazel Freida Larsen. Her fellow students were Robert Rauschenberg and Cy Twombly.

At Black Mountain College, Max Dehn, renowned mathematician, helped create a foundation for Rockburne's future understanding of art by introducing her to the structures of higher mathematics via set theory, linear algebra, and topology. She later received a doctorate in mathematics from Bowdoin College. In 1954, she moved to New York, where she currently resides.

Dorothea's work is featured in the collections of MoMA, New York; Dia Art Foundation, New York; Metropolitan Museum of Art, New York; Parrish Art Museum, Southampton, New York; Solomon R. Guggenheim Museum, New York; Whitney Museum of American Art, New York; The Brooklyn Museum, New York; Ludwig Museum, Aachen, Germany; Museum of New Zealand, Wellington; Stedelijk Museum, Amsterdam, Netherlands; Centre Pompidou, Paris, France; among many others international and domestic, as well as countless private collections.

Dorothea was commissioned by the Foundation of Art and Preservation in Embassies in 2007, and in 2013, she was highlighted in a solo Exhibition, Dorothea Rockburne: Drawing Which Makes Itself, at MoMA, New York. In May 2018, Dia Art Foundation opened a long-term five-room installation of her large-scale works from the '70s and '80s at Dia:Beacon, New York. Her drawings from the Michael and Juliet Rubenstein collection are featured in an exhibition at the Met Breuer from January 29–March 29, 2020, titled From Géricault to Rockburne: Selections from the Michael and Juliet Rubenstein Gift.

She received a Guggenheim Fellowship (1972), a National Endowment for the Arts (1974), the Lifetime Achievement Award from the National Academy (2009), honors from the International Print Center (2018), an induction into American Academy of Arts and Letters (2001) and was on the board of the American Academy of Arts and Letters, where she presently serves on their finance committee.
Event Sponsors
Event Sponsor: Robert A.M. Stern Architects
Contributing Sponsor: Bentley Meeker Lighting & Staging
Media Sponsor: Hamptons Magazine
Become a Sponsor