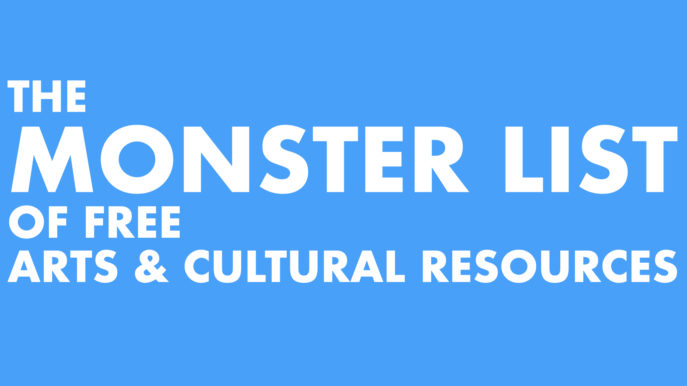 During this time of quarantine, we have witnessed an unprecedented amount of creative output online, ranging from internationally acclaimed artists performing on stage, to cozy living room concerts. As Guild Hall continues to release our own new and historic virtual programming, we want to make it easier for you to find arts and cultural resources from the artists and places we love in a single aggregate list.  
Below you will find creative resources for artists, families, children and adults. Please note: This is a living document, growing daily. Check back often, and feel free to suggest additions by emailing info@guildhall.org with the Subject: Monster List.
VIRTUAL ACCESS TO ARTS & CULTURE INSTITUTIONS
Museums
Theater, Opera, & Ballet
Music, Dance, Talks, & More
Berliner Philharmoniker: The Berlin Philharmonic is making their archive of hundreds of performances available for free.

 

New York Philharmonic: A new initiative, NY PHIL PLAYS ON includes free streaming of radio broadcasts and select concerts.
Philharmonie de Paris: Free streams of past concerts, staged productions, and more.
Chicago Symphony Orchestra Sounds & Stories: Archived radio broadcast.

 

Live with Carnegie Hall: Entirely new programming that feature some of thte world's finest artists as they share behind-the-scenes stories, excerpts from past perofrmances, and live musical moments.

 

Kennedy Center Digital Stage: Free streams from various Kennedy Center productions including performances by the National Symphony Orchestra and American Ballet Theater, and presentations like the Mark Twain Prize and Kennedy Center Honors.

 

Kennedy Center Millennium Stage: Free streaming of popular and contemporary music & dance performances from the Kennedy Center.

 

PBS: Live from Lincoln Center: PBS has released full episodes from their Live from Lincoln Center series.
The Fisher Center's Virtual Stage: Free weekly streams of archived performances and new commissions.

 

Joes Pub! : A free series of live-streamed performances from the iconic NYC stage. Performances are streamed every Thursday, Friday & Saturday at 8pm.

 

ISSUE Project Room: Issue Project Room, a home for new and experimental music/performance, offers an archive of live-performance videos dating back to 2011.
Live@National Sawdust: Free weekly streams of archived performances from the new-music venue, National Sawdust.
Digital Discovery Festival 2020: A weekly program of live performances, interviews, and artist development opportunities from National Sawdust.

 

CANLAND: An archive of live-performance audio & video from the ensemble, Bang on a Can.

 

UP CLOSE, The Shed: A free series of newly commissioned art works, discussions, playlist, and more, exploring what it means to think about the world and make art right now.
New York Live Arts: New York Live Arts is offering weekly free streams from their archives. This includes modern dance, interdisciplinary performances, and lectures.

 

Ailey All Access: Alvin Ailey is providing streams of past performances as well as virtual dancing workshops.
The Grand Ole Opry: Returning to their roots, the Opry is streaming their upcoming Saturday night performances on their Facebook and YouTube channel.

 

The New Social Environment, Brooklyn Rail: Free-streaming afternoon conversations with notable artists, writers, filmmakers, and poets.

 

 
INTERACTIVE ARTS-BASED ACTIVITIES FOR KIDS, FAMILIES, & EDUCATORS
Lunch Doodles with Mo Willems!: A daily doodle and virtual studio visit with The Kennedy Center's Education Artist-in-Residence.
Daily Drawing with Wendy MacNaughton: Illustrator Wendy MacNuaghton (Salt, Fat, Acid, Heat / Meanwhile) leads a daily drawing class live on Instagram. M-F, 10am PT/1pm ET.

 

Artist Activity Pack: Firstsite gallery has created weekly artist activity packs with contributions from leading U.K. artists including Anthony Gromley, Jeremy Deller, Grayson Perry, and more.

 

Lincoln Center Pop-Up Classroom: Daily morning arts lessons from Lincoln Center's collective of artists and educators. Lessons include arts & crafts, drama, dancing, and music.

 

New Victory Arts Break: Designed by New Victory Theater Teaching Artists, this program gives families a weeks worth of arts activities based off of New Victory performance videos.

 

Tate Kids: A resource of crafts, games, activities, and videos for children to explore and experience modern art.

 

Children's Museum of the Arts, Resources for At-Home Arts Education: A resource of how-to-videos for at home crafts, curriculum guides based on exhibitions, and DIY Crafts.
Teacher Guides, Whitney Museum of Art: Guides provide information about selected artists and works of art, topics for classroom discussion, writing activities, and art projects that introduce the key ideas of an exhibition.
Art Families Can Do at Home, MoMA: Activities for kids ages 6+ inspired by artworks in MoMA's collection.

 

Carnegie Hall, Musical Explorers: Curriculum guides, activities, interactive maps, and recorded performances to teach students about musical genres across the globe.

 

New York Philharmonic, Young People's Concerts PLAY: Curriculum guides, family activities, and composition exercises in tandem with special NY Phil Young People's Concerts.

 

MET OPERA: Opera Based Learning at Home: Activities, listening exercises, composition lessons and more for children K – 12.
Ballet Breaks: NYC Ballet: Join artist of the NYC Ballet for a series of lively Saturday and Sunday mornings for children ages 3-8.

 

TED-ED@HOME: A collection of high quality, interactive, video-based lessons on a daily basis, for free.

 

The New York Times, The Learning Network: Targeted for teenagers (13+), The Learning Center offers writing prompts based on NYT articles, photographs, and stories. Additionally, the network provides webinars for parents and educators who are new to remote learning.

 
FINANCIAL RESOURCES FOR ARTISTS/FREELANCERS
Updated 5/4/2020