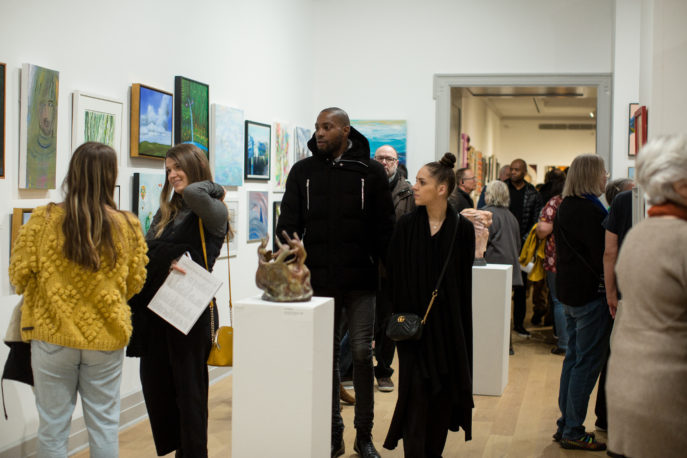 Members enjoy year-round benefits. Visit this page often to see how and where you can redeem your membership benefits.
Upcoming Events
As a Guild Hall Member you have access to exclusive Members-Only events throughout the year. Visit our membership events pages to see what is coming up.
Using Your Benefits
Membership has it's benefits and we want to make sure you get the most out of your experience. Below are some of the benefits you receive as a member of Guild Hall and information on how to use them.
Artist Members Exhibition
All members 18 or older and in active standing are eligible to enter the Artist Members Exhibition. Learn more about the Artist Members Exhibition and how to enter by visiting the link below.
Member Discounts
Members enjoy discounts at Guild Hall when you purchase tickets, merchandise, or join a workshop.  Membership discounts are easy to redeem both online and in person. When visiting in person, be sure to tell our staff that you are a member!
Theater Benefits
In addition to discounts, our members enjoy a number of additional theater benefits. When purchasing tickets to a play, always remember that as a member, you can exchange those ticket for another night if your plans change. Is the show you want to see sold out? If you are a member, you can join a priority wait-list to receive tickets that become available. We also want to make sure you get a shot at the best seats in the house! Every spring, we send you an email with a link to buy tickets before we announce the season's offerings to the general public.
North American Reciprocal Museum Benefits (NARM)
If you are a Guild Hall member at $125 or above, you qualify for NARM benefits. There are nearly 900 institutions in North America that you can enjoy free member admission and member discounts on lecture and concert tickets as well as in gift shops.
Patron Level Benefits
When you become a Patron Level member, you receive a number of special benefits. With your welcome packet, you will receive a gift certificate that can be used in our shop on any purchase. You will also receive two tickets to a John Drew Theater production. A membership staff member will reach out with a list of shows you can use your tickets for.
When you join at the Director's Circle level or higher, you will also receive concierge ticket services.  Before the season's tickets go on sale to the public, our Membership Associate will contact you to assist you with any ticket purchases, giving you the selection of the best seats in the house. You can also redeem a complimentary upgrade to VIP-level tickets on two tickets to any show. Contact the Box Office Manager to upgrade at any time at no cost.
Chairman's Circle level members have an invitation to an annual chair reception, an opportunity to use  a reception space, and a complimentary Cocktails Only ticket to the Summer Gala. Our Membership Associate can help you redeem these benefits when you are ready to use them. Contact Membership via email with any questions you have on these or other benefits.