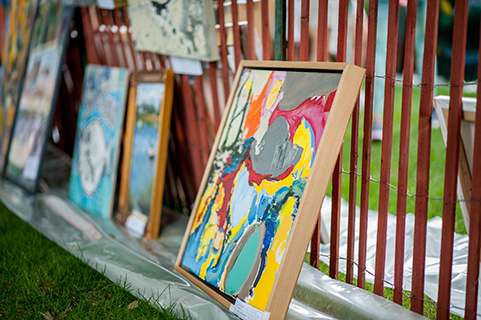 GUIDELINES
PLEASE READ CAREFULLY!
We are accepting a maximum of 3 pieces this year, but they may be priced anywhere between $75 to $5,000. Please keep in mind when pricing your pieces that one of the great features of this sale is the accessibility of affordable artwork to the local community. 
PARTICIPATION:
Artist must be 15 years of age (under 18 must have signature by parent or guardian).
Galleries may not participate – artists only.
While it is not necessary to be a member of Guild Hall to participate, your membership is encouraged and appreciated. Join us here!
ENTRY:
Each artist is required to make a $15 contribution to Guild Hall.
MEDIUMS:
Oil, acrylic, watercolor, prints, small sculptures, photographs, and collage.
No crafts and jewelry.
Works need not be framed; however, all works on paper must be matted and plastic wrapped for their protection.
All other works must have wires from one side of the frame to the other for hanging. No other wires or hook will be accepted.
No wet paintings accepted.
PRINTS:
Only original prints, such as lithographs, silkscreens, etchings, and monoprints are acceptable.
Posters or reproductions from books, newspapers, magazines, or computer prints are not acceptable.
Please do not submit multiple images of any one print.
Giclee prints are only accepted if they have been hand-embellished or are certified as edition 1 of 1.
SIZE:
No larger than 45" X 45" including frame. Oversized works will be rejected.
PRICING:
Each artist may submit up to 3 works, priced between $75-$5,000.
If work is framed, price must include frame.
All artists must adhere to this pricing.
COMMISSION:
For this special benefit sale, Guild Hall retains a 50% commission.
Artists will be paid within 30 days of the sale.
LABELS:
Please be sure to have your name and phone number clearly written on the back of your artwork.
Labels will be provided by Guild Hall at Drop-Off and will be affixed by Guild Hall staff.
ART DELIVERY AND PICK-UP:
All artists must make an appointment to drop off and pick up their work.
Works will not be accepted the morning of the sale, and items must be delivered in-person, no exceptions.
If your artwork sells, a member of our staff will contact you to let you know that your pick-up is not needed.
Artists with sold artwork will receive payment within 30 days of the sale. We will contact artists for a W-9 in order to process payment. We appreciate your patience and understanding.  
PLEASE NOTE: We do not have facilities for storage. Works not picked up shall be deemed abandoned. Guild Hall reserves the right to dispose of works as it sees fit with no compensation to the artist. Guild Hall does not insure artists' work for this sale. Guild Hall will not be responsible for loss or damage.
We're excited you are joining us! Book your appointments today:
Drop-off: https://ci.ovationtix.com/81/production/1044162
July 19-22 from 10:00am-4:00pm
Pick-up: https://ci.ovationtix.com/81/production/1044165
July 26-30 from 10:00am-4:00pm
Thank you for your creativity and continued support!