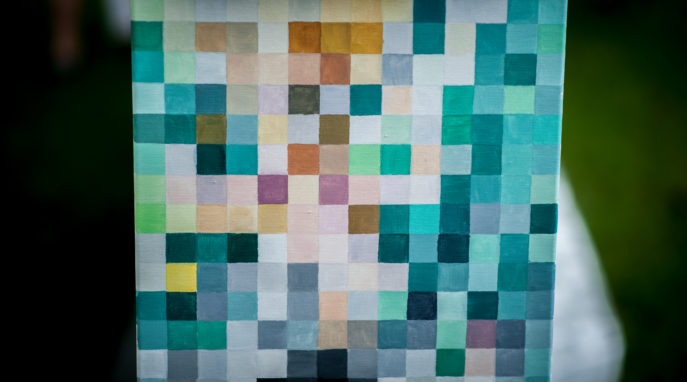 Clothesline Art Sale Instructions:
Request a Packet:
To request a packet fill out our online form and one will be mailed to you. Registration packets are sent out in June each year. Registration packets may also be picked up at Guild Hall and filled out at drop-off.
Rules & Restrictions:
Works WILL NOT be accepted the morning of the sale. Items must be delivered in-person, NO EXCEPTIONS.
PARTICIPATION: Artist must be at least 18 years of age. Galleries may not participate—artists only. Works shown in past Clothesline Art Sales are not accepted. All entries will be exhibited. While it is not necessary to be a member of Guild Hall to participate, your membership is appreciated.
ENTRY: Each artist is required to make a $15 contribution to Guild Hall. This contribution allows each artist to exhibit up to 5 works*.
COMMISSION: For this special benefit sale, Guild Hall retains a 50% commission. Artists will be paid as they check out.
MEDIUMS: Oil, acrylic, watercolor, prints, small sculpture, photographs, and collage. No crafts and jewelry. Works need not be framed; however all works on paper must be matted and plastic wrapped for their protection. All other works must have wires, from one side of the frame to the other, for hanging.  No other wires or hook will be accepted. No wet paintings accepted.
PRINTS: Only original prints, such as lithograph, silkscreen, etching, drypoint, and monoprint are acceptable. Posters or reproductions from books, newspapers, magazines or computer print-outs are not acceptable. Please do not submit multiple images of any one print. Giclee prints are only accepted if they have been hand-embellished or are certified as edition 1 of 1.
SIZE: No larger than 45" x 45" including frame. Oversized works will be rejected.
Pricing & Registration
PRICING: Each artist may submit 5 works* (see conditions below).  Works are to be priced as follows:
1 work at $200 or less
1 work at $350 or less
1 work at $600 or less
1 work at $950 or less
1 work at $2,200 or less
Minimum price: $75
All 5 works may be priced at $200 or under.
Note: If work is framed, price must include frame. All artists must adhere to this pricing schedule.
*A fifth work of art may be submitted for sale only after the artist submits 4 works as priced above.
LABELING: The registration packet that you will receive in the mail contains labels for your works. PRINT FIRMLY AND LEGIBLY. USE MASKING TAPE TO ATTACH! LOOSE LABELS WILL BE REAFFIXED AS DEEMED FIT!
REGISTRATION: When you bring in your work, submit all forms enclosed, providing all requested information. These sheets MUST correspond exactly to the labels on your work.  Sign all papers with your professional name.
BIOGRAPHY: Because so many people are interested in the artists, biographical notes are most helpful.  All biographies must be submitted on the enclosed blue sheet.
Policies & Pick-up:
ART PICK-UP: Artwork pick-up is from 5:00PM – 7:00PM the day of the sale. WE DO NOT HAVE FACILITIES FOR STORAGE. For security purposes, if you, the artist, are not picking up your own work, the name of the party authorized to do so MUST be provided at registration. Works not picked up shall be deemed abandoned and Guild Hall reserves the right to dispose of works as it sees fit with no compensation to the artist.
NOTE: Guild Hall does NOT insure artists' work for this show. Guild Hall will NOT be responsible for loss or damage, however, the entries are handled with as much care as possible. The general policy of the Clothesline Art Sale is to hang artists' work separately, not as a unit.
We greatly appreciate your help in making this show a success! Please be sure to adhere to all rules and regulations as outlined above, without exception. Thank you!