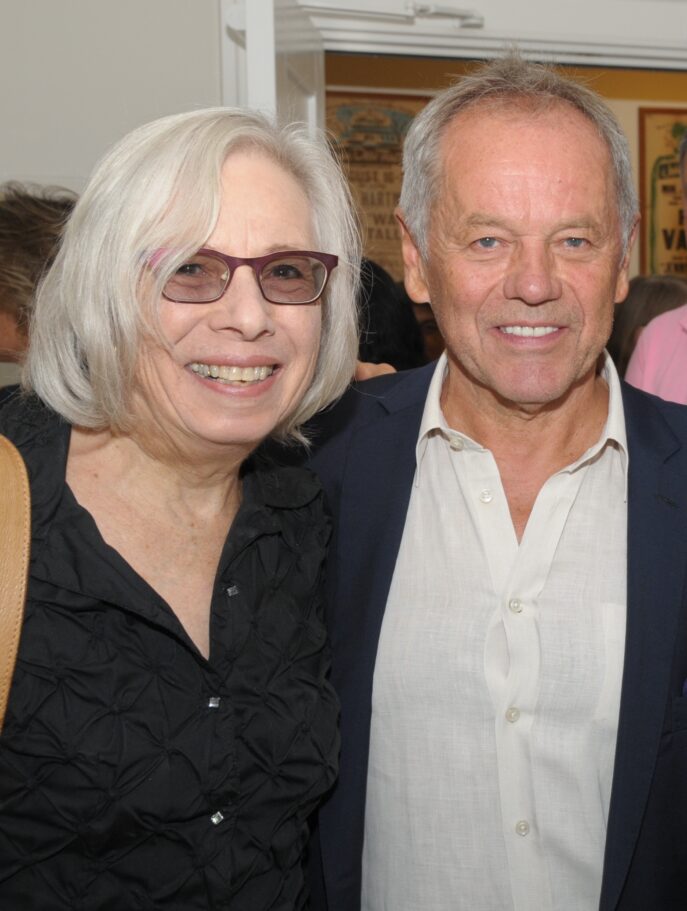 It became easy to convince Wolfgang Puck, one of a generation of chefs who put California on the culinary map, to join me at Guild Hall once he opened a restaurant in New York. His plush steak house, Cut, is in the Four Seasons hotel in the financial district. He's a native of Austria, steeped in French techniques and traditions, who fully embraced the bright freshness represented by California, his home base for decades. Spago, his flagship, which opened in West Hollywood in 1982 before moving to Beverly Hills, gave us smoked salmon pizza. But Puck has also not abandoned his Austrian roots. Kaiserschmarren is a classic dessert, named for the emperor. The word means "Emperor's mess" and it's usually made in a skillet with a thick batter that's torn apart with two forks and comes out looking something like a cross between scrambled eggs and French toast. Puck's version is different, a shallow soufflé in effect, puffed with beaten egg whites and baked, then served with a warm berry sauce. 
Kaiserschmarren
Serves 4
2 tablespoons golden raisins, preferably organic
Strawberry or raspberry sauce (recipe follows)
4 large egg yolks, preferably organic
¾ cup sugar plus more for baking dishes
8 ounces crème fraîche
2 tablespoons dark rum
4 teaspoons all-purpose flour
Soft unsalted butter for baking dishes
3 large egg whites, preferably organic
1 pint fresh berries, for garnish
Place the raisins in a small dish. Cover with boiling water and let soak 30 minutes. Drain and let dry on paper towel. Prepare the sauce and set aside. 
Combine the egg yolks and ½ cup of the sugar in the bowl of an electric mixer. Use a whisk attachment to mix on medium until pale yellow, about 5 minutes. Mix in the crème fraîche and rum. On low speed add the flour and raisins. This base can be prepared in advance and refrigerated up to one day. It should be in a large bowl.
Shortly before serving, brush 4 6-inch shallow ramekins or an 8 or 9-inch round glass or ceramic oven-proof pie or quiche pan with soft butter and dust with sugar. Preheat oven to 425 degrees. Warm the berry sauce. If the egg yolk mixture has been chilled remove it from the refrigerator.
Whip the egg whites until they hold soft peaks. Add the remaining ¼ cup of sugar and whip a bit more until stiff and glossy but not dry. Fold this meringue into the egg yolk mixture. Spoon into the baking dish or dishes. Bake for about 12 minutes, until lightly browned on top. Spoon the berry sauce over the baked desserts and garnish with fresh berries. Serve. 
Strawberry or Raspberry Sauce
Makes 1 cup
8 ounces good-quality strawberry or raspberry preserves
½ piece star anise
Zest and juice of ½ orange
¼ cup dry white wine
½ tablespoon lemon juice
Place all the ingredients in a saucepan and bring to a simmer. Cook 5 minutes. Remove from heat, cover and let sit 10 minutes. Strain. Set aside if serving soon or refrigerate until ready to serve.  
---
Subscribe to our YouTube Channel and watch select Stirring the Pot programs featuring special guests Tom Colicchio, Jacques Pépin, Alex Guarnaschelli, and more!
Check out recipes from local artists featured in our 1978 cookbook Palette to Palate.
Sponsored in part by Ciuffo Cabinetry, Lead Sponsor of Stirring the Pot since 2014.