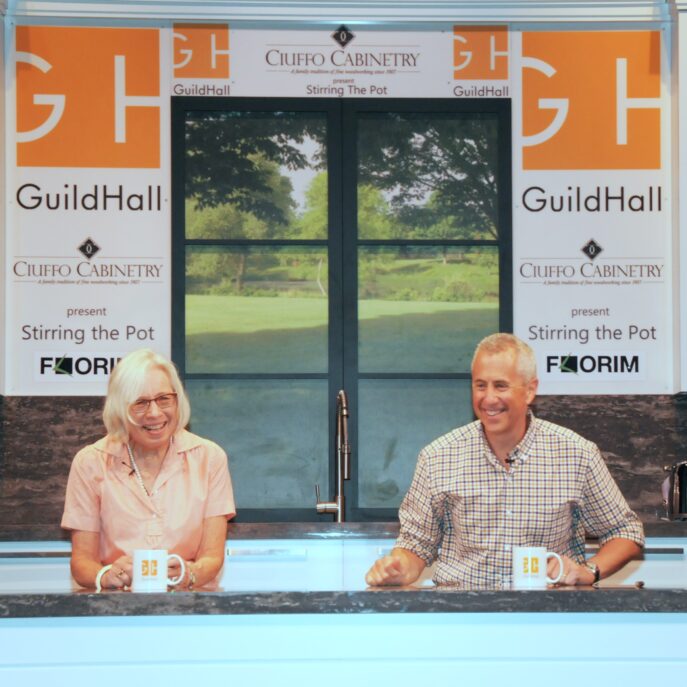 Danny Meyer, a pioneer and a pillar of New York's restaurant industry, came on the scene 35 years ago when he opened Union Square Café. His recounting of that landmark event and his upbringing and experience that led to it were the subjects of his compelling session on Stirring the Pot. And when asked for a recipe for this online snapshot, of all his restaurants, of course he turned to Union Square Café. It's a restaurant that moved, successfully, a few blocks away four years ago and like much of the dining scene everywhere it has now struggled in the pandemic. Its current executive chef, and first woman in that position, Lena Ciardullo, contributed a recipe that still evokes a lingering summer. After all, the farm stands here and the Union Square Greenmarket a short walk for the chef from her restaurant still overflow with corn, tomatoes, zucchini and herbs, despite the gradual entry of cabbages and cauliflower. And though Ms. Ciardullo does not suggest it, adding some minced jalapeño would not be a mistake. You could enjoy a plate of this pasta outdoors for lunch on a warm, bright day. 
Cappelletti with Summer Squash and Goat Cheese
Serves 4
10 ounces dry cappelletti or other small, shaped pasta like fusilli or farfalle
Salt
1 small zucchini
1 small golden zucchini
1 small onion
2 tablespoons extra virgin olive oil
1 small jalapeño, seeded and minced, optional, to taste
1 cup, loosely packed, chopped summer herbs: basil, parsley, mint, chives, cilantro
2 tablespoons unsalted butter
Juice of 1 lemon
4 heaping tablespoons soft fresh goat cheese
Start a pot of water to boil for the pasta, seasoning it with salt until it tastes "like the sea." Meanwhile trim both zucchini, quarter them lengthwise and slice ¼-inch thick. Peel and slice the onion. 
Heat the olive oil in a sauté pan and add the onion. Season with salt. Cook on medium, stirring, until it turns tender and barely starts to color. Add the squash and jalapeño if using and season again. Stir. 
When the water has come to a boil add the pasta and cook until just al dente. Drain it, reserving a cup of the water, and add the pasta to the vegetables. Stir and add the butter and lemon juice. Add enough pasta water so the mixture acquires a sauce-like consistency to coat the pasta. Let cook a few minutes to thicken a bit. Fold in the herbs. Divide the pasta among four warm plates and plop a scoop of the goat cheese in the center of each portion. Serve.
---
Subscribe to our YouTube Channel and watch select Stirring the Pot programs featuring special guests Tom Colicchio, Jacques Pépin, Alex Guarnaschelli, and more!
Check out recipes from local artists featured in our 1978 cookbook Palette to Palate.
Sponsored in part by Ciuffo Cabinetry, Lead Sponsor of Stirring the Pot since 2014.