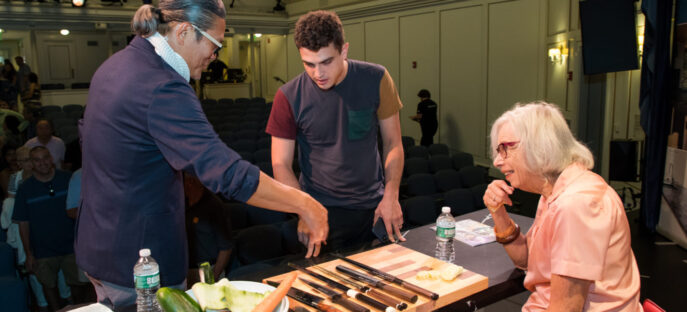 Masaharu Morimoto is a showman. The world-famous Japanese chef came to Guild Hall armed with an arsenal of special Japanese knives and explained their uses. His other agenda was to describe Japanese cooking in a way that might convince home cooks to give it a try. In the next few weeks he was supposed to have been cooking for guests at the U.S. Open tennis tournament in Flushing Meadow but Covid-19 cancelled the possibility of an audience. So instead, the USTA, which runs the tournament, has provided recipes from the guest chefs, including Morimoto, for preparing at home. The following is one of them, a fairly simple affair and a template for experimentation. Temaki are Japanese hand rolls. There are restaurants and counters that specialize in them, assembling them fresh, on the spot. Vegetable temaki is an easy template. The recipe provides the formula for sushi rice and gives the basic ingredients. Some of components require shopping in a market that sells Asian products or using online sources; I've suggested substitutes. Though in Japan what may or may not be properly used in traditional temaki is fairly codified, in your kitchen you can play. Slivers of scallion, radish, blanched green beans, avocado and zucchini are possible candidates for variation. Sushi-grade tuna or fluke can be used with or without the vegetables but with the addition of lime juice. Also consider cooked shrimp and fresh or smoked salmon. You can spice up your hand rolls with Japanese togarashi seasoning or chile powder. And if it's to your taste, adding mayonnaise would not be out of the question. Japanese chefs, including Morimoto do it all the time.
Vegetable Temaki
Serves 4
2/3 cup short grain rice, preferably sushi rice
2 tablespoons rice vinegar
1 ½ tablespoons sugar
¼ teaspoon salt
4 sheets nori seaweed, about 8-inches square or 8 large leaves tender lettuce, preferably red-leaf
½ tablespoon wasabi paste
1 ½ tablespoons furikake (Japanese seasoning), or prepared seafood seasoning
8 shiso leaves or 16 large mint leaves
2 small cucumbers (about 4 inches long), or 6 inches of an English cucumber, peeled and cut in matchsticks
½ medium-size carrot, peeled and cut in matchsticks
1 cup loosely packed microgreens, preferably daikon
Tamari soy sauce for dipping
Place the rice in a strainer and rinse under cold water until the water runs clear. Transfer rice to a small saucepan, add 2/3 cup cold water, bring to a boil, reduce heat to very low, cover and cook 10 minutes. Remove from heat and let sit for 15 minutes. In a small bowl mix the vinegar, sugar and salt together until the sugar dissolves. After the rice has rested fold in the vinegar mixture, fluffing the rice as you go. Set aside partly covered.
If using nori cut each sheet in half. Place one piece of the nori or a lettuce leaf in the palm of your hand. Lightly moisten the other hand and scoop up a clump of rice, about ¼ cup, lightly compress it into an oval shape and place it on the nori or lettuce, a little above the center. With your pointer finger press a depression in the rice. Spread a little wasabi into the depression and sprinkle on the furikake or other seasoning. Next place on the shiso or mint leaves, then a stick or two of cucumber and then a piece of carrot. Add a pinch of microgreens.
Roll the nori or lettuce around the filling to make a cylinder or cone shape and set on a board or platter. Repeat with remaining ingredients, then serve at once. Have a bowl of soy sauce alongside for dipping.
---
Subscribe to our YouTube Channel and watch select Stirring the Pot programs featuring special guests Tom Colicchio, Jacques Pépin, Alex Guarnaschelli, and more!
Check out recipes from local artists featured in our 1978 cookbook Palette to Palate.
Sponsored in part by Ciuffo Cabinetry, Lead Sponsor of Stirring the Pot since 2014.