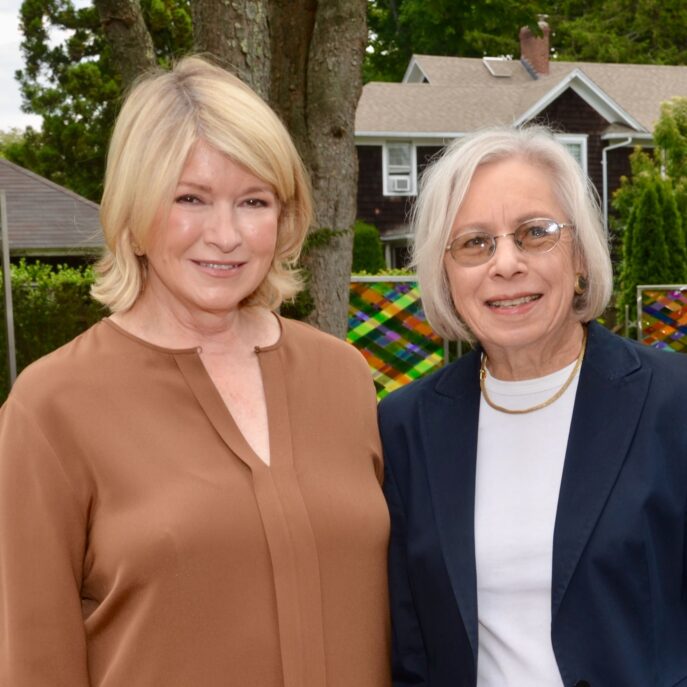 Martha Stewart's
Rhubarb Raspberry Crisp
When it comes to seasonality, Martha Stewart really gets it. After all the doyenne of entertaining, who I have known and admired for more than 40 years, is an avid gardener of ornamentals and edibles at all her homes. When she was a guest at Stirring the Pot several seasons ago she brought baskets of fruits and vegetables from her East Hampton garden to decorate what became an Instagram-worthy set. Now on the weekend that's the start of the summer season she offers a fruit crisp made with rhubarb. Usually strawberries are the fruit of choice to accompany rhubarb to the dance but this year's chilly, late spring has delayed the berries. So it will be raspberries instead. And not local. She says that other fruit, including peaches and blueberries work fine, too. But soon there will be strawberries. Bake the crisp again when the local ones are at the farm stands.  
Rhubarb Raspberry Crisp
Serves 4 to 6
1 1/2 pounds rhubarb, leaves trimmed, in 1-inch pieces (about 4 cups)
2/3 cup granulated sugar
Juice and zest of 1 orange
1 cup all-purpose flour (or half all-purpose, half whole wheat)
½ cup, packed, dark brown sugar
½ teaspoon cinnamon
8 tablespoons (1 stick), cold unsalted butter, in bits
½ cup rolled oats
¼ cup hazelnuts, skinned, toasted and chopped (optional)
½ pint fresh raspberries
Whipped cream, ice cream or yogurt for serving (optional)
Heat oven to 350 degrees. Combine the rhubarb, granulated sugar, orange juice and zest in a large bowl. In another  large bowl mix the flour, brown sugar and cinnamon together. Add the butter and with your fingertips or a fork work it all together to make a crumbly mixture. Add the oats and nuts and toss well to combine.
Spread the rhubarb mixture in a 6-cup baking dish (an 8-inch square about 2 inches deep would do the trick).. Spread the raspberries on top. Cover with the crumb topping. Bake about 45 minutes, until the topping is browned and crisp and the juices are bubbling. Let cool at least 20 minutes before serving with optional whipped cream, ice cream or yogurt. 
---
Subscribe to our YouTube Channel and watch select Stirring the Pot programs featuring special guests Tom Colicchio, Jacques Pépin, Alex Guarnaschelli, and more!
Check out recipes from local artists featured in our 1978 cookbook Palette to Palate.
Sponsored in part by Ciuffo Cabinetry, Lead Sponsor of Stirring the Pot since 2014.