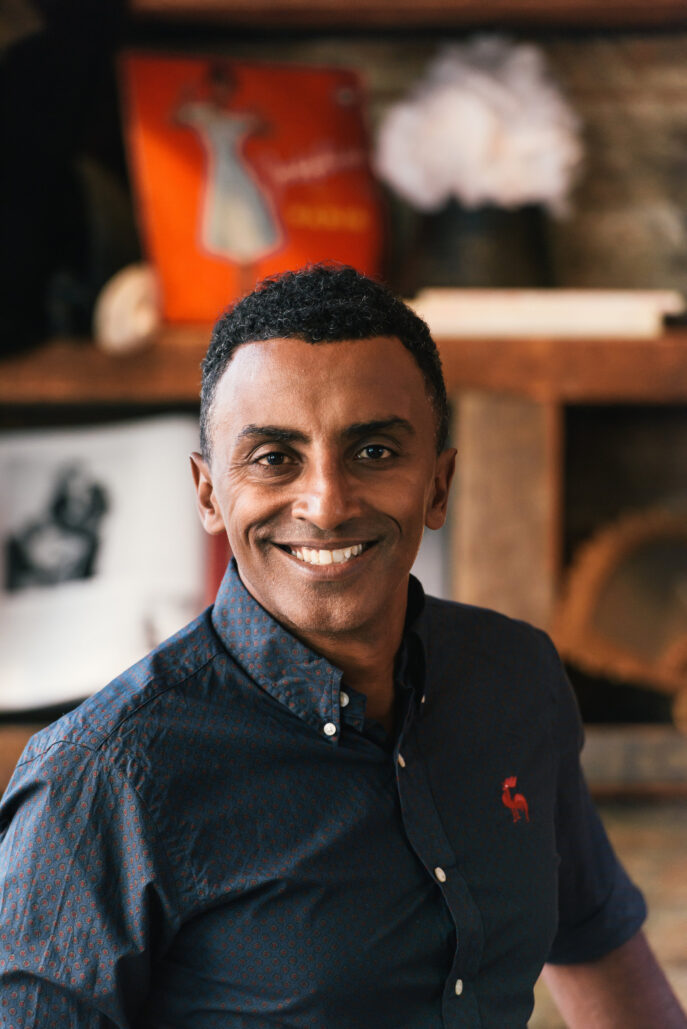 Marcus Samuelsson's background is unusual to say the least. He was born in Ethopia, adopted by a Swedish family as a child, then worked his way through some of the best restaurants in Europe and the United States. He has awesome talent in the kitchen matched by a personality that's all charm and generosity. Though last week's recipe featured a tomato salad with fruit, Samuelsson's take on that concept is vastly different from Carla Hall's, contrasting, as he put it, "juicy watermelon with tomatoes and the sly heat of jalapeños." He said the salad is easily doubled or tripled. If you're grilling you could sear the watermelon and tomatoes over your coals instead of in the skillet, or even use the skillet on a hot grill. Also, consider dicings of feta cheese or even blue cheese in place of the burrata; feta and watermelon is a classic combination, especially in the Middle East. But if you swap out the cheese take care with your salt since those cheeses are more assertive than burrata. 
Tomato-Watermelon Salad with Burrata and Tomato Seed Vinaigrette
Serves 4
A 6-inch thick wedge of watermelon cut from a quarter melon
2 tablespoons grape seed oil
6 medium-size ripe tomatoes, preferably heirloom
2 tablespoons good quality balsamic vinegar
1 teaspoon sugar
1 teaspoon freshly ground black pepper
4 tablespoons extra virgin olive oil
Coarse salt
1 cup chopped arugula leaves
8 basil leaves, torn
2 cloves garlic, sliced thin
2 jalapeños, halved vertically, cored and slivered
8 ounces burrata, at room temperature
Cut the melon wedge in four slices including the rind. Brush with grape seed oil. Heat a cast iron skillet to very hot. Sear the watermelon on both sides about 30 seconds per side. You may have to do this one slice at a time. Set the watermelon aside. Using tongs, sear the tomatoes in the skillet until the skin starts to blister and blacken in spots. Remove the tomatoes to a cutting board. Cut each in half horizontally. Gently squeeze the seeds out of half of each tomato into a small bowl. Core and dice all the tomatoes and place in a large mixing bowl with their juices. 
To the bowl with the tomato seeds add the vinegar, sugar and pepper. Whisk in the olive oil. Season to taste with salt. 
Add the arugula, basil, garlic and jalapeños to the tomatoes and toss. Chop the burrata and add it and gently toss again, then fold in the vinaigrette. Check seasonings. Divide the salad among four plates, add a wedge of watermelon to each, then serve, or transfer the salad to a shallow bowl and garnish with watermelon to serve. 
---
Subscribe to our YouTube Channel and watch select Stirring the Pot programs featuring special guests Tom Colicchio, Jacques Pépin, Alex Guarnaschelli, and more!
Check out recipes from local artists featured in our 1978 cookbook Palette to Palate.
Sponsored in part by Ciuffo Cabinetry, Lead Sponsor of Stirring the Pot since 2014.