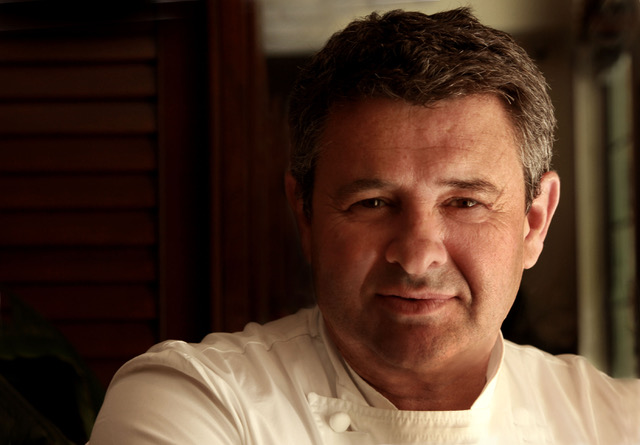 Laurent Tourondel's
New England Clam Chowder
There's that great divide between Manhattan and New England clam chowder, with Long Island smack in the middle. The chef and restaurateur, Laurent Tourondel, an early participant on Stirring the Pot whose burger joint and pizzeria in Sag Harbor are perennially busy when dining in is permitted, is a New England aficionado, never mind his French background. He says that New England clam chowder is one of his favorite soups. "I'll often make a meal of it," he said. Or, given all that butter, bacon and cream, maybe often wrecks a diet on it. He also advised that the soup, which he serves in his burger restaurant, is better after a day in the refrigerator to give the bacon's smoky flavor some time to infuse in the cream. But if that's what you do, refrain from adding the chopped clams until you reheat the soup. He suggests oyster crackers or saltines and an IPA (India Pale Ale) alongside.  
New England Clam Chowder
Serves 6
1/2 cup dry white wine
3 dozen cherrystone clams, scrubbed and rinsed
3 tablespoons unsalted butter
5 ounces smoked thick-sliced or slab bacon, diced 
1 large onion, peeled and cut in 1/4-inch dice
3 cloves garlic, peeled and chopped
2 celery stalks, cut in 1/4-inch dice
3 sprigs thyme, leaves chopped, stems discarded
2 bay leaves
1 1/2 pounds Yukon Gold potatoes, peeled and cut in 1/4-inch dice
2 cups heavy cream
2 tablespoons chopped flat-leaf parsley
Fine sea salt and freshly ground black pepper to taste
Combine the wine with 1 ½ cups water in a large pot. Bring to a boil over high heat. Add the clams, cover, and cook until they pop open, approximately 5 minutes. Remove the clams to a bowl, discarding any that refuse to open. Strain the liquid and set aside. When the clams are cool enough to handle, shuck and dice them. Set aside, covered. 
Rinse and dry the pot. Add the butter and the bacon and cook over medium-high heat until the bacon is crispy. Add the onion, garlic, celery, thyme, and bay leaves. Sauté until the onion is translucent, approximately 4 minutes. Add the potatoes, reserved clam and wine liquid, and the cream. Simmer until the potatoes are tender, 8 to 10 minutes. Fish out and discard the bay leaves. The soup can be made to this point, cooled, covered, and refrigerated overnight in an airtight container. Refrigerate the clams in a separate covered container. Alternatively you can proceed with the recipe to serve the chowder immediately or within a few hours. 
Whether the soup has just been waiting or has been refrigerated, let the clams come to room temperature. Bring the soup to a simmer. Add the clams to the pot. Simmer another 10 minutes. Stir in the parsley and season to taste with salt and pepper. 
---
Subscribe to our YouTube Channel and watch select Stirring the Pot programs featuring special guests Tom Colicchio, Jacques Pépin, Alex Guarnaschelli, and more!
Check out recipes from local artists featured in our 1978 cookbook Palette to Palate.
Sponsored in part by Ciuffo Cabinetry, Lead Sponsor of Stirring the Pot since 2014.