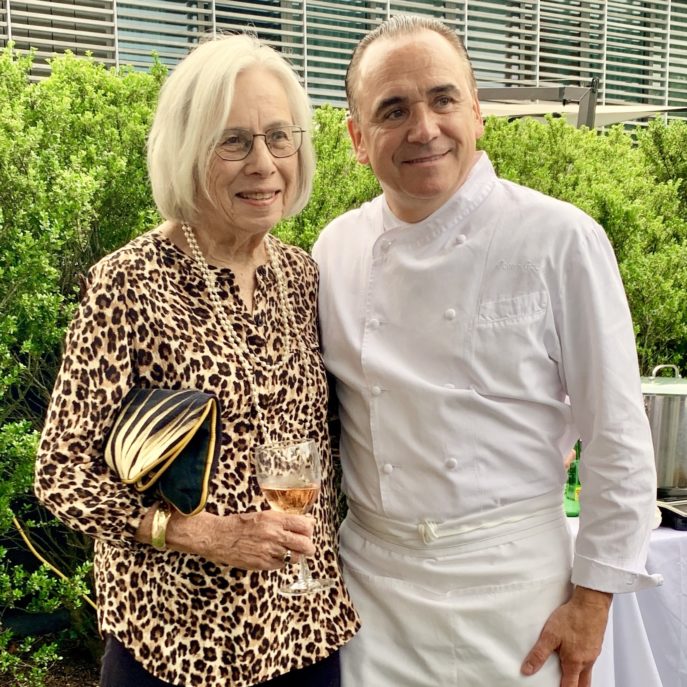 Jean-Georges Vongerichten's
Molten Chocolate Cakes
The portfolio of the chef and restaurateur Jean-Georges Vongerichten includes the dining room at Bridgehampton's Topping Rose House, one of the best in the region. Mr. Vongerichten was a Stirring the Pot favorite a couple of seasons ago. Since his appearance he has published an autobiography, "JGV: A Life in 12 Recipes" written with Michael Ruhlman. There's a section in the book called "On Cooking: The Philosophy of Clean" in which he says: "My number one rule in all of cooking is this: Work clean. Be clean." How important these days (never mind that you may be cooking in your pajamas)! The final recipe in this book, which covers his early years in the kitchen and takes us to his maturing as a chef, is for molten chocolate cakes, the deeply flavored confections that are served warm and still runny in the center. Many chefs prepare them, some claiming to have created them. Mr. Vongerichten said his first came out of the oven when he was at Lafayette in New York back around 1987. Treat yourself and those with you. 
Molten Chocolate Cakes
Soft butter and flour for molds
1 stick (4 ounces) unsalted butter
4 ounces bittersweet chocolate, in pieces
2 large eggs
2 large egg yolks
¼ cup sugar
2 teaspoons flour
Whipped cream or vanilla ice cream for serving, optional
Butter four 4-ounce ramekins and dust lightly with flour. Preheat the oven to 450 degrees.
Combine the stick of butter and the chocolate in a medium-size saucepan, place over low heat and let both melt together. If this makes you nervous you can set the pan in a larger one with some simmering water to improvise a double boiler. But melting the butter with the chocolate should keep the chocolate from scorching. Stir the mixture, then remove from the heat when melted.
Combine the eggs, egg yolks, sugar and 2 teaspoons flour in a bowl and beat until light in color, thickened, and the mixture falls from the beaters in ribbons. Beating by machine is advisable unless you need the exercise. Gradually fold this mixture into the warm chocolate mixture. Pour the batter into the prepared molds and set the molds on a baking sheet.
Place in the oven and bake for six minutes. Let the phone ring, the texts beep! Check your cakes: the edges should be set but the centers should look moist and a little wiggly. They're ready but if you're unsure you can let them bake another minute. Overbaking will make them a little less molten, more cakey but still delicious. Allow them to cool a couple of minutes, then serve. With optional whipped cream or ice cream.
---
Subscribe to our YouTube Channel and watch select Stirring the Pot programs featuring special guests Tom Colicchio, Jacques Pépin, Alex Guarnaschelli, and more!
Check out recipes from local artists featured in our 1978 cookbook Palette to Palate.
Sponsored in part by Ciuffo Cabinetry, Lead Sponsor of Stirring the Pot since 2014.