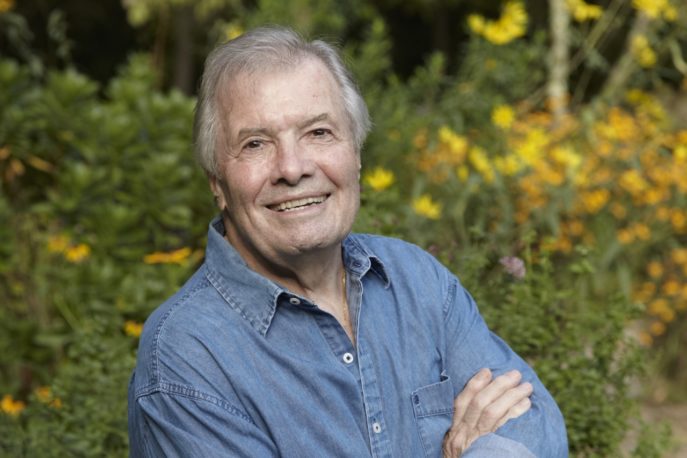 Jacques Pépin's
Codfish in Olive and Horseradish Sauce
The chef, Jacques Pépin, was a delightful guest at a recent season of Stirring the Pot. Though not an East Hampton resident he knows the area well, through his long-standing association with Pierre Franey and Craig Claiborne, with whom he cooked on many occasions. Pépin's cooking follows two tracks: that of the professional chef with all the exacting exquisiteness involved, and the practical home cook. It's the latter category that has often been represented on my table, through his many cookbooks. This recipe is a good example. It's ready in minutes. The original version predates our Greek yogurt era and calls for sour cream but I like it better with the yogurt. The horseradish is what makes it distinctive. And if you're celebrating Passover with a somewhat makeshift Seder this year, this recipe involving with horseradish would suit the dinner, even as a stand- in for gefilte fish. It's also delicious served cold.
Codfish in Olive and Horseradish Sauce
4 Servings 
1 tablespoon extra virgin olive oil
½ cup chopped onion
4 cod fillets, each 5 to 6 ounces, halibut or blackfish can be substituted
Salt and freshly ground black pepper
1 cup dry white wine
12 oil-cured black olives, pitted and halved
2 tablespoons drained capers
2 tablespoons horseradish, freshly-grated or jarred
¼ cup Greek yogurt
4 tablespoons finely minced cilantro leaves
Heat the butter or oil in a sauté pan that will hold the fish in a single layer. Add the onion and sauté on medium until soft but not brown. Season the fish with salt and pepper and place in the pan. Pour in the wine. Cook the fish about a minute and a half or two minutes, turning once. Remove to a platter and tent with foil to keep warm.
Add the olives, capers and horseradish to the pan. Stir in the yogurt and bring to a simmer. Transfer the fish to each of four warm dinner plates, pouring any juices from the platter into the pan. Stir the sauce again and spoon over the fish. Scatter cilantro on top and serve at once. 
---
Subscribe to our YouTube Channel and watch select Stirring the Potprograms featuring special guests Tom Colicchio, Jacques Pépin, Alex Guarnaschelli, and more!
Check out recipes from local artists featured in our 1978 cookbook Palette to Palate.
Sponsored in part by Ciuffo Cabinetry, Lead Sponsor of Stirring the Pot since 2014.