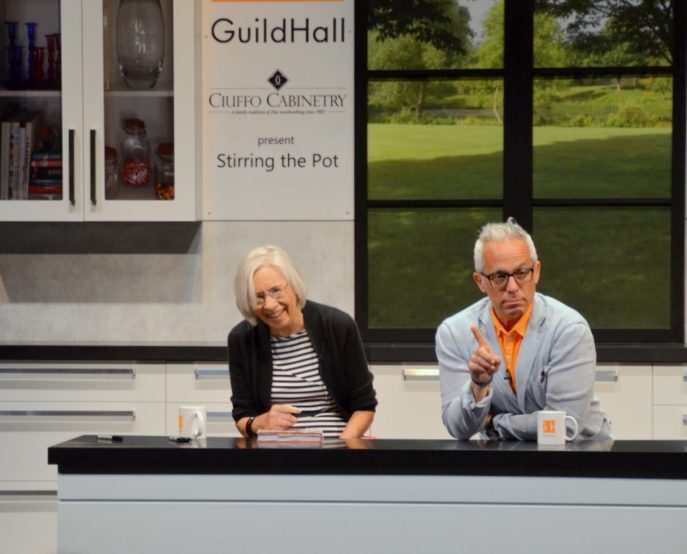 Geoffrey Zakarian's
Creamy Rice and Mushroom Casserole
The chef and restaurateur Geoffrey Zakarian has brought his talent and matinee idol looks to the region on many occasions. He was featured on Stirring the Pot in one of the earlier seasons. And despite his refined culinary sensibility based on years spent in the kitchens of some of New York's finest establishments he is also a practical home cook, as his cookbooks attest. Here's a dish along those lines, a baked casserole of brown rice and mushrooms that's easily assembled and makes a great dish for four to share at lunch or supper, or a side dish for more to accompany grilled fish or chicken. The recipe is easily reduced by half; just use a quart-size baking dish, even an 8-inch pie pan. Any leftovers can be reheated in the oven or even enjoyed at room temperature.
Creamy Rice and Mushroom Casserole
Serves 2 to 4
3 tablespoons unsalted butter, plus more for baking dish
Salt
1 cup long-grain brown rice
1 pound mixed mushrooms, sliced (button, cremini, oyster, stemless shiitake)
Freshly ground black pepper
2 large eggs
½ cup whole milk
½ cup heavy cream
½ cup chopped scallions
¼ cup chopped flat-leaf parsley
2 tablespoons chopped fresh tarragon or mint
Grated zest and juice of 1 lemon
½ cup crumbled goat cheese or other dry-textured white cheese like Boursin or feta
2 tablespoons bread crumbs
Butter a 6-cup baking dish; an 8-inch square or 9-inch round is ideal. Bring 2 ¾ cups salted water to a boil in a small saucepan. Add the rice, lower heat to a simmer, cover and let cook 35 to 40 minutes, until the rice is just tender. Remove from the heat and let stand, covered. Preheat the oven to 350 degrees.
Meanwhile melt 2 tablespoons of the butter in a 10 to 12-inch skillet on medium-high heat, add the mushrooms, season with salt and pepper and let cook undisturbed about 2 minutes until the mushrooms start to brown, then continue to sauté , stirring, another couple of minutes until the mushrooms are cooked and lightly browned. Set aside to cool.
Whisk the eggs in a large bowl, whisk in the milk and cream, then stir in the scallions, parsley, tarragon and lemon. Fold in the rice, mushrooms and cheese. Season mixture with salt and pepper; the saltiness of your cheese will determine how much salt to add. Pour the mixture into the baking dish, sprinkle with breadcrumbs and dot with remaining butter. Bake about 30 minutes, until bubbling around the edges and just set in the center. Let cool for 10 minutes before serving directly from the baking dish.
---
Subscribe to our YouTube Channel and watch select Stirring the Pot programs featuring special guests Tom Colicchio, Jacques Pépin, Alex Guarnaschelli, and more!
Check out recipes from local artists featured in our 1978 cookbook Palette to Palate.
Sponsored in part by Ciuffo Cabinetry, Lead Sponsor of Stirring the Pot since 2014.