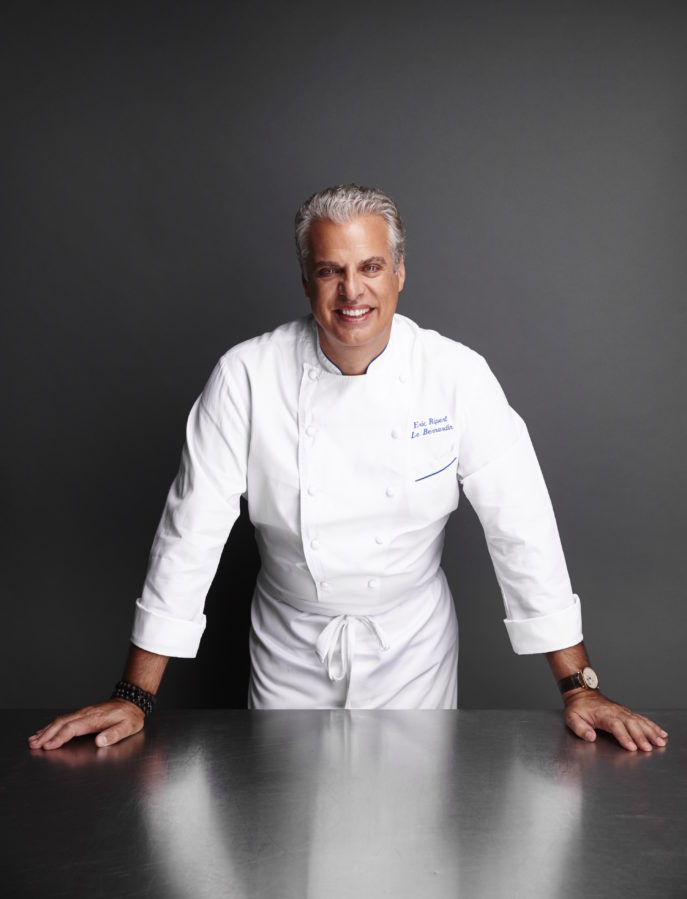 Eric Ripert's
Mushroom Bolognese
Eric Ripert, the god of seafood, and a Sag Harbor resident was among the early round of guests for Stirring the Pot. He is not the man to whom you might turn when it comes to pasta but at Guild Hall he spoke about his home cooking, often not fish. In fact, the menu at Le Bernardin in Manhattan includes pasta with black truffles, a rich knot of noodles drenched in butter and showered with black truffle shavings, for as elite yet simple a comfort dish as you could want. For this column he has contributed a recipe he makes at home, for tagliatelle with a Bolognese-style sauce made with mushrooms. His dish calls for button and maitake mushrooms; I used cremini and stemless shiitakes with excellent results.
Mushroom Bolognese
4 servings
4 cups button mushrooms (about a pound), or small cremini mushrooms
3 maitake mushrooms (about 6 ounces), or shiitake mushroom caps
1 cup dry red wine
3 tablespoons extra virgin olive oil
1 shallot, finely chopped
1 garlic clove, minced
Salt and freshly ground white pepper
2 cups canned tomato puree, or pureed canned tomatoes, preferably San Marzano
1 teaspoon sriracha or other hot sauce, or to taste
12 ounces tagliatelle or fettuccine
Freshly grated Parmigiano-Reggiano
Pulse both mushrooms in a food processor until finely chopped. Set aside. Simmer the wine in a small saucepan until it has reduced to ¼ cup. Set aside.  
Heat 2 tablespoons of the oil in a heavy 3-quart saucepan on medium, add the shallot and garlic, reduce the heat to low and cook until softened, 2 to 3 minutes. Add the mushrooms, stir, increase the heat to medium-high, season with salt and pepper and cook 4 to 5 minutes, stirring, until the mushrooms have softened and the liquid they release starts to evaporate. Add the reduced wine and cook until the liquid is nearly gone. Add the tomatoes, reduce the heat to a slow simmer and cook about 30 minutes, stirring occasionally. Add the sriracha, reseason with salt and pepper as needed, toss in another tablespoon of the oil, cover and set aside. 
Bring a pot of salted water to a boil for the pasta, cook until al dente, about 6 minutes, reserve ½ cup of the water and drain the pasta. Toss the cooked pasta and the sauce together in the pot a few minutes, adding pasta water as needed, then transfer to a serving dish or individual soup plates and serve with grated cheese alongside.  
---
Subscribe to our YouTube Channel and watch select Stirring the Pot programs featuring special guests Tom Colicchio, Jacques Pépin, Alex Guarnaschelli, and more!
Check out recipes from local artists featured in our 1978 cookbook Palette to Palate.
Sponsored in part by Ciuffo Cabinetry, Lead Sponsor of Stirring the Pot since 2014.