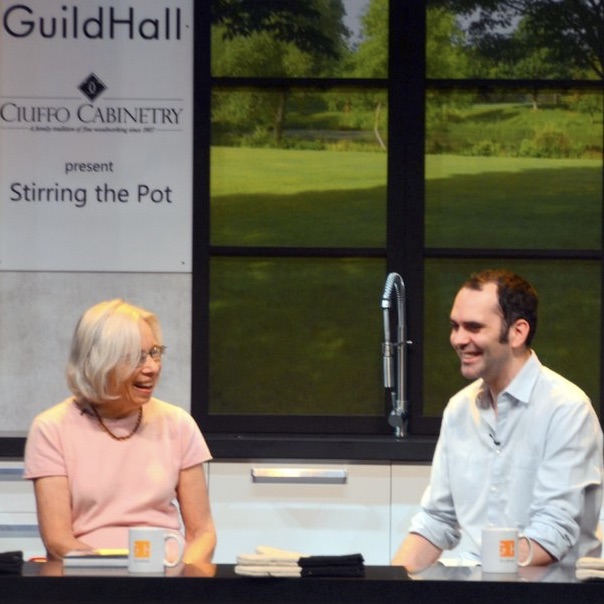 Dominique Ansel's
Olive Oil Almond Cake
When the pastry chef Dominique Ansel visited Stirring the Pot, he brought treats: mini-versions of his signature creation, the Cronut, the mashup of a doughnut and a croissant for which people waited on line outside his Manhattan bakery. What's not to love! Like so many of the chefs in the program he turned out to be affable, self-effacing and ready to talk about his background, career and the sweet world of desserts. For this recipe he dug into his inviting new book, "Everyone Can Bake: Simple Recipes to Master and Mix" (Simon & Schuster, 2020) and the publisher has given permission to use it. The cookbook is a guide to nailing the elements you need to make cakes, pies and other confections; mastering these templates allows you to recombine them and become inventive. In the book Mr. Ansel alternates between calling this cake a pound cake and a sponge cake and it has elements of both. Adding almonds contributes flavor, he says; the olive oil, especially if it's high-quality and green, gives the cake more richness and fragrance. The chef's favorite accompaniment is lemon curd, but the cake is delicious and surprisingly light served plain, and makes a wonderful foil for fruit. In adapting the recipe I found that there was almost too much batter for an 8-inch cake pan size so I recommend a 9-inch. Well-wrapped the cake will keep a day or two in the refrigerator and it can be frozen.   
Olive Oil Almond Cake
One 9-inch cake, serves 8 
Soft unsalted butter for pan
1/2 cup all-purpose flour, sifted, plus more for pan
2 large eggs
2 large egg yolks
2/3 cup confectioners' sugar
3/4 cup almond flour or finely ground almonds
4 large egg whites
1/4 cup granulated sugar
1/4 cup extra virgin olive oil 
Preheat oven to 350 degrees. Butter a 9-inch cake pan. Dust with flour, shaking off the excess.  
Using a stand mixer with a whisk attachment combine the whole eggs, egg yolks, confectioners' sugar and almond flour in the mixer bowl. Whip at high speed until it doubles in volume and turns a pale yellow, 3 to 5 minutes. Transfer to a large bowl. Wash and dry the whisk attachment and the mixer bowl. (If you have two mixer bowls you can use the second one and transferring the egg yolk mixture to another bowl is not necessary.) Place the egg whites in the mixer bowl and whip on medium high about 2 minutes, until the mixture turns into a fine white froth. Reduce the speed to medium-low and gradually add the granulated sugar. Whip until the mixture, a meringue, is shiny and holds medium-firm peaks, about 5 minutes.  
Fold one-fourth of the egg white meringue into the egg yolk mixture until well-incorporated. Fold in the remaining meringue; having a few visible streaks of meringue in the batter is fine. Gently fold in the olive oil in four portions, alternating with the all-purpose flour. Pour the batter into the cake pan. Bake until the cake is golden brown and a cake tester comes out clean, 30 to 35 minutes. Let the cake cool in the pan for 15 minutes, then run a knife around the edge, invert the cake from the pan onto a rack, then turn it over onto a plate or back on the rack. 
Serve the cake plain with a glass of sweet wine or with a dollop of lemon curd, whipped cream and fresh berries or other fruit.  
---
Subscribe to our YouTube Channel and watch select Stirring the Pot programs featuring special guests Tom Colicchio, Jacques Pépin, Alex Guarnaschelli, and more!
Check out recipes from local artists featured in our 1978 cookbook Palette to Palate.
Sponsored in part by Ciuffo Cabinetry, Lead Sponsor of Stirring the Pot since 2014.