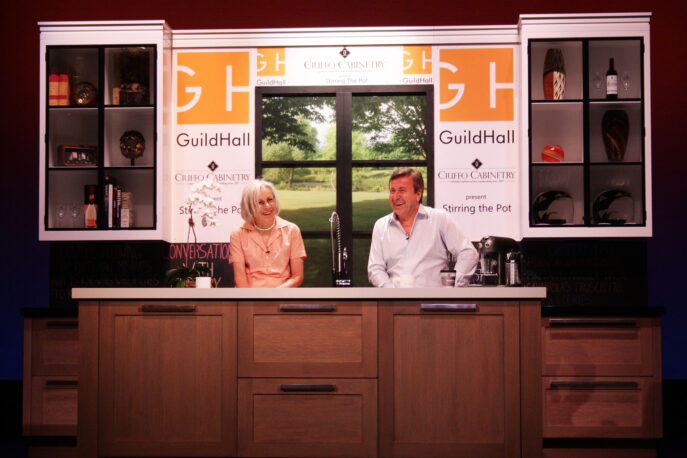 There's a great deal to take away, aside from the excellent dish itself, in this recipe by Daniel Boulud who was a big attraction on Stirring the Pot a few seasons ago. The sauce, for example, is like a loose mayonnaise enriched with a fistful of herbs. But who knew you could make mayonnaise from poached eggs? If you have any hesitation about serving raw eggs usually required for mayonnaise here's your answer. As for the herbs, tart sorrel or arugula are great but other options are basil, cilantro, mint or scallions. Considering the salmon, right now wild Alaskan king and sockeye salmon are in season and those are the salmon choices I would make; I don't reach out for salmon at other times, though the farmed Ora King from New Zealand that Mr. Boulud also recommends is good. As for the vegetables to surround the salmon, use the best that you can find. The dish can be enjoyed at room temperature instead of piping hot. 
Roasted King Salmon with Arugula Dressing
Serves 4
2 large eggs poached for 2 minutes
1 ½ tablespoons white wine vinegar
1 ½ tablespoons Dijon mustard
1 cup extra virgin olive oil
2 ounces (about 1 cup, packed) arugula or sorrel, chopped
Salt and freshly ground white pepper
6 ounces small white potatoes
1 ¼ ro 1 ½  pounds small vegetables, 4 to 6 different ones, trimmed: carrots, turnips, peas, snap peas or snow peas, zucchini (in 1-inch pieces), haricots verts or string beans, asparagus, pearl onions
1 ¼ pounds fresh king salmon, with skin, in four equal pieces
1 cup cherry tomatoes, halved
Place the eggs, vinegar and mustard in a food processor or blender. Process to combine. With the machine running slowly add all but 1 1/2 tablespoons of the olive oil. Process until smoothly emulsified and thickened. Add the arugula or sorrel and process until well combined. Season to taste with salt and pepper. Set aside or, if not using within the hour, refrigerate. The sauce can be refrigerated up to 3 days.
Place the potatoes in a saucepan, cover with water, bring to a boil and simmer for 5 minutes. Slice the carrots, if using, on the bias ½-inch thick. Cut the turnips, if using, in one-inch dice. Add carrots and turnips to the pot with the potatoes. Continue cooking until all are tender, about 15 minutes. Drain and cut the potatoes in one-inch dice. Set aside. 
Bring a large pot of salted water to a boil. Have a large bowl of ice and water ready. Add the remaining vegetables to the boiling water and blanch each vegetable variety separately until crisp-tender, then drain and place them in the ice water. Toss them so they cool down, then drain well. 
Season the salmon with salt and pepper. Place a large skillet, preferably cast iron, over medium-high heat. Add 1 tablespoon of the remaining olive oil and sear the salmon, skin side down, about 3 minutes. Reduce heat to medium-low and continue cooking the salmon until it is medium rare to medium in the center. Remove from the heat and cover the pan. Heat another sauté pan over medium heat and add the remaining olive oil. Add all the vegetables and toss for several minutes until they're heated through. Season to taste with salt and pepper. 
To serve, remove the skin from the salmon and place each piece on a dinner plate. Surround with the vegetables and garnish with cherry tomatoes. Spoon some of the sauce on each portion and serve. 
---
Subscribe to our YouTube Channel and watch select Stirring the Pot programs featuring special guests Tom Colicchio, Jacques Pépin, Alex Guarnaschelli, and more!
Check out recipes from local artists featured in our 1978 cookbook Palette to Palate.
Sponsored in part by Ciuffo Cabinetry, Lead Sponsor of Stirring the Pot since 2014.