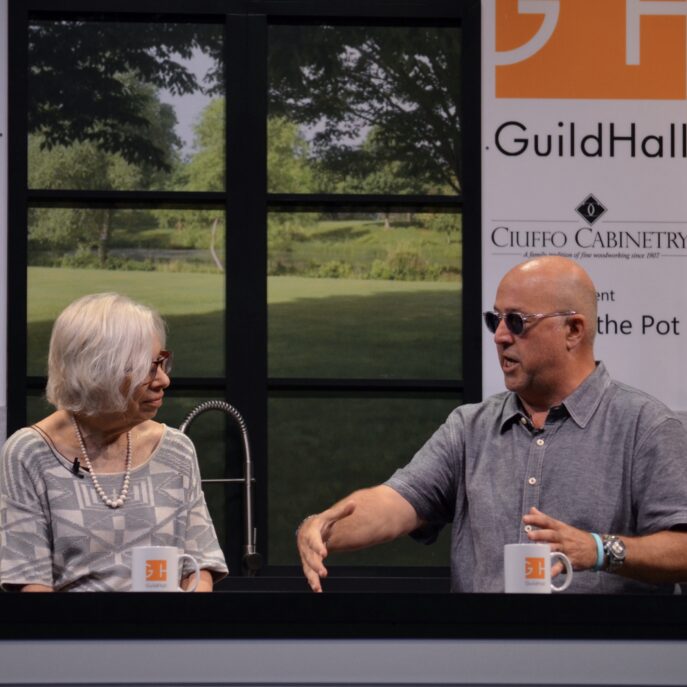 Andrew Zimmern's Pan-Roasted Cornish Hens with Calvados and Apples
Andrew Zimmern, the television food personality known for traveling the globe and scarfing down weird food, shared some of these adventures with the Guild Hall audience  couple of years ago. Now he has changed his tune. His new series this year, "Feeding America" on MSNBC, lands at the intersection of food and social justice. "You can tell civic stories through food and increase social awareness," he said. "The pandemic has reignited many of these issues. Think of the role of restaurants, lunch counters, in various campaigns." But this recipe, a seasonal favorite of his, is neither bizarre nor political. It's just delicious. It comes from Normandy, in France, the land of butter and Calvados. Zimmern said he found it in an old farmhouse cookbook. Though he calls for Cornish hens, baby chickens, or poussins, which are often sold at the Iacono Farm in East Hampton (be sure to pre-order) are what I would recommend. The quickly-made dish announces fall and with its rich sauce it's one to summon throughout the cold season. Alongside consider sautéed mushrooms and steamed basmati rice with a whiff of curry.
Pan-Roasted Cornish Hens with Calvados and Apples
Serves 6
3 Cornish hens or poussins, quartered, backbones removed
Salt and freshly ground black pepper
2 tablespoons unsalted butter
2 tablespoons extra virgin olive oil
1 cup chopped shallots (about 5)
1 cup sweet (non-alcoholic) apple cider
1 cup chicken stock
½ cup Calvados or applejack
1/3 cup apple cider vinegar
2 tart apples, peeled, cored and sliced thin
1/3 cup heavy cream
½ cup dried currants
Dry the hen or poussin pieces on paper towel. Season with salt and pepper. In a large sauté pan heat the butter and oil on medium-high. Add the poultry pieces, skin side down and let brown, 5 minutes or so. Turn and brown the other side. Remove them to a platter. Reduce the heat to medium, add the shallots and cook a few minutes until softened and starting to brown. Add the cider, stock, Calvados and vinegar. Increase the heat to medium-high and let cook until somewhat reduced, about 5 minutes. Stir in the apples and cream and bring back to a simmer.
Return the hen or poussin pieces to the pan along with any cooking juices from the platter. Baste with the sauce, cover and let simmer for 5 minutes. Uncover and continue cooking, basting the hens or poussins with the sauce, another 12 to 15 minutes, until the cream sauce has thickened enough to coat a spoon. Transfer the hens or poussins to a warm serving platter. Add the currants to the sauté pan, season the sauce with salt and pepper and spoon the sauce and apples over the hens or poussins on the platter. Serve at once. 
---
Subscribe to our YouTube Channel and watch select Stirring the Pot programs featuring special guests Tom Colicchio, Jacques Pépin, Alex Guarnaschelli, and more!
Check out recipes from local artists featured in our 1978 cookbook Palette to Palate.
Sponsored in part by Ciuffo Cabinetry, Lead Sponsor of Stirring the Pot since 2014.