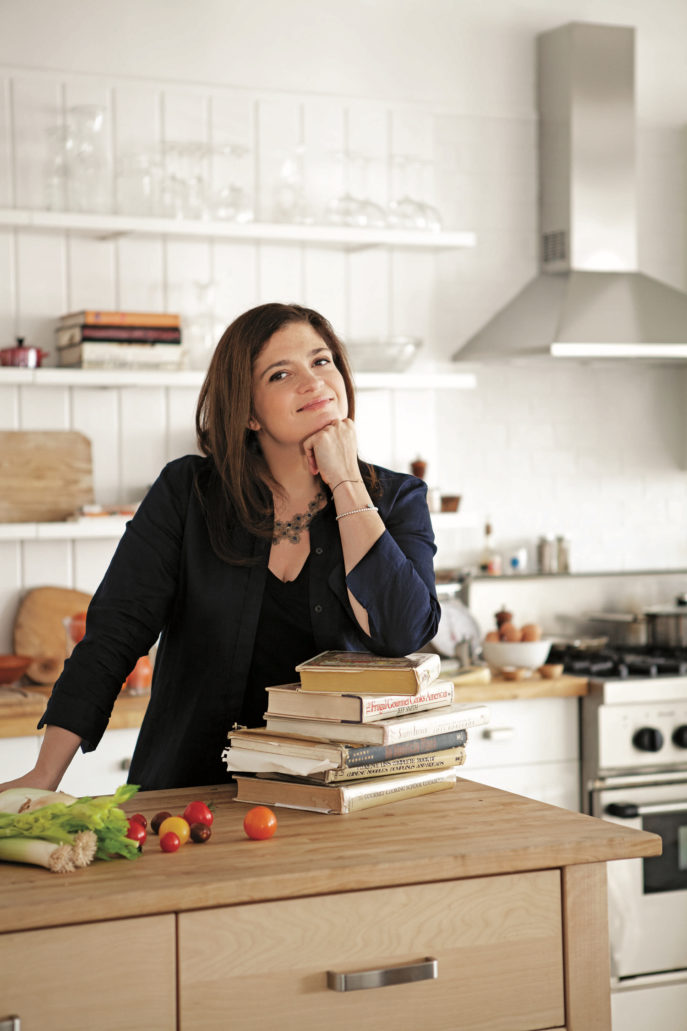 Alex Guarnaschelli's
Baked Potato Salad
Alex Guarnaschelli, an accomplished chef and restaurateur, enlivened last season's "Stirring the Pot" with her very particular brand of personal humor. As serious as she may be in the kitchen, she doesn't overrate herself. And she also doesn't take this recipe so seriously that she would refuse to accept variations. She says it can be made with other potatoes, leftover cooked potatoes, even sweet potatoes. And feel free to vary the amount of oil or vinegar, or even include some mayonnaise, she said. I was intrigued by the recipe. Potato salad is one of my favorite indulgences but I had never tried one like this, made with baked potatoes. It's delicious, especially when still slightly warm. The next time I prepare it I'm thinking of adding dicings of bacon and maybe even some of the bacon fat to the mix. I'm sure Alex wouldn't mind.
Baked Potato Salad
4 to 6 servings
2 pounds medium Idaho baking potatoes, scrubbed
4 tablespoons extra-virgin olive oil, approximately
2 tablespoons Dijon mustard
1 tablespoon red wine vinegar
1 large dill pickle, finely chopped
2 tablespoons pickle brine
1 small yellow onion, sliced thin and separated into rings
Salt to taste
1 tablespoon minced chives or flat-leaf parsley, optional
Preheat oven to 400 degrees. Place the potatoes directly on the rack in the center of the oven and bake about one hour, until tender when pierced with a sharp knife. Remove from the oven and let cool a few minutes, until they can be handled.
Meanwhile, in a large bowl, beat 3 tablespoons of the oil with the mustard, vinegar, pickle and brine. Fold in the onion. Peel half the potatoes then cut them all in 2-inch chunks. Place in the bowl and mix gently with the dressing. Then, using a fork, lightly but firmly crush the potatoes into smaller, rough pieces. You want the mixture to be unevenly clumpy, not smoothly mashed so don't overdo it. Season with salt, add the remaining tablespoon of oil or more, to taste, mix gently again and transfer to a serving bowl.
Shower with herbs if desired. Serve at room temperature.
---
Subscribe to our YouTube Channel and watch select Stirring the Pot programs featuring special guests Tom Colicchio, Jacques Pépin, Alex Guarnaschelli, and more!
Check out recipes from local artists featured in our 1978 cookbook Palette to Palate.
Sponsored in part by Ciuffo Cabinetry, Lead Sponsor of Stirring the Pot since 2014.