Laurie Anderson
June 2 – July 22
Laurie Anderson is an avant-garde artist, composer, musician and film director whose work spans performance art, pop music, and multimedia projects. Initially trained in violin and sculpting, Anderson pursued a variety of performance art projects in New York during the 1970s, making particular use of language, technology, visual imagery and electronic music.  All of these elements are still a vital part of her artistic output.
Click here to view the film schedule
Virtual Reality Experiences
There is plenty to see in the Laurie Anderson exhibition without a reservation, however, if you would like to reserve a 15 minute virtual reality slot for either ALOFT or CHALKROOM, please reserve below. Note: you must make separate reservations for ALOFT and CHALKROOM. Each reservation is for one individual.
---
Ellsworth Kelly in the Hamptons
August 11 – October 8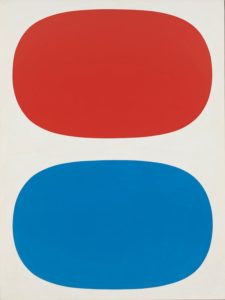 Ellsworth Kelly's sabbaticals in the Hamptons during 1960 and 1961 and a few years later, during 1968 and 1969, were pivotal episodes in his career, which spanned more than six decades. While ensconced on the East End during his late thirties and mid-forties, Kelly, one of America's most significant abstractionists, painted two distinct bodies of work, made a large sculpture, drew plants and flowers, and photographed local farmyard barns. Surprisingly, the time he spent on the easternmost stretch of Long Island has not been investigated. As it is, it's barely mentioned in most chronologies devoted to his life and art. A black and white photograph of seven paintings seen outdoors in a rustic setting in the Springs in 1960—and published in a French exhibition catalogue—establishes what Kelly executed that year. Varied in their dimensions, singular interior shapes, and colors that are not readily associated with his oeuvre, these works by Kelly go off in a new direction from what preceded them. The same also can be said of the art he executed at the end of the nineteen sixties. Moreover, these shaped canvases appear to have been inspired by barns that the painter photographed in Southampton in 1968. Then too, his palette became bolder and more assertive, the scale of his canvases grew larger, and his preoccupation with shaping established him as a pioneer of the times.