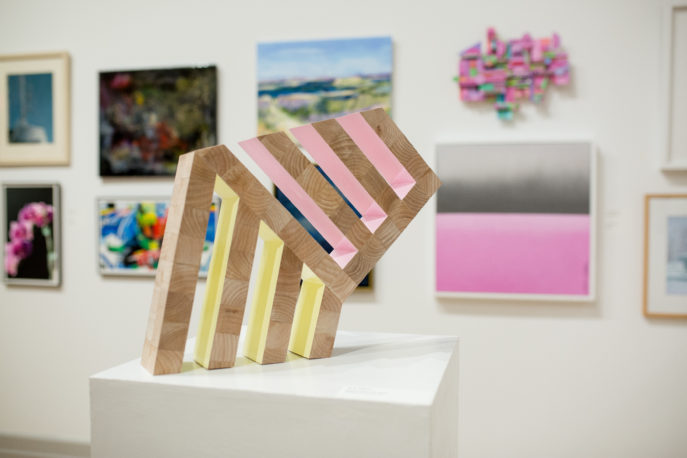 IMPORTANT DATES
February 17 – Registration Postmark Deadline

February 21 – Online Registration Deadline by 11:59pm
February 28 & 29 – Art Work Drop-Off
10am – 4pm
March 7 – Private Member Reception
4 – 6pm
April 19 & 20 – Art Work Pick-Up
10am – 4pm
Membership Requirements
ARTISTS MUST BE CURRENT GUILD HALL MEMBERS through April 20, 2020, 18 years or older.
If you have any questions regarding your membership status, please contact the Membership Office at (631) 324-0806.
Registration Fee: There is a $50.00 ENTRY FEE which is due when you register. This is in addition to your membership dues.
Registration: Registration must be completed by the designated postmark deadline OR by midnight on the designated online deadline. Registration forms mailed after this date cannot be guaranteed inclusion in the exhibition. There are no exceptions to these deadlines.
Artwork Guidelines
Media:  Oil, acrylic, watercolor, mixed-media (please list all materials used), graphics, drawing, photography, sculpture, and video. No crafts or pottery due to space limitations. No giclée prints.
Sculpture Requirements: Sculpture MUST be accompanied by a STURDY WHITE base/pedestal, provided by the artist. Please clearly label the bottom of the pedestal with the artist's name and contact information.
Pedestal must accommodate sculpture with at least 6" clearance surrounding artwork, i.e.: 32" W x 32" D.
*If sculpture is not secure on pedestal, it may be replaced by an in-house pedestal or added to a group pedestal at the discretion of the museum staff.
Video Requirements: Artist must bring a video monitor that has an integrated playback system. Must bring monitor hardware for hanging. Monitor must be no larger than 25" x 25". Max video time of 15 minutes. Video must be looped. If there is sound, headphones must be provided.
Number of Works: Each artist may enter one work, completed within the last five years and not previously shown at Guild Hall.
Size: No larger than exactly 25″H x 25″W including frame MEASURE YOUR WORK INCLUDING THE FRAME!
Size limitations are strictly enforced.
Your work WILL BE measured at check-in. 
Under NO circumstances will oversize work be accepted.  
*Some frames are listed as 25" but are larger, so please measure carefully.
Works must have hanging wire and be ready to install.
No wet paintings or work requiring special installation or handling will be accepted.
Wall-mounted Sculpture: No larger than 25″H x 25″W x 5″D
Sculpture: No larger than 30″H x 20″Diameter, including light boxes.
Sculptures MUST include an appropriate base which must be white.
Video Monitor: No larger than exactly 25"H x 25"W x 5″D
Guild Hall reserves the right to refuse any work that does not conform to these specifications. By signing the registration card, you are agreeing to these terms.
Pricing and Regulations

Price and Commission: Guild Hall retains 50% commission on all sales.
You must indicate selling price of work or NFS (Not For Sale) on the registration card. Please note 50% commission will be taken from the price indicated on your registration card. Price on request (POR) is not permitted. You will not be able to change the price after you submit.
Labels: Affix white identification labels to your work before you deliver to Guild Hall. Carefully attach one (to be removed) lightly to the front and one firmly to the back. *if you register online, artwork identification labels will be emailed to you within 7-10 days.
Insurance: Guild Hall cannot insure work, or be responsible for loss or damage. Your signature upon delivery and again at pick-up releases Guild Hall from responsibility from losses. You may want to retain your own insurance.
Transport: All registered work must be brought to Guild Hall during the appropriate Drop Off period. You may NOT substitute another piece for the registered work. You must arrange to deliver your work to and pick your work up from Guild Hall. Guild Hall cannot accept works delivered from UPS, Fedex, or the Post Office.
Drop off, Pick-up & Awards
Drop Off: Artwork must be dropped off on February 28 & 29, between 10am – 4pm. Artwork will not be accepted before or after these dates.
*Artwork must be unpacked prior to drop off; no packing material will be accepted or held by Guild Hall.
Pick Up: Artwork must be picked up on April 19 & 20 between 10am – 4pm.
Guild Hall is unable to store or hold any work for any time, and will not be responsible for any loss or damage after April 20.
 $20 will be charged for EACH day work is not picked up.
Awards: Prizes are selected by a guest judge and announced at the opening reception. The Top Honors Winner will receive a solo exhibition in the Spiga Gallery at Guild Hall which will be given within a timely fashion according to the museum schedule. We will notify award winners immediately after the judging. Be sure to provide a current phone number and/or cell phone number on the registration card. Past 'Top Honors' winners will not be eligible to win again until 5 years later.