WordTheatre presents
HEY, DOYLE! Tales & Jazz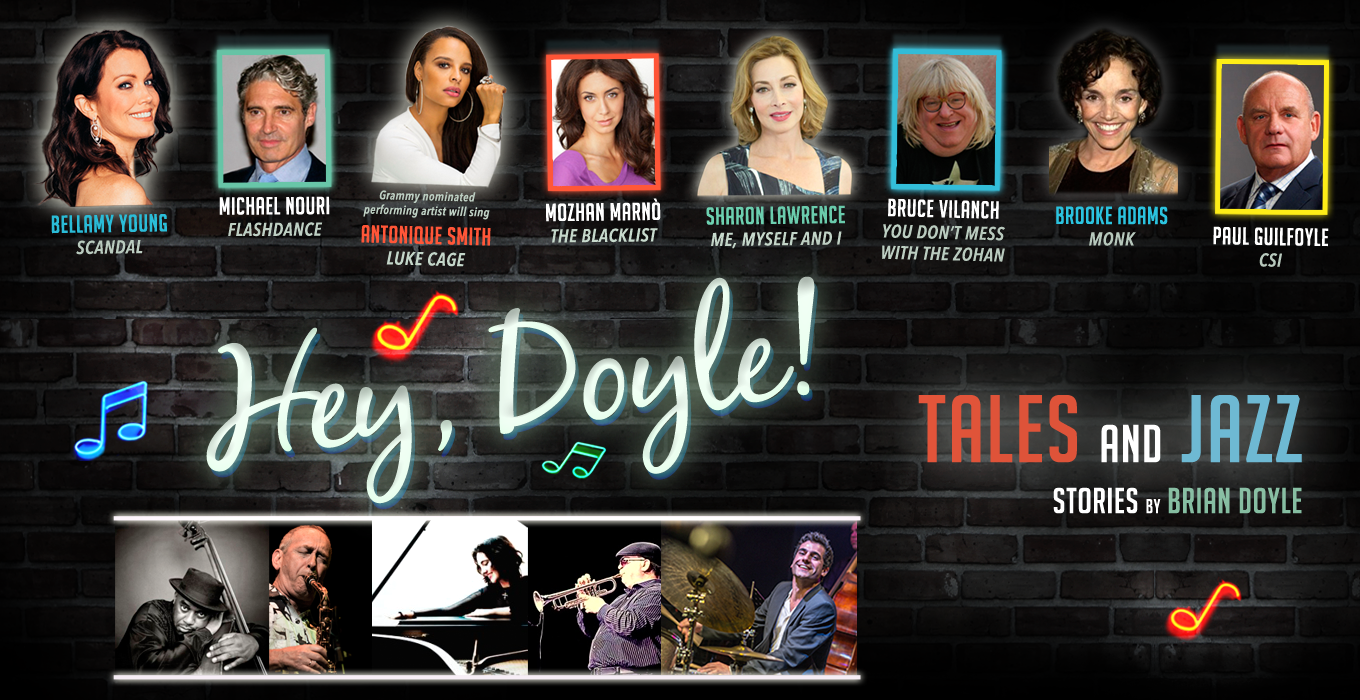 Overview
This star-studded night of Tales and Jazz will benefit WITS: WordTheatre® in the Schools and The Pushcart Prize Fellowships.
Bellamy Young (Scandal), Grammy nominated singer Antonique Smith (Luke Cage), Mozhan Marno (The Blacklist), Bruce Vilanch (You Don't Mess With the Zohan), Sharon Lawrence ( Me, Myself & I), Michael Nouri (American Crime Story: The Assassination of Gianni Versace, Flashdance) Brooke Adams (Terrence Malick's Days of Heaven), Paul Guilfoyle (CSI), will bring to life short stories penned by the late, great Brian Doyle, a multiple Pushcart Prize winning author. Composers Jonathan Sacks and Starr Parodi (Piano) and have written an original jazz score which will be performed by Pedro Segundo (Percussion), Morris Goldberg (Saxaphone, Flute, Clarinet, Piccolo), Michael Rubenstein (Trumpet), and Essiet Okon Essiet on bass, with some very special surprises" "Hey, Doyle!" is directed and produced by Cedering Fox.
        "There is a story in every thing, and every being, and every moment, were we alert to catch it, were we ready with our tender nets; indeed there are a hundred, a thousand stories, uncountable stories, could they only be lured out and appreciated; and more and more now I realize that what I thought was a skill only for authors and pastors and doctors and dream-diviners is the greatest of all human skills, the one that allows us into the heart and soul and deepest layers of our companions on the brief sunlit road between great dark wildernesses."  –– Brian Doyle
WordTheatre® gives voice to great writing. We are an internationally renowned, nonprofit 501(c)(3) organization that celebrates the world's best contemporary literature. Our powerful and engaging performances featuring esteemed authors, actors and musicians, capture the imagination of diverse audiences, from sophisticated cultural enthusiasts to underserved middle and high school students, inspiring empathy, curiosity, and conversation.
Event Sponsors
HEY DOYLE! is made possible, in part, by a generous grant from The Oster Family Foundation with additional support from Jane Oster. All Theater Programming is supported by generous gifts from Barbara Slifka, Marders, and the Daryl and Steven Roth Foundation, and funding from The Ellen and James S. Marcus Endowment for Musical Programming, The Harold and Mimi Steinberg Charitable Trust, The Hess Philanthropic Fund, The Melville Straus Family Endowment, and Vital Projects Fund, with additional support from Brown Harris Stevens, Forever Bungalows, and public funds provided by Suffolk County.
Become a Sponsor