The Neo-Political Cowgirls
Hysteria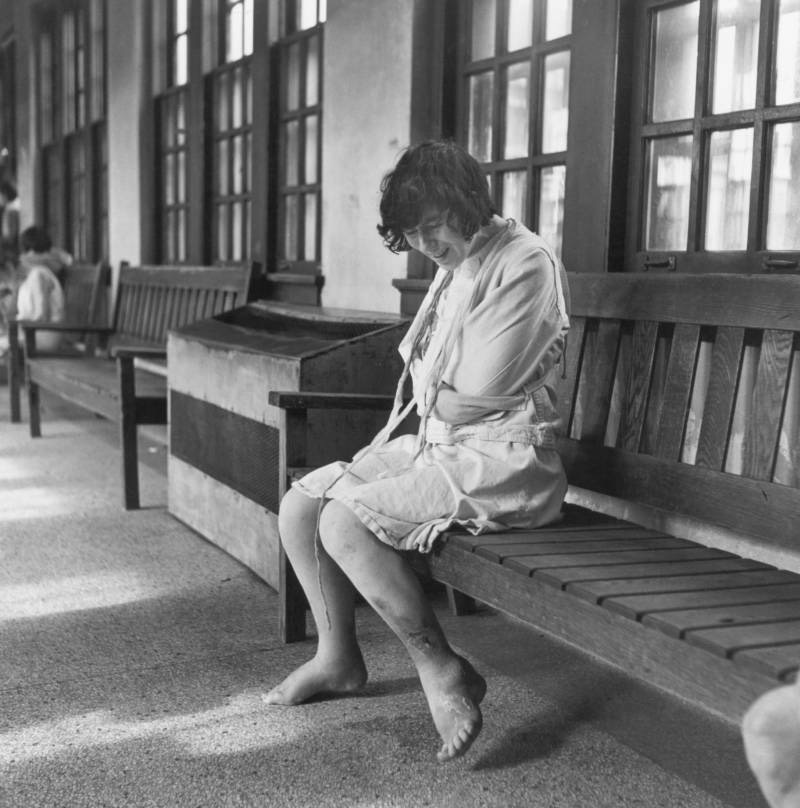 Overview
Company members from The Neo-Political Cowgirls perform this one-off production of HYSTERIA, a "Surround Story" which plays with sound, immersive experience, music, light and darkness, dance and chilling stories inspired by women who were diagnosed with "Hysteria" then yanked from loved ones to be cast into insane asylums, never to be seen again. Creepy and riddled with distorted movement, terrifying music and stories, HYSTERIA presents a unique experience for the Halloween season for those who love being scared.
HYSTERIA at Guild Hall features Vanessa Walters (NYC), Josh Gladstone, Trevor Vaughn (NYC), LaWanda Hopkins (NYC), Quinn Jackson (NYC), Amanda Nichols (NYC), Rebecca Edana, Susan Stout, and Colleen Edwards.
The Neo-Political Cowgirls

The Neo-Political Cowgirls is a not-for-profit dance theater company dedicated to making theater for and from the perspectives of women* and the under-represented in our society. Founded in 2007 by Kate Mueth, NPC is committed to making work that puts powerful stories center stage and creates a space where humans from all walks of life can share their stories through professional dance theater and other arts. Storytellers at heart, their site-specific projects are ground- breaking and invigorating, and they believe in removing conventional walls that traditionally separate audience and actors. Called "Unapologetically raw" and "Gorgeous vision-makers," NPC also ignites communities through their Arts Education arm, Making Space.

Kate Mueth

Kate Mueth is the founder and Artistic Director of the award-winning dance theater company The Neo-Political Cowgirls. In their 12th year, NPC continues to make "Mind bending" theater that seeks to deepen and challenge the ways in which audiences experience theater and the human story. Committed to shining light on female-identifying theater makers, NPC produces and supports work by women+ in order to create parity on the stages both nationally and internationally. NPC's Arts Education Outreach programming has been called "Crucial to our community" for their tireless work in using the Arts to creatively address social (in)justice, education and mental health issues. Kate is a proud Actor's Equity Union member and Co-VP of Communications sitting on the board of the League of Professional Theatre Women. She has worked as actress/director/choreographer with such luminaries as Blythe Danner, Tony Walton, Simon Jones, Cathy Curtin, Liz Larsen, Heather Lind, Joe Pintauro, Tovah Feldshuh, Florencia Lozano and others in places like Lincoln Center, John Drew Theater, Bay Street Theater, 13th Street Rep, Chicago Playwrights, Shakespeare & Co., The Gym at Judson, Culture Project NYC, etc. She has toured work with NPC to Berlin, Helsinki and Off-Broadway. Kate is thrilled to be working with the creative wonder Ellen Dolan on Ball of Redemption. Upcoming projects: Three days of Arts and Advocacy Gala Andromeda's Sisters at Guild Hall June 14th (Performance) and 23rd, (Creative Workshop) and June 22nd (Roberta Kaplan interview) at a local Private Estate and summer traveling main stage VOYEUR experience in July and NYC programming in August. Kate is wife to the creative theater gem Josh Gladstone and mother to their witty son August, a rising Sophomore at Emerson College.