Sonic Guild: Time and Space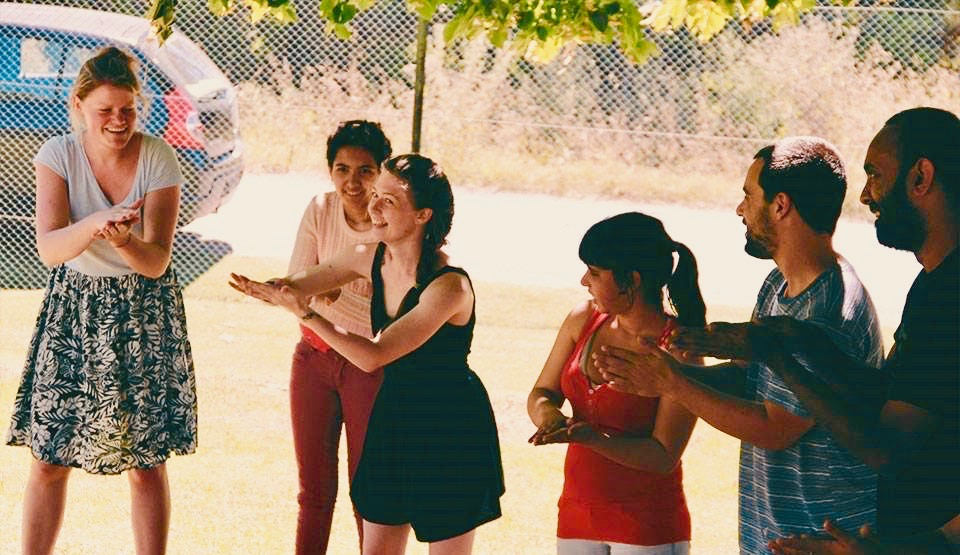 Overview
How do we interact with our given environment? Do we take time to notice the color of the leaves; strength of the wind; or the heat from the sun? Is our relationship to these elements different than that of our neighbors? Do we care to notice?
A week long discovery in sound, art, and nature, Sonic Guild: Time and Space is a program for musicians of all skill levels to collaboratively compose an original piece of music in response to our exhibit, Ugo Rondinone: Sunny Days, and performance series PHILIP GLASS: WORKS FOR PIANO – Program A & Program B.
The week will be led by artists/musicians Rachel Mangold, Morgan Schoonover and Anthony Madonna with guests from the Montauk Observatory and Shinnecock Nation; culminating in a sharing of the week's work and experiencing PHILIP GLASS: WORKS FOR PIANO – Program A in our John Drew Theater.
For Young Musicians; Ages 8–18
*Musicians must have at least one year on their instrument (strings, brass, woodwind, percussion, voice, electronic, or other) to participate.
Rachel Mangold

Rachel Mangold is a collaborative and experimental double bassist living in Brooklyn, New York. With a practice rooted in inquiry and a commitment to cultural impression, she is weaving the threads of performance and participatory work into a holistic practice. 

As a performer, she plays with a variety of unique organizations in New York such as the String Orchestra of Brooklyn, Apartment Sessions, Groupmuse, piano+ at Arete, and frequent loft concerts as both a solo act and in an eclectic duo with violinist, Evelyn Petcher. Her participatory practice primarily involves facilitating collective composition projects with a wide variety of participants of all ages, economic backgrounds, and cultures. She founded and co-led workshops with Her Dynamic in London, U.K., whose performances at Barbican Creative Learning's Dialogue Festival were very well received and noted as a revolutionary style of workshop leading. She collaborates regularly with Creative Connections leading projects across the US, and is a Teaching Artist with both the New York Philharmonic's "Very Young Composers" program and the Little Orchestra Society.

Morgan Schoonover

Morgan Schoonover is a sound artist, visual artist, and musician based in Minneapolis, Minnesota. After receiving a Master of Music in Leadership from the Guild Hall School of Music and Drama, she became interested in the intricacies of social connection through music and art. Through sound art installation and interdisciplinary collaboartions, her multi-sensory work often explores social connection through audience participation. She believes that sharing the creative process with others empowers a communal form of artisit owernship and challenges the notion of a singular artistic genius. 

Morgan's work has been presented at Tate Modern's Tate Exchange and Barbican Creative Learning's Dialogue, Curious and Unfinished festivals. She has performed collaborative interdsciplinary work at London Contemporary Dance School, the Lattitude Festival, and the London Jazz Festival. She is currently working as a composer with Sandbox Theatre Company, as a guest radio host on KFAI Radio Without Boundaries, and is presenting installation work with Haptics Lab. 

Anthony Madonna

The Patti Kenner Fellow in Arts Education

As an interdisciplinary collaborative artist, educator, and administrator, Anthony strives to construct experiences that both critically challenge our individual beliefs and bring awareness to our responsibility as a community. 

This ambition has led him to work in various roles and contexts; a workshop-leader of original music and theatre pieces amongst diverse age groups and learning developments, a hosptial music practitioner within elderly communities, a concert and festival producer, a composer/performer of experimental vocal works, and a collaborative installation artist. Anthony has worked within institutions such as The McCater Theater Center, The Juilliard School, and the Barbican Centre. His projects have been showed/performed as part of the Tate Modern's Tate Exchange, Barbican Creative Learning's Dialogue, UnFinished, Curious, and OpenFest festivals, and other community focused centers.  

In addition to this work, Anthony continues to perform as both a soloist and ensemble member. As part of the London Symphony Chorus and Westminster Symphonic Choir, he has performed with renowned orchestras and conductors; The N.Y. Philharmonic, The Philadelphia Orchestra, The L.A. Philharmonic, The London Symphony Orchestra, Yannick Nézet-Séguin, Alan Gilbert, Gustavo Dudamel, Fabio Luisi, Sir Simon Rattle, Bernard Haitink, Antonio Pappano, and more. Additionally, he has performed back-up for prominent performers such as Angelique Kidjo, and up-and-coming artist, Asthmatic Harp. Anthony is a member of Moving Star Voices, at residency at Carnegie Hall's Weill Institute, and is a Staff Singer at the Cathedral of the Incarnation, Garden City, NY. 

Currently, Anthony serves as The Patti Kenner Fellow in Arts Education at Guild Hall of East Hampton. The Fellowship aims to support the next generation of artists, theater makers and creative professionals through the development and creation of high quality, inventive and pioneering educational offerings. 

Anthony is a graduate of the Guildhall School of Music & Drama (M.M. Music Leadership), The Juilliard School's Professional Apprenticeship Program, and Westminster Choir College (B.M. Music Education & Vocal Performance).
Event Sponsors
All Education Programming supported by The Patti Kenner Arts Education Fellowship, with additional funding by an anonymous donor, Kate W. Cassidy Foundation, Lewis B. and Dorothy Cullman Endowment Fund, and The Melville Straus Family Endowment. All Theater Programming is supported in part by Ellen Myers, Marders, the Daryl & Steven Roth Foundation, and funding from The Ellen and James S. Marcus Endowment for Musical Programming, The Harold and Mimi Steinberg Charitable Trust, Hess Philanthropic Fund, The Melville Straus Family Endowment, The Schaffner Family Foundation, and Vital Projects Fund, with additional support from Brown Harris Stevens, Saunders & Associates, and public funds provided by Suffolk County. All Musical Programming supported in part by The Ellen and James S. Marcus Endowment for Musical Programming. All Museum Programming supported in part by Crozier Fine Arts, Hess Philanthropic Fund, The Lorenzo and Mary Woodhouse Trust, The Melville Straus Family Endowment, Vital Projects Fund, and public funds provided by New York State Council on the Arts with the support of Governor Andrew M. Cuomo and the New York State Legislature, and Suffolk County. Free museum admission is generously funded by BNB Bank and Landscape Details Ugo Rondinone: Sunny Days
Lead Sponsors: Fern and Lenard Tessler, and public funds from the Swiss Arts Council Pro Helvetia
Sponsors: Ziel and Helene Feldman
Co-Sponsors: Bloomberg Philanthropies, and Ophelia and Bill Rudin
Special thanks to Gladstone Gallery  
Become a Sponsor