PLAY IN THE GARDEN
Love Letters by A.R. Gurney starring Mercedes Ruehl and Harris Yulin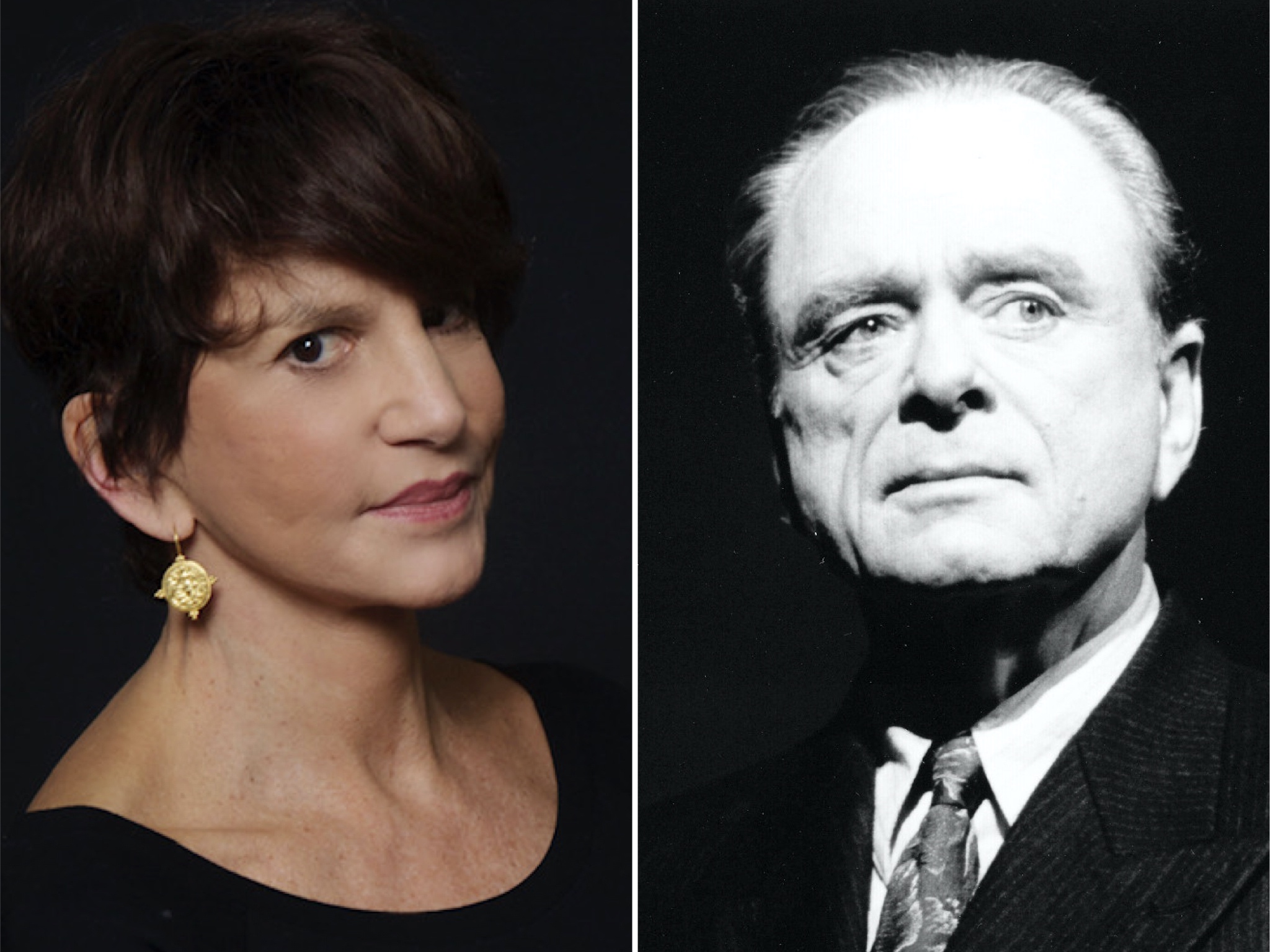 Overview
Directed by Harris Yulin
A R Gurney's internationally acclaimed stage hit is a heart-warming, poignant play about two people, Andy Ladd III and Melissa Gardner, who write letters to each other over a period of fifty years. Andy is a serious, down-to-earth attorney. Melissa is a lively, free-spirited artist. But these two opposites have a definite attraction. They are childhood friends who share a lifetime of experiences through a voluminous series of letters and notes written from the age of six to sixty-five. Poignant, romantic and frequently funny, their correspondence follows a bittersweet path of boarding schools, marriage, children, divorce and missed opportunities. It's the life journey of two soul mates – enacted through words both written and unsaid – who share the greatest gift of all: the gift of love.
Run time: 90 minutes
LOVE LETTERS was presented at The Long Wharf Theatre, Edgar Rosenblum, Executive Director; Arvin Brown, Artistic Director.
LOVE LETTERS is presented by special arrangement with Dramatists Play Service, Inc., New York.
OUTDOOR PROGRAM. It is recommended to bring your own chairs/blankets. A limited number of chairs will be available, first come first served.
Concessions are available at our new eAT Coffee Bar.
PLEASE SCROLL DOWN FOR CURRENT COVID-19 PROTOCOL FOR GUESTS.
---
IMPORTANT ANNOUNCEMENT REGARDING PROGRAMS IN THE JOHN DREW BACKYARD THEATER
Following current New York State guidelines, Guild Hall will no longer require six feet of social distancing in the John Drew Backyard Theater (with the exception of our KidFEST shows). Guests ages 5 and up attending any show besides a KidFEST performance must show proof of full vaccination or recent negative COVID-19 test results. Face coverings are now optional for fully vaccinated guests and children under the age of 2 for all shows with the exception of KidFEST performances, when masks are required for all patrons over the age of 2 regardless of vaccination status. 
In order to attend non-KidFEST programs in the John Drew Backyard Theater, guests will be responsible for displaying proof of one of the following on arrival:
Full vaccination, meaning both doses of either the Pfizer or Moderna vaccine or one dose of the Johnson & Johnson vaccine received at least 14 days prior to the day of the program
A negative test result from a COVID-19 test taken within 72 hours of the day of the program
A negative test result from a COVID-19 Antigen test taken within six (6) hours of the program's scheduled start time
Current New York State Excelsior Pass with proof of vaccine or negative testing/Antigen results. Click HERE to download the free app for seamless entry.
Note: Social distancing will continue to be required indoors, for outdoor KidFEST performances, and on the rest of the grounds. Guests will not need to show proof of vaccination or negative test results in these spaces, and will be required to wear masks regardless of vaccination status. Please stay home if you don't feel well, have exhibited symptoms of COVID-19 in the past 10 days, have tested positive for COVID-19 within the past 10 days, or been in contact with someone with COVID-19 in the past 10 days.
As of 5/18/2021
Harris Yulin

After studying in Los Angeles with the splendid, black-listed actor Jeff Corey, Yulin spent 20 months living in Europe and Israel, dubbing films into English, and performing a night club show with William Burroughs at the Club Montparnasse in Paris.

He made his New York debut in 1963 in James Saunders' Next Time I'll Sing To You, with James Earl Jones and Estelle Parsons at the Phoenix Theatre. Many plays, Broadway, off-Broadway and elsewhere followed.

Recent appearances: Long Day's Journey into Night at the Court Theatre, Chicago; Death of a Salesman at the Gate Theatre, Dublin; Cat on a Hot Tin Roof at the Chautauqua Festival, and ever trying to get it right, his third try at Claudius in Hamlet at the Classic Stage Company in New York.

He has appeared in and presented many evenings at Guild Hall including the initial production after the renovation in 2009, The Glass Menagerie with Amy Irving, and last September Are You Now or Have You Ever Been.

His production of Horton Foote's The Trip to Bountiful with Lois Smith and Hallie Foote played an extended run at the Signature Theatre in New York, receiving four Lucille Lortel Awards (Outstanding Lead Actress, Outstanding Featured Actress, Outstanding Production, Outstanding Director), and subsequently moved to The Goodman Theatre, Chicago.

His first film was in 1968, an adaptation by Terry Southern of John Barth's End of The Road, directed by Adam Avakian with longtime friends James Earl Jones and Stacy Keach. Other fondly remembered but not necessarily widely seen efforts include Candy Mountain directed by Robert Frank and Rudy Wurlitzer; Short History of Decay script by Michael Maren; 75% In July by Hyatt Bass; and more widely seen production including Clear and Present Danger directed by Philip Noyce; and Scarface directed by Brian de Palma.

He has many TV appearances including WIOU, about a CBS newsroom where he played a troubled anchorman; and Mister Sterling, set in the U.S. Senate, written by Lawrence O'Donnell.

He has taught, acted and directed at the Juilliard School for ten years.

He has narrated many films for PBS and others and done extensive work on radio including dramatizations of Ross MacDonald detective novels with casts of fifty subsequently released as audio books as was Norman Mailer's last novel, The Castle and
the Rock.

He has worked in all the venues and mediums available to him, even singing and dancing in John Osborne's The Entertainer, in which his efforts in these disciplines were properly third-rate.

Mercedes Ruehl

Mercedes Ruehl has appeared in the films The Fisher King (Academy Award, Golden Globe Award, Los Angeles and Chicago Film Critics Association Awards), Married to the Mob, The Warriors, Big, Heartburn, Slaves of New York, Another You, Last Action Hero, Lost in Yonkers, What's Cooking?, The Amati Girls, Roseanna's Grave, Chu and Blossom, Zedya and the Hitman, Spooky House, More Dogs Than Bones, and The Minus Man. She has been seen on Broadway in Neil Simon's Lost in Younkers (Tony, Drama Desk, Outer Critics Circle, and Helen Hayes Awards), The Goat, or Who is Sylvia? (Outer Critics Circle Award, Tony nomination), The Rose Tattoo, The Shadow Box (Tony nomination), and I'm Not Rappaport. Her Off Broadway credits include Woman Before a Glass (Obie Award), Other People's Money (Clarence Derwent Award), The Marriage of Bette and Boo (Obie Award), Coming of Age in Soho, The Vagina Monologues, and Edward Albee's The Occupant. Ruehl's television credits include HBO's Indictment: The McMartin Trial, Gia, Hallmark Hall of Fame's The Lost Child and Loving Leah, El Jefe, Doubt, Star Spangled Banners, Showtime's North Shore Fish, Guilt by Association, and A Girl Like Me. She also made guest appearances on Entourage, Law & Order, Monday Mornings, Luck, Psych, and Frasier, among others.
Event Sponsors
Theater Programming supported in part by the Helen Frankenthaler Foundation, Barbara Slifka, The Schaffner Family Foundation, Brown Harris Stevens, Michael

Balmuth

, Lang Insurance,

and funding from The Ellen and James S. Marcus Endowment for Musical Programming and The Melville Straus Family Endowment

John Drew Backyard Theater
Special thanks to Marty and Michele Cohen, Ben Krupinski Builder, Hollander Design, and Groundworks Landscaping  Play in the Garden Print Media Partner: James Lane Post
Become a Sponsor