Hamptons Institute
The Future of Women in Leadership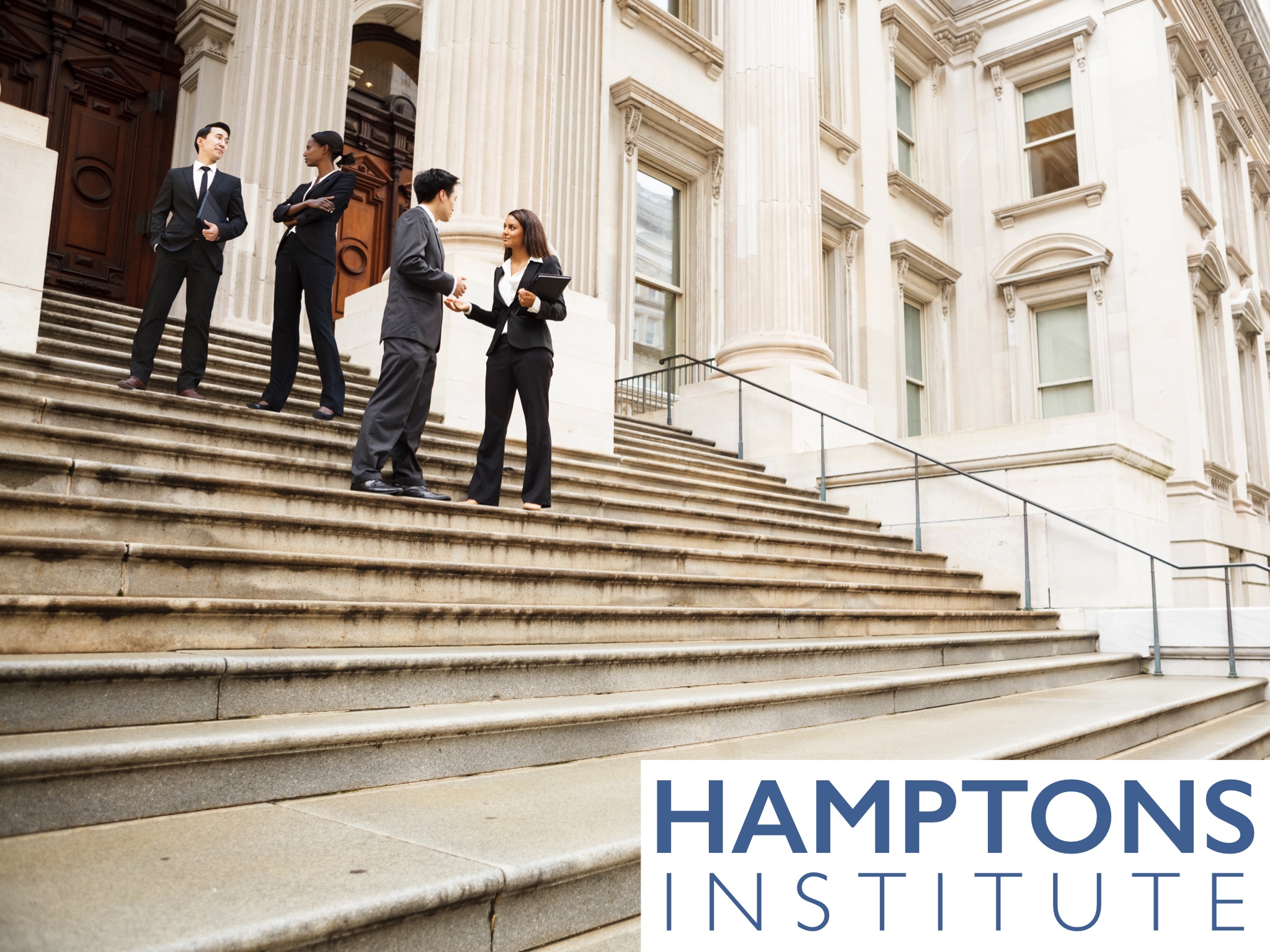 Overview
Produced by Tracy Marshall and Sheraton Kalouria
Panelists:
Cecile Richards, former President of Planned Parenthood Federation of America
Kathy Hochul, Lieutenant Governor of New York
Brette McSweeney, President of Eleanor's Legacy
Kimberly Jean-Pierre, New York State Assembly
Taylor Darling, New York State Assembly
Avery Reed, Student Activist
The 2018 midterm elections were a watershed for women in politics, as more women were elected to Congress than ever before. The trend continues with record number of women throwing their hats into the ring for 2020. We will discuss the challenges faced by female candidates, the movements that have supported their efforts, and benefits to this positive shift in the balance of power.
Hamptons Institute: The Youth Climate Movement Could Save the Planet – August 5
Hamptons Institute: Latino Immigration Issues on the East End and Beyond – August 12
Kathy Hochul

Kathy Hochul is the 77th Lieutenant Governor of New York. A lifelong New Yorker, she was born and raised in a blue-collar Irish Catholic family in Buffalo that instilled a deep passion for public service and activism. She continued that fighting spirit as a student organizer, as a young attorney and aide to Sen. Daniel Patrick Moynihan, and then as a member of her Town Board, Erie County Clerk, and as a Member of Congress.

After the Tea Party wave in 2011, Kathy entered a special election in the most Republican congressional district in the state, and against all odds, won as a proud Democrat. Her election, and later – her victory, was viewed as a national referendum on Paul Ryan's agenda to bankrupt Social Security and Medicare. Despite risking her reelection, Kathy always fought to protect the Affordable Care Act, a woman's right to choose, and the rights of our LGBTQ community.

In Congress, Kathy proudly received the endorsement of various women's groups like EMILY's List and was often targeted by Conservative media for her defense of the contraception mandate under Obamacare. Kathy was also endorsed by the Human Rights Campaign and has been a lifelong champion for the LGBTQ community and the fight for equality.

Kathy maintained true to her labor roots and consistently voted to support the working men and women of America. She was a frequent critic of tax breaks for millionaires and billionaires and called for tax cuts for low and middle-income earners.

Brette McSweeney

Brette McSweeney is the president of Eleanor's Legacy, the only statewide organization in New York focused on recruiting, training, and funding pro-choice Democratic women candidates at the state and local level. She was a member of the New York Leadership Council for Hillary for America in 2016 and the deputy New York State director for women's outreach in 2008. Brette is a graduate of Georgetown and Columbia.

Cecile Richards

Cecile Richards is a national leader for women's rights and social and economic justice, and a co-founder of Supermajority -- a new organization fighting for gender equity. She is also the author of New York Times bestseller Make Trouble and former President of Planned Parenthood Federation of America and Planned Parenthood Action Fund. For 12 years, Richards worked to increase affordable access to reproductive health care and to build a healthier and safer world for women and young people. After starting her career as a labor organizer, working with women earning the minimum wage, she went on to start her own grassroots organizations, and later served as Deputy Chief of Staff to House Democratic Leader Nancy Pelosi. In 2011 and 2012, she was named one of TIME Magazine's 100 Most Influential People in the World. Richards is a frequent speaker and commentator on politics and progressive issues. She and her husband, Kirk Adams, have three children and live in New York City and Maine.  

Kimberly Jean-Pierre

Assemblywoman Kimberly Jean-Pierre was elected in the 2014 General Election, succeeding Assemblyman Bob Sweeney after he served the 11th Assembly District for 26 years. She is the daughter of parents who migrated from Haiti to the United States. She attended Brooklyn College, and earned her Bachelor of Fine Arts in Creative Writing in 2005. In pursuit of her master's degree she attended Stony Brook University, earning her Master of Science in Public Policy in 2007.In 2008, Kimberly was employed by the Suffolk County Legislature, working for Legislator DuWayne Gregory of the 15th Legislative District as a legislative aide. As a legislative aide she was responsible for scheduling and acted as a liaison with community leaders throughout the district. After two productive years, Kimberly decided to broaden her career path and began working for Congressman Steve Israel as the district Community Outreach Coordinator. In this role she was the primary contact with various organizations and leaders throughout the district for the Congressman. In January of 2013, Kimberly had a desire to gain experience in economic development as the Vice President of Properties at the Town of Babylon's Industrial Development Agency (IDA).The Babylon IDA is responsible for providing incentives to companies to attract jobs and retain companies in the area. The IDA has been working closely with town officials, the community and the developer on the Wyandanch Rising Project which appealed to Kimberly. So when the opportunity came up to utilize her community outreach skills and economic development experience she leaped at the opportunity to become the Director of the Town of Babylon's Wyandanch Resource Center. There, she worked with the community by identifying and coordinating resources for local residents. She oversaw projects and services at the center providing local residents the opportunity to continue their education and initiate careers through local unions and contractors, and she also worked closely with the project developer of the Wyandanch Rising project. Kimberly facilitated the Wyandanch Leadership Committee, which is comprised of community stakeholders and local elected officials. The purpose of the committee is to share and disseminate information, identify the community's assets and collectively work together on filling the gaps in services.Outside of school and work Kimberly Jean-Pierre has also demonstrated a commitment to various causes. During her undergraduate studies, she interned for the New York Public Interest Research Group (NYPIRG) where she led the Hunger and Homeless Campaign (HHC); this allowed her to travel to Albany to lobby against tuition hikes for the Higher Education Campaign. She is also very involved in the Haitian-American community and is the former Vice-President of Haitian Americans United for Change Inc., (HAUC), a community grass-roots organization. After the devastating earthquake in Haiti in January 2010, the HAUC team worked with local not-for-profits, clergy members, local businesses, and various levels of governmental agencies on a Haiti Relief Project as one of the lead organizations; Kimberly was the coordinator of the Haiti Relief Project. She worked tirelessly to organize and sort through thousands of dollars of donated goods including medical supplies, clothing, non-perishable items and more. She also coordinated dozens of volunteers as well as shipment arrangements for donated goods, transportation and storage of donations and much more.Kimberly is also part of the Class of 2014 of the Energeia Partnership at Molloy College. The Energeia Partnership is a leadership academy dedicated to identifying and addressing the serious, complex and multi-dimensional issues challenging the Long Island region.She currently sits on the Economic Development Committee, Mental Health Committee, Local Government Committee, Children and Families Committee, Transportation Committee and Banks Committee. She is also part of the Black, Puerto Rican, Hispanic and Asian Legislative Caucus.Kimberly Jean-Pierre has a passion for working with people by utilizing her interpersonal skills which has proven she gets things done.

Taylor Darling

Taylor Darling is an American and British citizen who was born in Brooklyn, NY to Raulston and Towana Bertley. The standard of excellence they applied to their lives was immediately bestowed onto her. Her father, Raulston, served in the military and her mother, Towana, devoted her life to law, justice and education. During her early childhood, Taylor lived in Europe with her devoted parents. It was there that she welcomed her little sister, Sydney, who has been Taylor's biggest supporter and best friend ever since. Taylor learned the game of chess around age 4. She and her sister, Sydney, became nationally ranked chess players who practiced and competed seven days a week. Taylor credits the game for developing her strategic approach to problem solving, which has served her well in every endeavor she has embarked on.In an effort to increase the amount of healthy two-parent households in America, Taylor devoted her life to the field of psychology. She attended her dream college, Spelman, at 16 years old and was accepted into a Clinical Psychology Doctoral Program at age 19. Taylor eventually transferred to Hofstra University and became an Industrial Organizational Psychologist. She has worked in several industries creating and implementing systems to increase efficiency, productivity and profitability. Taylor's holistic and humanistic approach kept her in high demand in the private sector. However, the growing needs of her community began to require her attention. Taylor's sister soon gave her a challenge and said "you get paid to fix things, fix our community." What followed is a story that reads like the biblical David and Goliath.Taylor is a crusader for inclusion, equity and economic and social justice. She leads with transparency, strategic efficiency, simplicity and curiosity. Taylor resides with her incredible family in Long Island, NY.It is Taylor's greatest honor and privilege to represent the beautiful 18th Assembly District of New York.

Avery Reed

Avery Reed is a seventeen-year-old junior at Credo High School in Rohnert Park, California. She works with students from across the nation to increase youth advocacy and advance national policies that align with youth interests. Avery currently serves as the State President of the California Association of Student Councils (CASC) where she oversees a cabinet of 24 students who host summer leadership trainings as well as legislative conferences. CASC provides a direct platform to present proposals to the State Board of Education as well as the State Senate and Assembly. In addition to peer collaboration, Avery works closely with several California state legislative offices in promoting environmental policies in California public schools. Right now, she has a bill on the Senate floor concerning California public school's sexual harassment protocol. In order to more effectively advocate for students across the country, Avery worked on the founding of National Children's Campaign whose mission is to provide a direct avenue to represent those students whose voices can not be heard by a vote. This campaign represents children's voices at the national debates and to the Democratic candidates in order to place children's issues as a priority in the upcoming 2020 election. Ever since experiencing the destruction from the 2017 California wildfires, she  has been passionate about environmental justice. In exploring solutions to the climate crisis Avery found that student voices provide one of the most effective platforms in pushing environmental legislation; she works closely with the State Board of Education in developing climate change curriculum for public schools as well as with other student led national organizations such as Schools for Climate Action and Zero Hour. At her highschool she serves as the Zero Waste captain of One Planet Living. In this capacity she is responsible for guiding the school towards its zero waste goal by 2020. In the limited free time that's left, Avery loves to play her cello with the San Francisco Conservatory of Music. 
Event Sponsors
All Education Programming supported by The Patti Kenner Arts Education Fellowship, with additional funding by an anonymous donor, Kate W. Cassidy Foundation, Lewis B. and Dorothy Cullman Endowment Fund, and The Melville Straus Family Endowment. All Theater Programming is supported in part by Ellen Myers, Marders, the Daryl & Steven Roth Foundation, and funding from The Ellen and James S. Marcus Endowment for Musical Programming, The Harold and Mimi Steinberg Charitable Trust, Hess Philanthropic Fund, The Melville Straus Family Endowment, The Schaffner Family Foundation, and Vital Projects Fund, with additional support from Brown Harris Stevens, Saunders & Associates, and public funds provided by Suffolk County. Lead Sponsors: The Hayden Family Foundation, Susan and Steven Jacobson, Joyce F. Menschel, Alice Netter, and Leila Straus
Additional program support provided by Carol Leibenson
Special thanks to Citarella

Become a Sponsor