Hamptons Institute
Defining America: Beyond Immigration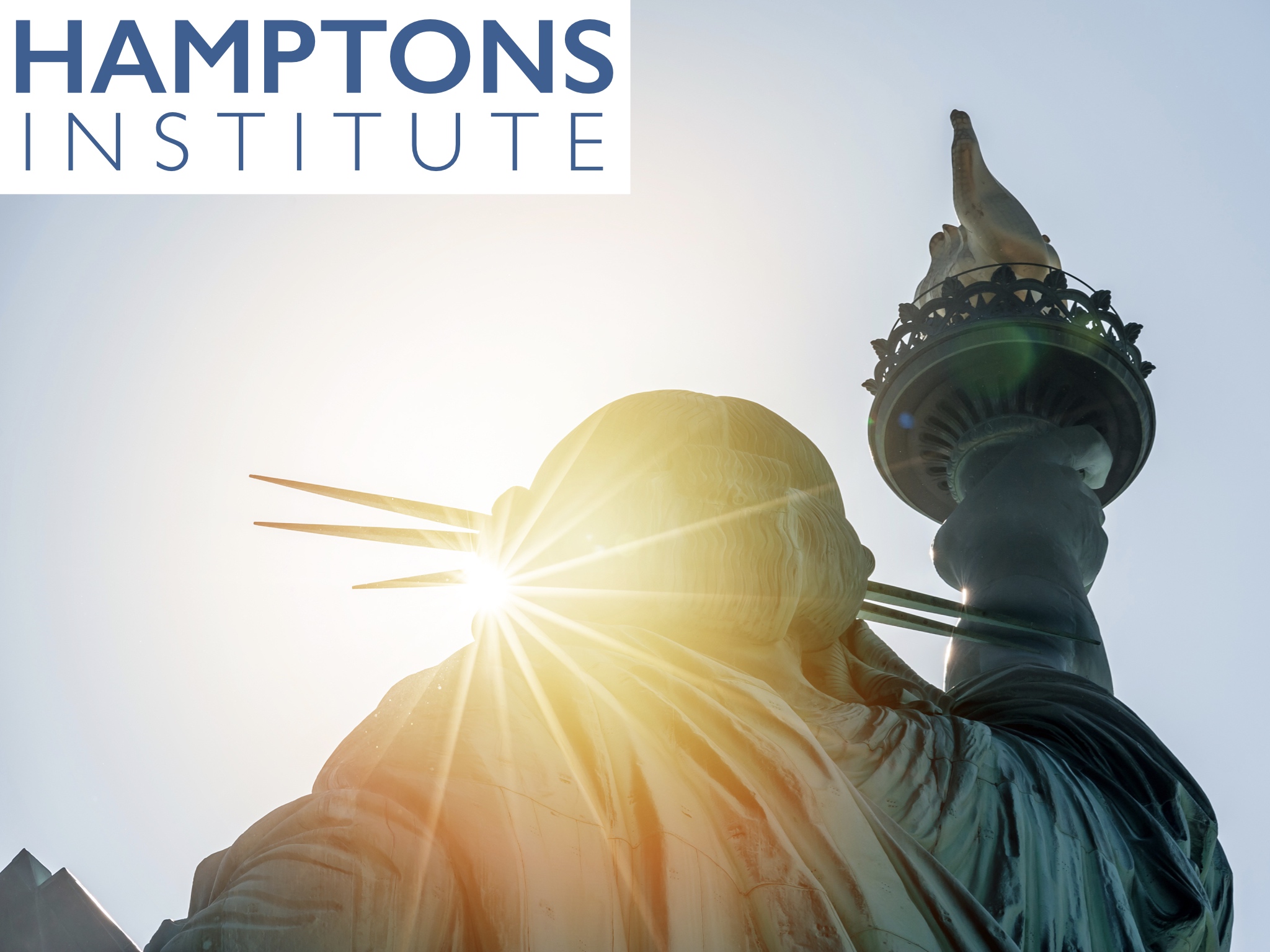 Overview
Produced by Tracy Marshall and Sheraton Kalouria
Panelists:
Minerva Perez, Sag Harbor Person of the Year and Executive Director of Organizacion Latino-Americana of Eastern Long Island (OLA)
Sandra Dunn, Associate Director of Organizacion Latino-Americana of Eastern Long Island (OLA)
Carlos Sandoval, Filmmaker and Writer
Carlo Albán, Actor
Moderated by April Gornik
While the national news and federal government depict immigration from Latin America as a "border crisis," immigrants on the East End struggle to navigate changing federal policies while making tremendous contributions to our local community and economy.
Our panel of activists and artists will guide us through a conversation exploring how art leads us back to our humanity and is key to shifting the narrative about immigration.
Mientras las noticias nacionales describen la inmigración de Latinoamérica como una "crisis fronteriza", los inmigrantes del East End luchan para navegar las cambiantes políticas federales mientras hacen tremendas contribuciones a nuestra comunidad y economía.
Nuestro panel de activistas y artistas nos guiará en una conversación que explore cómo el arte nos lleva a conectar de nuevo con nuestra humanidad y cómo es central a cambiar la narrativa sobre la inmigración.
This panel will be offered with simultaneous interpretation available, please contact OLA to reserve a headset: 631-899-3441
Se proporcionará interpretación simultánea en español para que todos puedan participar en la conversación. Por favor, llame a OLA para reservar sus auriculares: 631-899-3441
Hamptons Institute: The Youth Climate Movement Could Save the Planet – August 5
Hamptons Institute: The Future of Women in Leadership – August 19
Minerva Perez

Minerva Perez serves as the Executive Director of OLA of Eastern Long Island (Organizaci

ó

n Latino-Americana) where her work is focused on the protection, empowerment, and celebration of our Latino community. Through advocacy, education and arts, OLA is helping to encourage policy and practice at a local level that seeks to integrate communities while always recognizing the vulnerability present within immigrant communities. 

While OLA continues to explore the ways theatre, poetry and music inform and shape our local understanding of the Latino culture in our midst, we are focused also with advocacy work related to existing and growing exploitation of Latinos in the workforce, the housing crises, challenges regarding the integration of Latino parents into the framework of public education, and the challenges around building communication with local law enforcement. Prior to joining OLA, she worked for six years as Director of Residential and Transitional Services at The Retreat, where she ran a 24-hour crisis shelter for women and children fleeing domestic abuse. There are many aspects of this type of advocacy work and municipal involvement that have formed her understanding of the critical nature of relationship building and communication between victims, witnesses and local law enforcement. 

As an East End advocate, Minerva has found the best way forward for our community, as a whole, is through informed action, collaboration and willingness to not accept the lowest bar when it comes to human dignity and the protection of peaceful communities. 

Sandra Dunn

Sandra Dunn is the Associate Director of OLA of Eastern Long Island, where she focuses on advocacy, communications, and fundraising. From 2008-2017 she was a program director at the Hagedorn Foundation, where she managed the local immigration and civic engagement grantmaking programs. For 13 years she facilitated Spanish-language memoir-writing workshops through Herstory Writers Workshop and co-edited and co-translated Latinas Write/Escriben (2011), a bilingual anthology of memoirs in progress written by women in Herstory's Spanish-language workshops. In 2013 she was appointed to the New York State Advisory Committee of the United States Commission on Civil Rights and is the 2013 recipient of the Lawrence A. Timpa Memorial Award for Professional Service awarded by the Suffolk County Human Rights Commission. In 2007, she was OLA's part-time Executive Director, resigning to run for a seat on the Southampton Town Council that year. Sandra holds a Ph.D. in Spanish Literature from Cornell University and has taught at Bennington College, Middlebury College, and Cornell. She lives in Hampton Bays, NY and is working on a poetry collection about borders, thresholds, and other liminal spaces. 

Carlos Sandoval

Carlos Sandoval is an Emmy nominated filmmaker whose work includes the award-winning, nationally-broadcast documentaries: The State of Arizona, A Class Apart, and Farmingville. Sandoval is on faculty at the Columbia School of Journalism and is an adviser to several independent media organizations. A sometime lawyer, Carlos writes a monthly column for The East Hampton Press and is currently at work on a family memoir spanning over 11 generations in what is now the United States.

Carlo Albán

Carlo Albán starred opposite Mark Wahlberg in the STX feature, Mile 22 (dir. Peter Berg). Other feature credits include Margaret (dir. Kenneth Lonergan), Whip It (dir. Drew Barrymore) and 21 Grams (dir. Alejandro González Iñárritu). On television he has appeared in shows ranging from Sesame Street to Prison Break. Carlo has extensive and impressive theater credits, is a member of the Labyrinth Theater Company and most recently originated the role of 'Oscar' in Lynn Nottage's Pulitzer Prize winning SWEAT, for which he received a 2017 Theatre World Award for an outstanding Broadway debut.

April Gornik

April Gornik shows in New York City, where she had been a resident since 1978, and now lives in Sag Harbor, Long Island, NY. Born in Cleveland, Ohio, in 1953, she received a BFA from the Nova Scotia College of Art and Design, Nova Scotia, Canada, in 1976. She has work in the Metropolitan Museum of Art, NY, the Whitney Museum of American Art, NY, the Museum of Modern Art, NY, the National Museum of American Art in Washington, DC, the National Museum of Women in the Arts in Washington, DC, the Cincinnati Museum, the High Museum of Art, Atlanta, the Modern Art Museum of Art of Fort Worth, the Orlando Museum of Art, and other major public and private collections. She has shown extensively, in one-person and group shows, in the United States and abroad.

Some noteworthy one-person exhibitions have been at the Pennsylvania Academy of the Fine Artsin conjunction with the University of the Arts, Philadelphia, PA, 1998; Guild Hall Museum, East Hampton, NY, 1994; the Frederick R. Weisman Museum of Art, Pepperdine University, Malibu, CA, 1993; and the Parrish Art Museum, Southampton, NY, 1988. She had work represented in the 1989 Whitney Biennial in NY, the 10+10 Show of American and Soviet Painters originating at the Fort Worth Museum in 1989, the Art Museum of the Rhode Island School of Art and Design in 1988, and "Paradise Lost; Paradise Regained" at the American Pavillion of the Venice Biennale in 1984. April Gornik is pleased to now be represented by Miles McEnery Galleryin New York City. She has had one-person shows in New York regularly since 1981. 

She received a Lifetime Achievement Award from Guild Hall Museumin 2003, and was the Neuberger Museum's Annual Honoree in 2004. A mid-career retrospective began at the Neuberger Museum of Artin Purchase, NY in early fall, 2004. It traveled to the Art Gallery of Nova Scotia, the Sheldon Memorial Art Museumin Nebraska, and its final venue was the Allen Memorial Art Museumin Oberlin, Ohio, from March–June, 2006. A monograph, also serving as catalogue for the show, was published by Hudson Hills Press and the Neuberger Museum. More information about it is here. Another retrospective took place at the Heckscher Museumin Huntington, NY, in summer 2009. Gornik's latest monograph was published in 2014, titled April Gornik: Drawings which is an extensive look at charcoal drawings done since the mid-'80s. The book includes essays by Steve Martinand Archie Rand, an interview with Lawrence Weschler, and a downloadable card from iTunes with a beautiful piano and cello composition by composer Bruce Wolosoff, played by Wolosoff and Sara Sant'Ambrogio of the Eroica Trio. 

Frontiers Reimagined, a group show at the Museo Grimani, was part of the 2015 Venice Biennale, and Gornik's work was recently featured in Seeing Nature, a show of Paul Allen's collection featuring Monet, Klimt, Turner, Canaletto, Hopper, O'Keefe, Richter, Ruscha, Hockney, and other great landscape painters, which originated at the Portland Museum in Seattle, was at the Phillips Collection in Washington, DC, the Minneapolis Institute of Arts, the New Orleans Museum of Art and finally closed at at the Seattle Art Museum in early 2017. 

Gornik's next show is scheduled for February, 2020, at Miles McEnery Galleryin New York City. 
Event Sponsors
All Education Programming supported by The Patti Kenner Arts Education Fellowship, with additional funding by an anonymous donor, Kate W. Cassidy Foundation, Lewis B. and Dorothy Cullman Endowment Fund, and The Melville Straus Family Endowment. All Theater Programming is supported in part by Ellen Myers, Marders, the Daryl & Steven Roth Foundation, and funding from The Ellen and James S. Marcus Endowment for Musical Programming, The Harold and Mimi Steinberg Charitable Trust, Hess Philanthropic Fund, The Melville Straus Family Endowment, The Schaffner Family Foundation, and Vital Projects Fund, with additional support from Brown Harris Stevens, Saunders & Associates, and public funds provided by Suffolk County. Lead Sponsors: The Hayden Family Foundation, Susan and Steven Jacobson, Joyce F. Menschel, Alice Netter, and Leila Straus
Additional program support provided by Carol Leibenson
Special thanks to Citarella

Become a Sponsor