GUILD HALL: OFFSITE
FAN FAIR: A 3-Day Celebration of Art and Community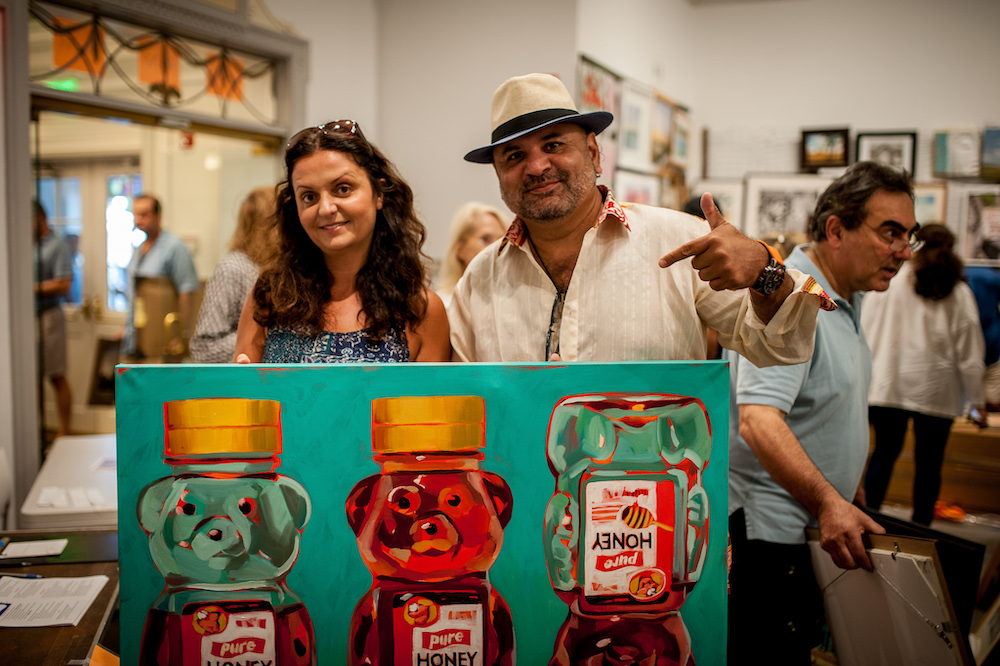 Overview
GUILD HALL FAN FAIR: A 3-Day Celebration of Art and Community
FRIDAY, OCTOBER 21– SUNDAY, OCTOBER 23
LTV, 75 Industrial Road, Wainscott
FRIDAY, 10/21
5-6:30PM: Members-Only Art Sale Preview (Free)
7-10PM: Silent Disco Dance Party ($10/$8 for Members)
SATURDAY, 10/22
10AM-5PM: Public Fair Hours (Free)
7PM: Guild Hall Teen Arts Council Open Mic Night (Free)
SUNDAY, 10/23
10AM-5PM: Public Fair Hours (Free)
Join us this fall as we celebrate the artistic individuals in our community. Guild Hall Artist Members will have the opportunity to participate in Fan Fair with an art sale or by sharing their talent in scheduled performances and presentations over the course of the weekend. The fair is open to the public to support Guild Hall and our local artists by purchasing artwork and to simply enjoy the variety of entertainers talking the stage. A full schedule will be posted online prior to the opening.
ARTWORK PRICES ARE SET AND ALL SALES ARE FINAL.
Guild Hall Artist Members – if you would like to participate with the sale of up to two unframed works on paper, photography prints, or photographs of sculptures, you have a dance group or band, singer/songwriter, poet, filmmaker, fashion designer, culinary artist – you name it, you can sign up to sell your work* or reserve a slot on the main stage to perform or present. See details below. Questions? Email info@guildhall.org. You must be an active member upon registration and during the October event.
Not a Member – Click HERE to join!
---
SUBMISSION DETAILS:
Click HERE for a downloadable version of the guidelines and HERE to download a W9 form.
FAN FAIR MEMBER ARTWORK SUBMISSION DETAILS
Deadline for registration is Friday, September 30. Registrations in each medium is limited and is first come first served, and members may only register two works in total. A completed W9 form must be emailed to ddickinson@guildhall.org once registration is complete. 
GUIDELINES
Works on Paper:
Submit no more than 2 works
Must be works on paper (heavy papery is recommended as works will be hung Clotheseline-style)
Size must be exactly 9"x12", unframed/unmatted*
Works must be priced from $100 to $500 only, in $100 increments
NOTE: The required 9″x12″ paper is available to purchase at Golden Eagle Art Supplies, 144 North Main Street, East Hampton. Just say "I'm participating in Guild Hall's Fan Fair" and get 15% off! You may use your own paper, but it must be 9"x12", and heavy paper weight is recommended.
Photographs:
Submit no more than 2 prints
Size must be no larger than 9"x12", unframed/unmatted
Works must be priced from $100 to $500 only, in $100 increments
Sculptures:
Submit photos of no more than two works
Must be a photograph of the work – not the work itself, no larger than 9″x12″, unframed/unmatted
Provide exact dimensions, materials, and approximate weight
Sale price may exceed $500 for sculptures, but it is recommended to price to sell
Digital:
Up to two submissions allowed, subject to approval
Preferred file types:
MP4
MOV
MP3
PNG
JPEG
AVI
TIFF
WAV
Preferred video formats:
ProRes 422 Proxy
ProRes 422 LT.
264.
Digital works will be shown on a loop, location TBD
Works must be priced from $100 to $500 only, in $100 increments
Performances & Presentations:
Participants will select their top three days/times when applying for a 15-minute or half-hour main stage slot on Saturday and Sunday, 10/22 and 10/23 from 10AM-5PM
Must describe your performance/presentation and indicate tech/setup requirements
Guild Hall will provide mics, monitors, and PA's; Instruments must be provided artist)
Direct Inject (D.I.) will be available
When possible, provide a link or file with a recorded example of your workSize limitations are strictly enforced.
IMPORTANT NOTES
Your work WILL BE measured at check-in
Under NO circumstances will oversize work be accepted. 
Heavier paper is recommended as works will be hung clothesline-style
No wet paintings or work requiring special installation or handling will be accepted
GUILD HALL WILL NOT BE RESPONSIBLE FOR LOSS OR DAMAGE OF YOUR WORK

Guild Hall reserves the right to refuse any work that does not conform to these specifications. By signing the registration card, you are agreeing to these terms.
PRICING AND REGULATIONS
Price and Commission:
Guild Hall retains 50% commission on all sales.
You must indicate selling price of work on the registration card. Please note 50% commission will be taken from the price indicated on your registration card. Price on request (POR) is notYou will not be able to change the price after you submit.
Labels: Each work submitted must be clearly identified for Guild Hall staff to be able to label them when installing for the purpose of selling the work. The name of artist and name of the piece should be legible on the back of submitted works, either written or with a label.
Insurance: Guild Hall will not insure work or be responsible for loss or damage. Your signature upon delivery and again at pick-up releases Guild Hall from responsibility from losses. You may retain your own insurance, but it is not required.
DROP-OFF & PICK UP
All registered work must be brought to LTV during the appropriate Drop-Off period. You may NOT substitute another piece for the registered work. You must arrange to deliver your work to and pick your work up from LTV. Guild Hall cannot accept works delivered from UPS, Fedex, or the Post Office.
Drop-Off: Unless other arrangements must be made, works are to be dropped off at LTV (75 Industrial Road, Wainscott) on Wednesday, October 19 and Thursday, October 20 from 10AM to 4PM.  Artwork must be unpacked prior to drop off; no packing material will be accepted or held by Guild Hall.
Pick Up: Unsold works must be picked-up from LTV on Sunday, October 23 from 5PM to 6PM or Monday, October 24 from 10AM to 4PM.
PAYMENT
Payments to artist for 50% of sold works will be made either in-person at the closing of Fan Fair on Sunday, October 23 or within 90 business days by mail. Artists must submit a completed W9 form to be compensated. W9's should be emailed to ddickinson@guildhall.org once registration is complete.
IMPORTANT 2022 DATES:
SEPTEMBER 30                              Registration Deadline
OCTOBER 19 & 20                         Artwork Drop-Off
10AM–4PM                                       LTV, 75 Industrial Road, Wainscott
OCTOBER 21                                   Private Member's-Only First Look
5PM–6:30PM
OCTOBER 22-23                             Fair Open to the Public at LTV
10AM-5PM
OCTOBER 23, 5PM-6PM               Artwork Pick-Up
OCTOBER 24, 10AM-4PM            LTV, 75 Industrial Road, Wainscott
Guild Hall is unable to store or hold any work for any time outside of the outlined schedule, and will not be responsible for any loss or damage.
Please email ddickinson@guildhall.org if you have artwork submission questions.