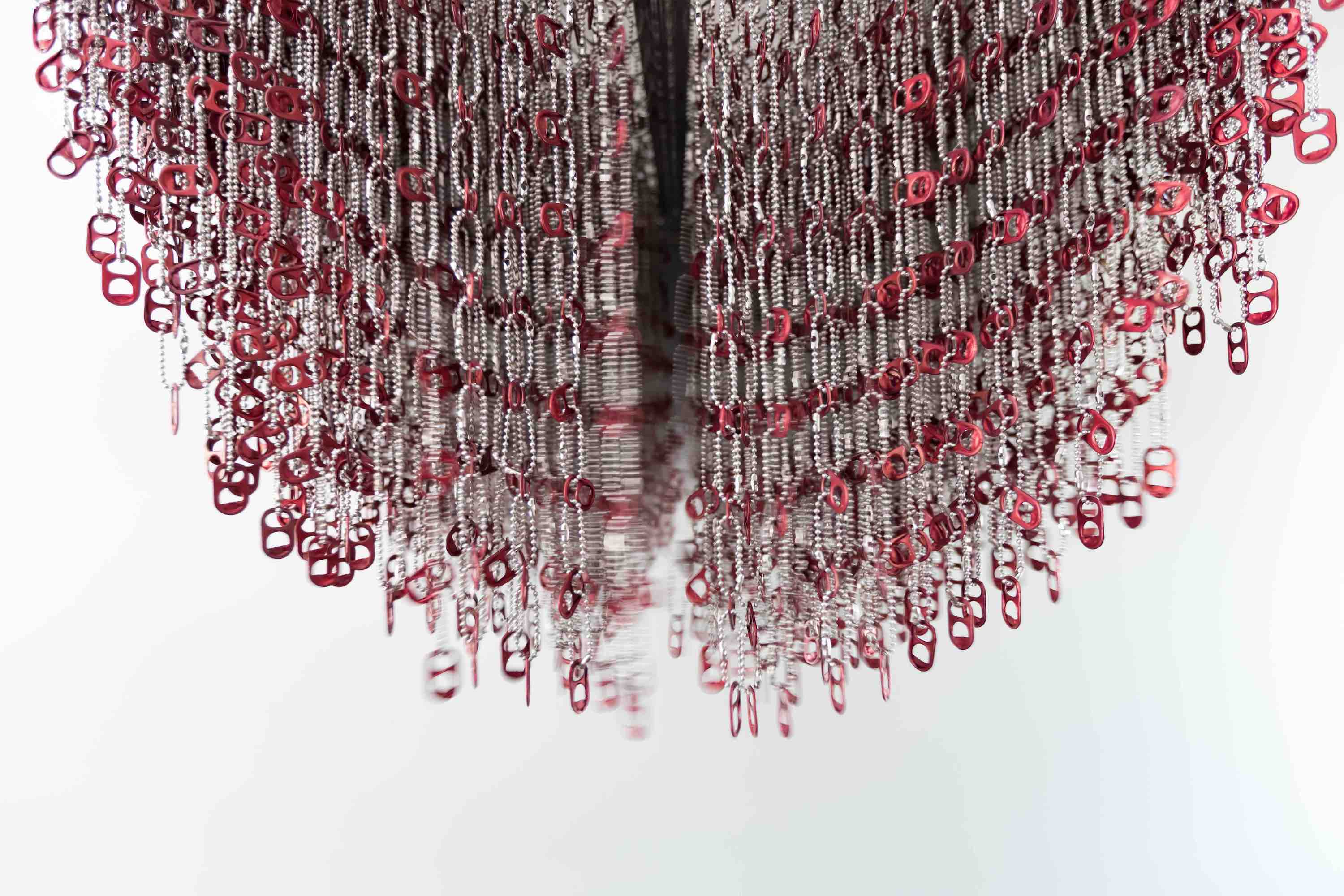 Overview
An installation of site specific works featuring Minimalist materials—can tabs, ball chain, steel shot, neodymium magnets, tyvek-parts associated with industrial/consumer functions—and found objects, that are transformed into opulent large scale works, through repetitious pattern. Numeracy looms large in these installations—work hours, number of parts, weight, distance—creating a hybrid aesthetic.
Artist Statement
Alice Hope maximizes the visual effect of a simple process through the dense deployment of a simple palette or repetitive process. Her Minimalist materials — perforated aluminum, can tabs, iron filings, ball chain, steel shot, ferrite/neodymium magnets– fall outside of an artistic context and are most often associated with industrial/consumer functions. She transforms her materials by controlling scale, placement, and pattern. Numeracy – the power of numbers — looms large in her work. She calculates the work hours, number of parts, degrees in scale, weight, and distance; this generates its own hybrid aesthetic. Ultimately, her labor-intensive execution leads to opulent work that seems Baroque — an extreme contrast to the choices that produced it.
Gallery Talk – March 24, 2018.
Curated by Christina Mossaides Strassfield, Museum Director/Chief Curator.
Alice Hope

Alice Hope was named 2018 "Woman to Watch" for New York by the National Museum of Women in the Arts. She holds an M.F.A. from Yale University, and shows at Ricco Maresca Gallery in Manhattan.

Alice has created numerous public and residential commissions, among them a large-scale magnetic installation, "Under the Radar", in 2012, at Camp Hero State Park in Montauk, NY for the Parrish Art Museum. She often incorporates binary code and repetition in her compositions. In her 2013 Armory Show Project, Alice was commissioned by the Fair to create two public works; one panel innumerably repeated the binary code for the word "love", and the other repeated the code for "blind". In 2013, she inaugurated WNYC Greene Space's new lobby, where she installed a dense site specific work with thousands of neodymium magnets and pieces of ball chain. She was an artist in residence at the Museum of Art and Design from 2014-15, and then built a six month site-specific installation outside the Queens Museum with more than a million used can tabs. This work was part of a wider project that reckoned the fluctuating value and meaning of can tabs in continually changing contexts. In 2018, she had a one person show at Guild Hall in East Hampton, NY, and the National Museum of Women in the Arts, in Washington, had three of her installations on view. In 2018-19, she initiated an all school/ all year social practice piece at Hayground School that culminated in an interactive gallery show. In 2019, she was commissioned by Art in Embassies to build an installation, with hundreds of thousands of used can tabs and marine netting, for the new U.S. Embassy lobby in Maputo, Mozambique that will be installed in 2020. In 2020 she had a one person show and residency in Tripoli Gallery's new space, in Wainscott, NY; also in 2020 she will be showing in Ricco Maresca's new space in New York City.
Event Sponsors
Lead Sponsors: Anne and John Mullen; Co-sponsors: Maziar Behrooz Architecture, Sandy and Stephen Perlbinder, Jane Wesman and Don Savelson, and an Anonymous donor. Free admission sponsored by BNB Bank.
Become a Sponsor