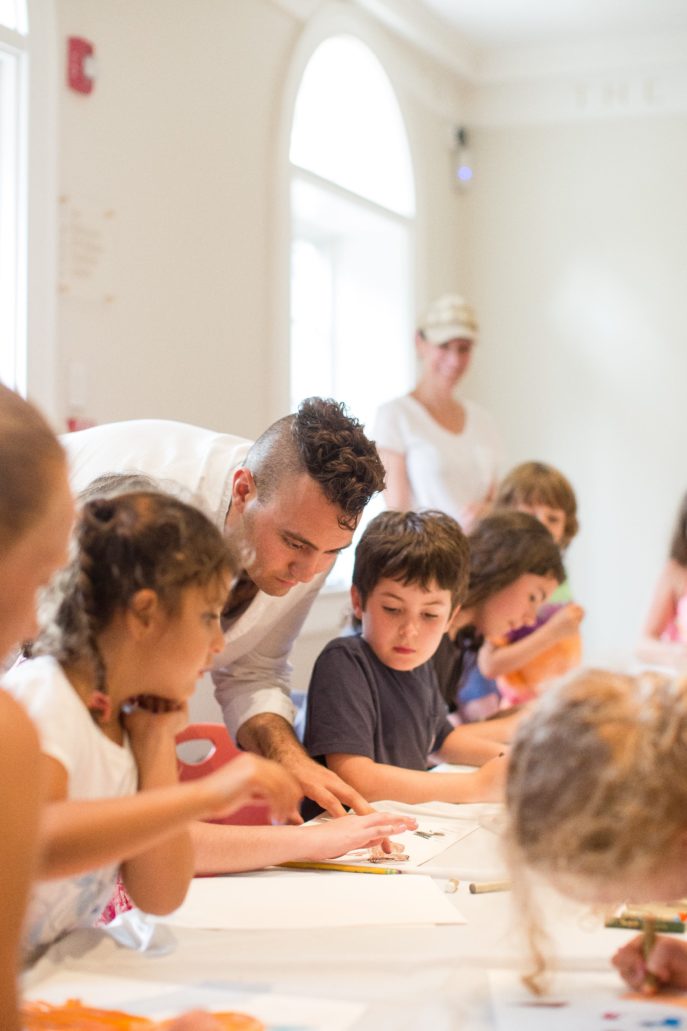 Guild Hall's in-school residencies & workshops provide opportunities for our East End students to engage and create original interdisciplinary work. Led by professional artists and grounded in the P21 4Cs; Critical Thinking, Communication, Collaboration, Creativity, of the College Board for the National Coalition for Core Arts Standards, each program is designed to uniquely reflect the individual school's curriculum and adhere to NYS Learning Standards, while maintaining an ethos of progressive and exploratory artistic practices.
For details on In-School Residencies & Workshops please see the information below, or contact The Patti Kenner Senior Associate for Learning and Public Engagement, Anthony Madonna, at amadonna@guildhall.org.
Word Up!
Word Up! is a creative writing and poetry residency for Elementary and Middle School students. In celebrating the voices of today, the power of the spoken word, and our vast poetic heritage, Word Up! fosters an environment for individual reflection, communal dialogue, creative experimentation, original poetic composition, and intentful presentation/performance.  
Word Up! consists of 6 In-School workshops, culminating in a public performance at Guild Hall's John Drew Theater. 
EPIC: Poetry, Story & Photography
EPIC is a program for young storytellers & photographers to explore the "hero's journey." With a study on epic poems, the concept of the hero and how they have been visually depicted across centuries, students will create their own epic tales and bring them to life through the lens of photography. EPIC is collaboratively designed between Guild Hall of East Hampton and the Anna Mirabai Lytton Foundation. 
The structure of EPIC can vary dependent on school want/need; ranging from three to six sessions.
Sonic Guild
Sonic Guild is a creative music program for young musicians to explore collaborative music-making: to think, compose, interpret, and play together. Not tied to any particular genre, the musical ethos of the ensemble is open and electic, reflecting the diverse viewpoints and experiences of our East End community. In tandem with this individual-communal ethos, Sonic Guild will create in response to both Guild Hall Museum and John Drew Theater programming. 
Sonic Guild consists of 6 In-School workshops, culminating in a public performance at Guild Hall's John Drew Theater or the Museum's Galleries. 
Created by Springs School's 6th Grade students, their teacher Meghan Kelly, and guest artist Rachel Mangold and Anthony Madonna. Winter 2019.
ARTLINK
ARTLINK celebrates over a decade of collaboration between Guild Hall and local arts and nature organizations, offering opportunities for local students to stretch their learning and creativity beyond the classroom into the natural world. Mentored by local artists, naturalists, and educators, students visit unique and beautiful natural areas on the East End for hands-on creative writing, visual and performing arts, and science activities; providing opportunity for cross-disciplinary thought and creative production.
The structure of ARTLINK can vary dependent on school want/need; ranging from two to six sessions and with various artistic mediums. 
PROGRAM SPONSORS
Learning & Public Engagement programming is supported by The Patti Kenner Arts Education Fellowship, The Hearthland Foundation, Stephen Meringoff, Susan and Stephen Scherr, and funding from the Lewis B. and Dorothy Cullman Endowment Fund, and The Melville Straus Family Endowment