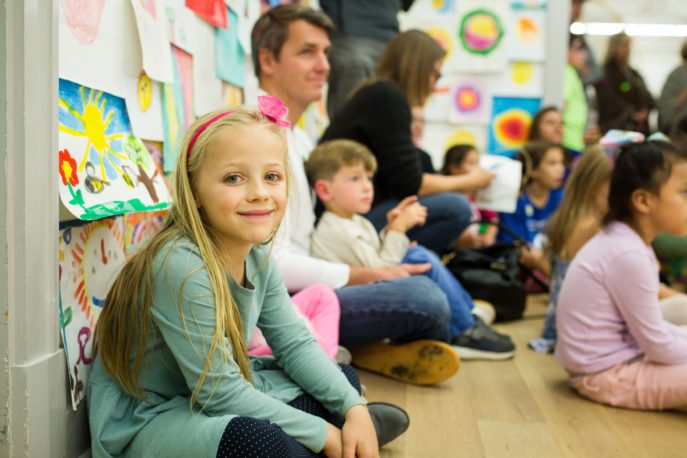 Guild Hall's exhibitions & theatrical programs provide the perfect platform for learning about the arts through objects on view and access to the artist that make them.
Whether it is experiencing a museum for the first time through our Stories & Crafts series, exploring the campus on one of our Family Days, or seeing your on work on our walls and performing on-stage during our annual Student Art Festival, Guild Hall offers moments of access and creativity to all who enter our building.
STUDENT ART FESTIVAL
The Guild Hall Student Art Festival (SAF) is a beloved tradition that encourages and celebrates the artistic achievement and imagination of students, Kindergarten to Grade 12, on the South Fork of Long Island. Showcasing student art from Bridgehampton to Montauk, this month-long festival begins with a free public opening of the exhibition (with student performances, gallery tours, and workshops), and concludes at month's end with an awards ceremony for high school students.
The SAF continues to grow through the inclusion of a collective theme. The theme, created by Guild Hall Education Staff, Guild Hall's Teen Arts Council, and local area school teachers, progresses the festival by offering both a platform to exhibit diverse yet connected points of view, and an opportunity for Guild Hall and the East End Schools to collaboratively conceive and create unique projects.
KidFEST
Designed specifically for our youngest audiences and their families, our Summer KidFEST series offers playful and exciting theatrical productions, entertainment, and hands on workshops.
For specific information on KidFEST program and/or to purchase tickets for the performances & workshops, please visit the All Programs & Events page on our website.
FAMILY DAY
Enjoy a day of creativity and discovery at Guild Hall. Participate in hands-on activities, bilingual gallery tours, performances, and more!
Occurring several times throughout the year, each Family Day is centered around a specific Guild Hall Museum exhibition; offering unique ways to interact with the work on view and, in most cases, meet the Artists themselves.
As always, admission to the museum and all Family Day activities are free and open to the public. No advance registration is required.
STORIES & CRAFTS
Join storytellers and creatives from Guild Hall and the East Hampton Library for a family hour of stories, gallery tours, and art workshops. At each session we will be reading a children's book in response to our current Guild Hall exhibit, followed by a hands-on workshop in our Boots Lamb Education Center.
Appropriate for ages 4–8
This is a family program. Parents/Guardians are expected to stay with their children.
For more information on the film camps and details on registration, please reach out to The Patti Kenner Senior Associate for Learning and Public Engagement, Anthony Madonna, at amadonna@guildhall.org.
PROGRAM SPONSORS
Learning & Public Engagement programming is supported by The Patti Kenner Arts Education Fellowship, The Hearthland Foundation, Stephen Meringoff, Susan and Stephen Scherr, and funding from the Lewis B. and Dorothy Cullman Endowment Fund, and The Melville Straus Family Endowment