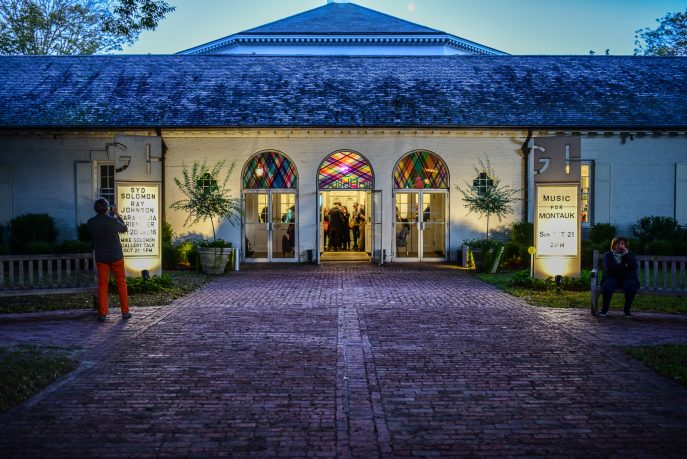 HOURS
Museum
Admission to the Museum is always free thanks to Dime Bank and Landscape Details.
| | |
| --- | --- |
| Friday–Sunday | 12–5pm |
| Monday–Thursday | Closed |
The Museum will be open from 12–3pm only on Friday, December 24 and Friday, December 31. The Museum will be closed on Saturday, December 25 and Saturday, January 1.
Box Office
| | |
| --- | --- |
| Friday–Sunday | 12–5pm |
| Monday–Thursday | Closed |
eAT Coffee Bar
Open During Gallery Hours and Theater Programs
Holidays
| | |
| --- | --- |
| Thanksgiving Day | Closed |
| Christmas Day | Closed |
| New Year's Day | Closed |
Galleries close at 3pm on 12/24 and 12/31.
Getting Here
Guild Hall
158 Main Street
East Hampton, NY 11937
Parking
The Guild Hall parking lot is located behind the building off Pondview Lane.
Bus 
Hampton Jitney: www.hamptonjitney.com or 1-800-936-0440 or 631-283-4600   
Train
Long Island Railroad: www.lirr.org or 631-231-5477
General Guest Policies
Please do not touch the works of art on display.
Drawing and writing in the galleries is encouraged but limited to the use of pencils only. Use of charcoal, pastels, pens, permanent markers, and watercolor or oil paint is prohibited.
Children should not be left unattended.
Front-worn baby carriers and compact strollers are permitted in the galleries.
Baby changing stations are located in the women's restroom.
Photography and videography for personal non-commercial use are permitted except where indicated. Flash photography and the use of a tripod are prohibited throughout. No photographs or videotapes may be reproduced, distributed, or sold without written permission from Guild Hall.
Mobile phone calls are allowed only in the lobby, entrance hall, and corridor outside restrooms.
No food or drink is permitted in the galleries.
Please note that guest of Guild Hall may be photographed, videotaped, or otherwise recorded. By attending, you grant Guild Hall permission to use photographs and/or audiovisual recordings in which you appear for archival, documentary, publicity, advertising, or other purposes.
COVID-19 PROTOCOL FOR GUESTS