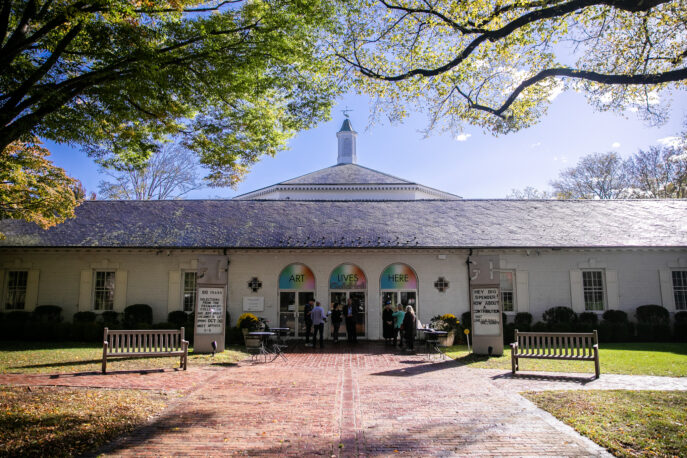 On the occasion of Guild Hall's 90th birthday, author Joe Beck settled into the East Hampton Library and created this poem in our honor.
Guild Hall at 90
Gilding a lily at Guild Hall 1931-2021
The Saving Grace of Art
by Joe Beck
They're all coming.
They have for 90 years.
The Guild beckons doers and dreamers.
Art is art, a mysterious voyage of the heart.
But East Hampton's Guild Hall
Well…
She's been a warm kitchen to all of us.
Her arms and mind open
And she's calling us home this year.
Where did we start?
No one knows.
Vonnegut told us "so it goes"
and to Guild Hall he went.
Heaven sent.
The long Guild Hall.
White painted brick.
A trinity of arches in the middle.
An octagon-shaped tower behind her
A sphere protruding from the center
Our own globe with carnival colors inside. 
And why not?
For ninety planting springs,
autumn harvests,
and twice-daily tides,
in and out.
Oily cod and blue fish
and oil-based paints of deKooning,
smeared with the grease of nostalgia,
indelibly coloring your perception,
the way only art can do.
All of us
artists-farmers and lobstermen
all stroll into Guild Hall for some intangible harvest
our highest common denominator
we all reap what we sow,
for millennium.
And multitudes before us.
All the trades and craftsmen and mad tinkerers, problem solvers, shaman and witches and artists at the core of their being-who didn't give a shit if they fit in or not. But could not live without their art-and god knows some were denied both by the pious and unrelenting.
We all convened in great halls
Odysseys of the mind and body time travelers
Beowulf slayed Grendel and headed for the hall.
Geoffrey Chaucer told Canterbury Tales
and pardoned a few parishioners
on his pilgrimage to a hall
Dante's Divine Comedy
could have found him lost in a great hall
and found with no GPS around.
And none of it
all the bother
is less than saving your very soul
no knead for bread or confessionals.
Just the trinity of arched doors in front to step inside.
Guild Hall welcomed deKooning
who I imagined walked through the door,
dripping paint on her floors.
And Mel Brooks would certainly be heard before he was seen.
Peter Matthiessen must have farmed between books.
And how do I know E.L. Doctorow,
author and time traveler,
didn't have a hand in decorating
the interior roof of the theater?
The circus themes.
Between his novels The World's Fair and Ragtime?
Only in 1931 Gatsby was only six and anything but great-yet-good art percolates, incubates, meditates, can't be rushed any more than avoided-ask Picasso, deKooning…I can see him now-ask any farmer in Wainscott, East Hampton, Sag Harbor, Water Mill or Quogue with dirt under their nails and mud on their boots-riding the rails -you see the happiest of us-might plant potatoes and compose poems at the same time-a seed is a seed-and grows what you wish-a dinner dish-or a dishing on a great love poem-seducing both.
They've arrived for 90 years to her broad left to right side-an army barrack or horse stable with her octagonal brick tower standing proud behind it-This pilgrimage to hear others. Congregate under her drooping oaks- and the carnival roof above and behind her. A long hall we've all done throughout history-some experience a long haul-to get there. a life time of art and quiet, personal achievement-in a remote barn along the ocean-with gulls for friends for your craft.
I'm not talking about refrigerator art from elementary school. I'm talking about life-saver art in deep, stormy waters that capsize boats and drown you.
I haven't been classically trained in art, but we don't have to be. Life did that for some. Art is a fire extinguisher-for some-an anchor in a storm-Life nearly kills some and art resurrects others.
And East Hampton, at 90, in the cosmos, is a precious gem-a gorgeous
link in the chain.
We all have to make a living
But in our hearts
it's art we live for
It's kept our hearts alive you know
Art
Before cave drawings and religious figurines
Joseph Campbell, Dr. Leaky and Raymond Dart will tell you
We met over a fire
Prehistory
Humanity
long before Hannity
Men taught their sons art-to hunt and gather
No matter
We're doing it today
Another way
To pray for prey
Only in Mesopotamia
We domesticated plants and animals
Farmed
And culture grew
We stopped hunting and gathering
And suddenly had time on our hands.
Did animal cave art set us apart?
We had to live another way
With life-saving skills
To convey
To our children
And their children
Surviving is an art
And Guild Hall has done just that
For actors, musicians, poets, writers, painters, sculptors and creatives
From the start
And look what grew from the fields of East Hampton
From English settlers who cleared, planted and toiled
And neighbors and community members in 1931…
It's set us apart.
90 Years from the Start
The Saving Grace of Art
---